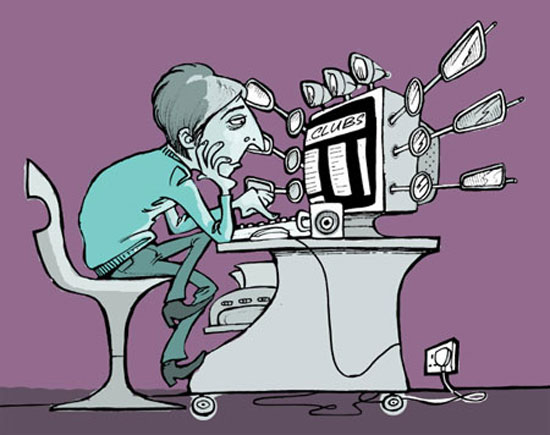 Note that I independently write and research everything in this article. But it may contain affiliate links.
Heinz comes in 57 varieties but what about mod? Well, that number is nearer 10. Here's a tongue-in-cheek look at the 10 Varieties of Mod you might encounter. Which one are you?
The old school mod
Distinctive by: A love of R&B-based club nights and dress codes.
Loves: Authentic tunes from the early 60s, blues, R&B, some ska, strict door policies at clubs, tailored clothing, a button or two on the trouser leg, Levi's with sewn-in turn-ups and loafers with a tassel.
Hates: Indie, 'non-scene' folk turning up at clubs and cluttering up the dancefloor, anything post-1963 (especially psych) and live bands that don't play authentic jazz and blues.
Where you'll find one: At a club with a strict door policy, which is probably in a function room somewhere above a pub.
Revival mod
Distinctive by: A love of revival-era tunes, reunion gigs and tribute bands.
Loves: The live return of an old revival band, Paul Weller, nostalgia, club playlists from the 80s, reminiscing about tear-ups with skins and casuals 'back in the day', white socks, blazers, bowling shoes and of course, the humble parka.
Hates: Elitism of other mods, getting old, the lack of revival being spun in clubs and the lack of respect for power pop bands from the wider mod community.
Where you'll find one: Down the front at a Secret Affair gig.
The 'not a mod' (aka the 'nonner')
Distinctive by: Constantly telling everyone that they're 'not actually a mod'.
Loves: Certain parts of mod – often the scooters, a small fraction of the music and some of the clothing, but usually just telling anyone who'll listen that they're 'not actually a mod' is their favourite thing.
Hates: The 'scene' part of mod, mod clubs, parkas and most of the music associated with mod.
Where you'll find them: At a house night, an indie club or probably listening in on a mod Facebook group. Even though they're not mods. No really, they're not.
The 'I used to be a mod'
Distinctive by: The line 'I used to be a mod, but I just grew out of it…'
Loves: Telling everyone 'mod is dead', especially at soul clubs. Also loves wearing high-end casual gear because paying a fortune for something 'is the new mod'.
Hates: All things to do with mod, their mod past and anyone who suggests they still look like a mod.
Where you'll find them: At a soul club or event, sneaking into the mod room when no one is looking. Or running their own soul night.
The indie mod
Distinctive by: Adidas trainers, polo shirt and Weller-style hairdo (aka the 'Wellend').
Loves: Oasis ('a modern-day mod band'), the Arctic Monkeys, all the other bands who sound like either Oasis or the Arctic Monkeys, live gigs, dad's old Jam albums and the Pretty Green range (even if it is 'a bit pricey').
Hates: 'Old bloke' music, 'old bloke' clothes and spending money on clobber when you can spend it on a night out, going to a gig or four cans of lager.
Where you'll find them: In the queue for tickets for Liam Gallagher's shows. Because he's more Mod God than Weller ever was.
The mod-ern day elitist
Distinctive by: Being clad in Japanese denim and a ridiculously expensive coat from a designer shop. This week at least.
Loves: Big price tags, casual clothing sold in small numbers, anything out of Japan, vintage scooters and amassing a huge trainer collection without actually wearing them.
Hates: Doesn't have much time for 'mod' music and loathes anything stereotypically mod – because today's mod should be clad only in the cutting-edge casual labels of 2020.
Where you'll find them: Picking through the racks at Oi Polloi or browsing the new arrivals at End Clothing.
The Quadrophenia mod
Distinctive by: The war cry 'We are the mods, we are the mods…etc etc…'
Loves: Quadrophenia, quoting Quadrophenia lines, tribute bands, The Jam, The Who, seeing Phil Daniels on the telly in some duff drama, parkas, Ben Sherman and anything from TK Maxx with a target slapped on the front.
Hates: Anyone slagging off tribute bands, new bands, old soul and clothing that costs more than £20 a throw.
Where you'll find them: Jumping up and down at the next Jammmmm gig singing…well, you can guess…
The garage/psych mod (aka the 'swirly')
Distinctive by: Bright colours and long fringes.
Loves: Obscure Euro 45s from the late 60s, neck scarves, paisley, Carnaby Rockhunter shirts, Le Beat Bespoke, Euro YeYe, calling mods 'square' and the NME's current love for all things garage since The Horrors hit the front cover.
Hates: Soul, R&B, plain colours, being laughed at on the late bus home and having to get out of fancy dress for the Monday to Friday office job.
Where you'll find them: In a pair of low-slung hipsters at the Mousetrap psych allnighter.
Mod-life crisis
Distinctive by: His newly-purchased Ace Face suit and SX scooter.
Loves: Being in his mid-50s, having money to burn and the free time to spend it now the kids have grown up, not to mention having a weekend away from the missus at Brighton during the August bank holiday. Just don't mention a 'mid-life crisis'.
Hates: All those wasted years of family life, no longer being 17, having to be back home by Sunday night at 10 or 'there'll be hell to pay', driving a people carrier during the week and the trousers on the new £1,000+ tonic suit being 'just a bit too tight'. So much for mail order bespoke.
Where you'll find them: Throwing the cash around at the bar at a night do in Brighton. After all, that's the only night out for the year.
The internet mod
Distinctive by: A pale complexion from not leaving the house. Ever.
Loves: Internet forums, Facebook groups, Twitter chat, Instagram, mail order clothing, music downloads, takeaway food and portraying an image of the mid-60s dandy about Carnaby Street despite strong evidence to the contrary.
Hates: Going out, shopping in 'real' stores, going to clubs and losing broadband connectivity.
Where you'll find them: Online 24/7, usually throwing out cutting comments about everyone and making sure no one ever sees a photo of them online that will kill the myth.
That's the 10 Varieties of Mod covered. If you can think of others, do let me know.
Save
Love Modculture? If you enjoy what you read or have benefitted from it and want to
help with the ever-increasing costs of the site and newsletter
, you can always
buy me a coffee at Ko-Fi
. Every penny is helpful and appreciated.