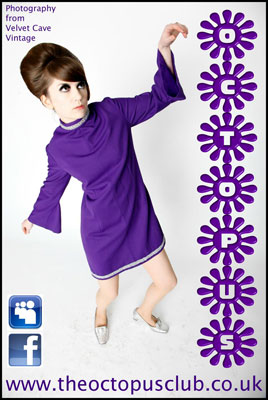 Phill Bettany talks us through the psych / freakbeat night in Stoke.
1. When and why did you set up the club?
The Club started in April 2008. A friend in a band asked me to D.J at there gig and the gig in question spiraled out of control into what became our 1st night Off with the Octopus presents… 'Freakout Friday' with four live bands and dj's. From there, the night became a monthly affair with less and less live bands playing and D.J's and old records coming to the forefront of what the night was about.
2. Who are you DJs? Do you have guest DJs coming in too? If so, anyone we might know?
Resident D.J's are myself Phill Bettany, Leon Jones and Wayne Talbott. Guest D.J's are a regular occurance with the likes of Iain Wilkins (My Generation), Pid (New Untouchables, What goes on Mod Club), The legendary Dave Evison (Wigan Casino) and many more
3. What kind of musical territory do you cover?
The Club is prominently a Psychedelic/Freakbeat night however we also include Rhythm & Blues, Rare and Northern Soul, Funk and much more from between the early sixties and early seventies.
4. Give us an idea of a few tracks you might hear if you dropped in?
My current favourites are:
1.Wool – Love Love Love Love
2.The Music Machine 0 Talk Talk
3.Paul Revere – Hungry
4.Zoo – City Breakdown
5.Black Magic – Flashback
5. What do you think you offer that other clubs might not?
A superb, air conditioned Basement Club at the trendy Fat Cat Cafe Bar, Hanley, Stoke on Trent. We also host the most amazing live bands heavily inspired by the Mod/Psych/Garage eras.
6. Your current venue – how long and have you been there and how does it work for the club?
We have been at Fat Cat Cafe Bar, Stoke since day one April 2008. The venue are very generous and give us a free run of the Basement Room once a month. It is an ideal place to run a Mod/Soul/Psychedelic club night and gives the feeling you are in a cool sixties club back in the day.
7. And how many people do you tend to attract for each night? Do you think anything might put people off coming along?
We have had many capacity filled nights. The Basement Room holds 150 people although we have exceeded that once or twice!!
8. What's your view on the current state of mod/soul nights?
I think the current mod club scene is very healthy at the moment with new nights popping up all over the place. Obviously the New Untouchables nights have raised the bar for what can be achieved within the scene. That's something I aspire to and I'm sure other promotors do also. I love to go to big soul allnighters also, It's great to have a blend of young and older folks and to see the music living through all types and ages of people
9. What's the best and worst thing that's happened with the club?
I love The Octopus Club every month, its difficult to find one night that stands out because they are always fun but highlights for me have been our Trapped in the Sixties Alldayer last year with guest D.J.s Pid and the Legendary Dave Evison from Wigan Casino, American Psychedelic Bands The Asteroid No4 and The Quarter After paying us a visit among others.
I suppose the worst thing to happen is when a band or D.J. cant make it at the last minute. This doesn't get us down for long though, we always have a blast!!
10. Finally, we need the lowdown on the club – listing details, how often, how to get in touch, that kind of thing.
Club listings and dates can be found on our website at www.theoctopusclub.co.uk. Nights are generally on the last Friday or 1st Saturday of the month although you should check our site for exact listings. People can get in touch at [email protected].