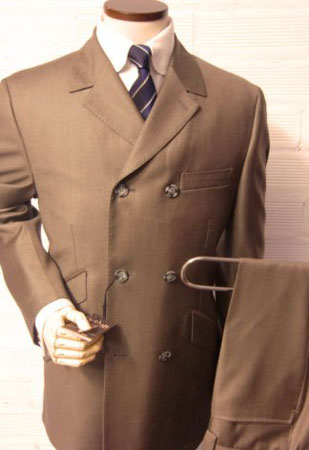 Looking to get a tailored mod-style suit? David Walker has a few tips to make it all much easier.
There are few things like the buzz you get from trying on your first completed made-to-measure suit. But to get it right needs some thought and perhaps a bit of research so the suit in your head becomes the suit on your body. Follow these simple tips and the experience should be more of a joy than a pain…
1. Know what you want:
You may not know the technical terms, but have an idea of what you want in your head. Rough drawings, magazine cuttings, photos – all help. You can alter most features of your suit as you go for subsequent fittings, but you need a rough idea of what you want in the first place.
2. Choose your tailor wisely:
Some tailors (many listed in the tailoring section of this site) have a good mod clientele and will be well aware of what a mod wants in terms of a suit. Others tailors might, others may not. Always have a chat first to see if you're comfortable with the tailor and remember, tailors on this site are recommended for a reason! Get a price too – this will vary massively throughout the country and also depend on the material used (if you use material from the tailor's book).
3. Don't feel pressured:
A tailor's shop is no different than any other shop. You are under no obligation to buy. Most tailors want your business and will be happy to discuss your requirements in the shop or by phone. Why not go and have a chat, look through some cloth books, take in some pictures, explain what you want and see if you feel confident that you'll get what you want.
4. Think about the material:
A classic mod suit is made of mohair. It's not cheap, but it looks the part – and why cut corners if you're going bespoke? If you want something different, fair enough, but that's the recommendation. A tailor can get you the material (he'll have a sample book for you to browse with a variety of colours and styles) or you can take your own. Note that by using the tailor's material he will charge you a mark up for it. However, for a first suit, it could be worth paying the extra money for ease. Speak to the tailor first, he might know somewhere local that sells material.
5. Know your terms:
Neil Lee has outlined many of the common terms used for a suit in separate articles. Try and familiarise yourself with them before you go as it will help get your ideas across. A decent tailor will know exactly what they mean and talk you through any you may not understand. Check out the articles here on this site.
6. It's your suit:
If you are not happy with the way your suit is looking on any fittings, tell your tailor – he's working for you. It's a made-to-measure suit, made exactly to your liking. Don't pay for it until you're 100% happy and don't be afraid to change your mind in detailing (eg buttons, lapels etc). A good tailor will guide you through the general look, but ultimately your suit is down to the way you want it.
A good way to stand out from the crowd is to add your own little touches – it's made for you, there's no need to look like everyone else!
7. Final fitting:
When your suit is ready for a fitting (especially a final fitting), it is a good idea to wear the shoes/shirt you intend to wear with the suit. It will give you an idea of any changes needed – eg trouser length, if you're suit needs 'taking in' etc.
8. And finally…
…always try to agree a deadline if you need the suit for a specified date. Making a suit isn't easy and depends on what you want and the tailor's workload. So if you need it as a priority, say so upfront, don't leave it until later. The tailor will want you to leave happy (and be a repeat customer) and will do his best to accommodate you.
Follow these 8 simple steps, know what you want and the experience of having a suit made will be a breeze.