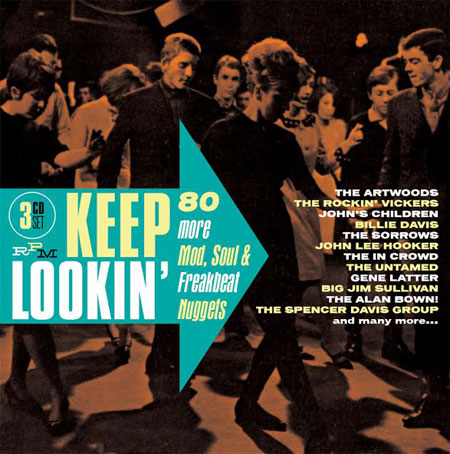 The original Looking Back box set
in late 2011 was an absolute corker, so we're very pleased to hear about the second instalment, currently going by the name of Keep Lookin' – Another 80 Mod, Soul and Freakbeat Nuggets and released once again by RPM.
When we first mentioned this, we didn't have a specific release date. But now, thanks to a certain online retailer, we know the box set will be arriving on 30th June 2014. You can pre-order now if you want to plan ahead.
What does the box set offer? Essentially more of the same – which is no bad thing. We've been told that there are some rare and previously unissued Planet Records tunes, 10 tunes from the Sparks catalogue, some Australian freakbeat direct from the master tapes and some New Zealand rarities too. Oh yes, not to mention a smattering of lost 1960s gems from more familiar names.
We have got a provisional tracklsting below. It's not in order, but it gives you an idea of just what will be coming out at the end of June. If you want to pre-order, the 80-track box set is selling for £21.16.
Pre-order the box set at the Amazon website
Tracklisting:
1. THE SPENCER DAVIS GROUP Taking Out Time
2. LAUREL AITKEN Voodoo Woman
3. LAUREL AITKEN Sweet Precious Love
4. JOHN'S CHILDREN Go Go Girl
5. ANDY ELLISON Cornflake Zoo
6. THE ALAN BOWN! Love Is A Beautiful Thing
7. TUESDAY'S CHILDREN Summer Leaves Me With A Sigh
8. THE ROCKIN' VICKERS Dandy
9. THE OTHERS Smokestack Lightning
10. THE SPEKTORS Gloria
11. THE BIRDS Magic Words
12. THE BIRDS Dust In My Pants
13. JOHN FITCH & ASSOCIATES Stoned Out Of It
14. THE CLANGERS Beautiful Baby
15. SANDS River Deep Mountain High
16. FAT MATTRESS All Night Drinker
17. LIVERPOOL SCENE Bat Poem
18. MIKE STUART SPAN Rescue Me
19. THE IN CROWD Finger Poppin'
20. THE IN CROWD You're On Your Own
21. KATCH 22 Major Catastrophe
22. ARRIVAL La Virra (last track!)
23. THE UNTAMED Gimme Gimme Some Shade
24. LINDSAY MUIR'S UNTAMED Trust Yourself A Little Bit
25. PERPETUAL LANGLEY Surrender
26. NATIONAL PINION POLE Make Your Mark Little Man
27. THE THOUGHTS Memory Of Your Love
28. A WILD UNCERTAINTY Man With Money
29. FOUR + ONE Don't Lie To Me
30. THE EXCEPTION Don't Torture Your Mind
31. SHERIDAN & RICK PRICE Lightning Never Strikes
32. RHUBARB RHUBARB Moneylender
33. THE LEAGUE Hey Conductor
34. CHORDS FIVE Some People
35. THE MINISTRY OF SOUND Hey Girl (No Need To Push)
36. UNDERGROUND SOUND Arcipelago
37. THE SORROWS Rollin' Over
38. THE HI-FI's Mickey's Monkey
39. RAY HOFF & THE OFFBEATS Lookin' For My Pigs
40. THE TALISMEN Castin' My Spell On You
41. BIG JIM SULLIVAN Trans-Love Airways (Fat Angel)
42. COCONUT MUSHROOM Run Run Run
43. THE FOUR FOURS Go Go
44. RAY COLUMBUS & INVADERS Yo Yo
45. KRIS IFE Give And Take
46. LOMAX ALLIANCE You Better Get Going Now
47. JACKI BOND Don't You Worry
48. ALEXANDER STONE Man In A Suitcase
49. THE GREMLINS High Time Baby
50. BILLIE DAVIS & THE LeROYS Whatcha' Gonna Do
51. THE TRIBE My Heart Won't Believe It (previously unissued)
52. THE TRIBE I'm Leaving
53. THE ARTWOODS I'm Looking For A Saxophonist…
54. THE ARTWOODS Keep Lookin'
55. MARILYN POWELL Something To Hold On To
56. CANTERBURY GLASS We're Going To Beat It (Battle Hymn)
57. THE MOOD-MOSAIC A Touch Of Velvet, A String Of Brass
58. JOKER Rip Van Winkle
59. LIZ CHRISTIAN Call My Name
60. JOHN LEE HOOKER Don't Be Messing Around With My Bread
61. THE ARTHUR BROWN SET The Green Ball
62. RAY COLUMBUS We Want A Beat
63. THE JEEPS I Put On My Shoes
64. GNOMES OF ZURICH I'm Coming Down With The Blues
65. ICARUS You're In Life
66. THE VALENTINES I Can't Dance With You
67. THE SCEPTRES Something's Coming Along
68. EARTHA KITT The Way You Are
69. GENE LATTER & THE DETOURS My Life Ain't Easy
70. GENE LATTER Holding A Dream
71. JIMMY THOMAS Springtime
72. VAL McKENNA Sweet, Sweet Lovin'
73. THE HEAVYWEIGHTS Shambala
74. THE HEAVYWEIGHTS Utterly Funky
75. TROUBLED MIND I'm Good For You
76. SUGAR SIMONE King Without A Throne
77. SUGAR SIMONE It's Alright
78. DEE AND THE QUOTUM Someday You'll Need Someone
79. LYONS AND MALONE She's Alright
80. WILLPOWER Soul Finger
Save