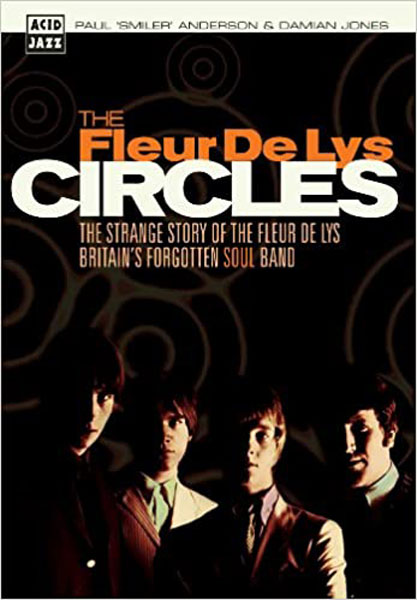 Note that I independently write and research everything in this article. But it may contain affiliate links.
The definitive book on a much-loved band. The Fleur De Lys – Circles by Paul Anderson and Damian Jones.
Update: This is a very rare book and copies go up for three figures usually. However, right now there is a copy on eBay at just £14.99 as I write. You can see it here.
The Lovely Lads, the Originals, the New Originals, the Thamesmen, Gimme Some Money…Stumpy Pepys, Peter 'James' Bond, Mick Shrimpton, Isle of Lucy Jazz/Blues/Blues/Jazz festival. There are moments where Spinal Tap shifts from an endearing pastiche to an all too recognisable window on the past and just as there is a fine line between clever and stupid, the line between success and failure is little more than a fag paper's breadth.
Never, it seems, was this more the case than The Fleur De Lys, the cult 60s group best known for their collaboration with Sharon Tandy and a handful of highly sought after and well regarded 45s and now the subject of Paul 'Smiler' Anderson and Damian Jones biography, 'Circles'.
Paradoxically, unlike the 'Tap, famed for their endless procession of percussionists, the one point of constancy in the Fleurs, amidst a flurry of line-up changes, is drummer Keith Guster.
The British beat sound, for many years, seemed lost in a haze of it's own mythology, compounded by rumours, received wisdom and poorly written sleeve notes – did you know that the Small Faces had a hand in Bert's Apple Crumble, that Lemmy from Motorhead had worked with the Bo Street Runners and the Riot Squad and the perennial chestnut – on any beat 45 which possesses an inspired piece of fretwork,'You hear that solo? That's Jimmy Page that is'. Lies, all lies.
The truth will out though, and 'Circles' does an admirable job in shining a torch on one small dark corner of the British beat explosion, in deepest Hampshire, dispelling myths and giving credit where credit is due.
As with so many bands of their ilk, the story has a familiar start; formed, alongside a tidal wave of likeminded acts, under the twin influences of two irresistable forces – American rhythm and blues and four loveable mop tops from Merseyside.
As bands became groups and lead singers became unhip, the combo phenomenon swept the country and on the fringes of the New Forest, a small band of likely lads join forces to form the exotic sounding (by the standards of the early 60s) Les Fleur De Lys.
And that is as straightforward as it gets. As research projects go, the history of The/Les Fleur De Lys (plural) is a veritable Gordian knot – thumbs up to the authors for untangling what must rank as one of the most convoluted of rock family trees.
Readers would be advised to take careful note of what becomes a seemingly never ending list of line up changes, compounded by the draconian whims of record companies and a run of bad luck that would have floored a lesser outfit.
Indeed, it is this recurring string of near misses and bad breaks that fast becomes the predominant theme. Throughout the book, you see just how close the Fleur De Lys came to eating at the top table, rubbing shoulders along with the way with Mick Fleetwood, Roberts Frampton and Fripp, Jimi Hendrix, The Animals, Jeff Beck, Marmalade, the young David Essex, fellow Hampshire lads The Troggs and, of course, the band from whence came their most regarded single, The Who.
There are times when reading this, that you can feel yourself wincing – walking away from a miserly Shel Talmy, lumbered with second rate cover versions, at the mercy of a high handed Jimmy Page (another penny pinching producer) and each time you cannot help but think that obscurity was being grasped from the jaws of fame.
For one decent break, we might well be now be talking of them in the same breath as the Yardbirds, Small Faces or Chris Farlowe – successful and credible.
And credible they certainly were – no apologies are made, throughout the book, as to them wearing their hearts on their sleeve. They truly were a mod band for mods; no contrivance, no managers pulling strings, no stylists choosing outfits – shunning the long hair and shabby denims of the Pretty Things or the Stones, they stuck to their guns, in both clobber and sound.
The fact that none of them had scooters is balanced by the fact that were spending near £200 on a Rickenbacker, while still in their teens…not that far off the price of a new Vespa.
One of the strengths of the book is the archive of photographs and snapshots, many previously unpublished, showing a band that wore their style as naturally as their peers down the Scene or Flamingo.
It is also fascinating to see tunes and cover versions quoted which, by the standards of today are considered commonplace, but then were still underground, word of mouth, floor packers – Wade in the Water or The Impressions' You've Been Cheating for example – the latter having a huge impact on the band.
Their collaboration with Sharon Tandy makes for most insightful reading. Progressing from battle of bands contests to the tight loop of London club residencies, this coming together was the sniff of the big time they had been reaching for.
What could have been a marriage of convenience fast became a fruitful and inspired partnership, between youngsters (and it is worth remembering just how young they were – you'd never guess from her voice that Tandy was still two years away from voting age) fast hooked on the burgeoning soul sounds that were displacing the R&B boom.
Sharon Tandy's erstwhile husband and the band's manager, Frank Fenter, steals the show – straight out of central casting, a trans-Atlantic, sharkskin Mr Fixit, he also manages to steal a fair percentage of the bands earnings too, but, and judging him by the standards of his day and his contemporaries (Don Arden springs to mind), you cannot help but warm to him…masterminding a rushed 45 release, to cash in on the 6 Day War? You can only admire a level of chutzpah, that could have come straight from the pen of Mel Brooks.
And it is Frank who, inadvertantly, signs the band's death warrant. By signing them to Atlantic (just like Led Zeppelin, but without the pleasure of a hefty advance), the band find themselves pretty much living the dream; working with every big name you can imagine from the Stax stable.
Produced, tutored and on occasion alarmed, by the likes of Donnie Elbert, they find themselves effectively trapped; by now, one of the tightest session acts in the UK, they are more useful to Fenter behind the scenes than front of house and what bones they are thrown, by way of single releases, are ill thought-out covers or rip off soundalikes, while he sub-contracts their skills to whoever is in need of that elusive Memphis sound.
Touring with the Beach Boys and Aretha Franklin are the highs, but too many lows, too many disappointments, badly plugged records, promises not kept, monies not forthcoming, all start to add up. Come the end of the decade, the pressure is brought to bear and what was probably one of the most remarkable products of the British group scene called it a day.
Sic Transit Gloria Mundi – but for want of timing and another roll of the dice, Gordon Haskell's only worries would have been wondering whether to buy a trout farm or a Dino, rather than, in his words, 'living on skid row…playing to drunks in bars, seven nights a week.' Then again, he's never had to advertise American Express or join in the singathon on Live Aid.
It all sounds a touch depressing, and the interviews do, understandably, bring out some of the bitterness they felt towards the way they were treated by those on high, but as a unit, albeit a fluid and oft changing one, there seems to be nothing but fond memories, no Troggs tapes in-fighting or Jagger/Jones rivalry, just like minded mates making a living out of what they enjoyed doing.
Aside from Sharon Tandy's drugs issues, there is similarly no truck with the chemical legacy that fills many a 60s memoir, just a contentment in making music as well as they could, and even now, after forty odd years, still possessing that sense of wonderment for the chance to work with artists that, back then, were deemed legends. Being remembered as Britain's answer to Booker T and the MG's? Not bad going.
For someone who first latched onto mod through a love of homegrown soul and R&B, 'Circles' is pretty much gold dust; all the bumph and ephemera, the flyers, nights out down the Cromwellian, the fleeting pleasures of Swedish groupies, the slightly hammy, staged group shots clustered round a rental Jag, the tying up of loose ends, debunking of myths and shedding of new light. If you really want an idea of what mod must have felt like, when it was still new and shiny, from those at centre stage, I do recommend, wholeheartedly and without reservation, that you add this tome to your shelves.
Jon Farmer
The book is no longer in print, but copies have been appearing regularly on eBay of late. You can see all the copies available now here.
Love Modculture? If you enjoy what you read or have benefitted from it and want to
help with the ever-increasing costs of the site and newsletter
, you can always
buy me a coffee at Ko-Fi
. Every penny is helpful and appreciated.