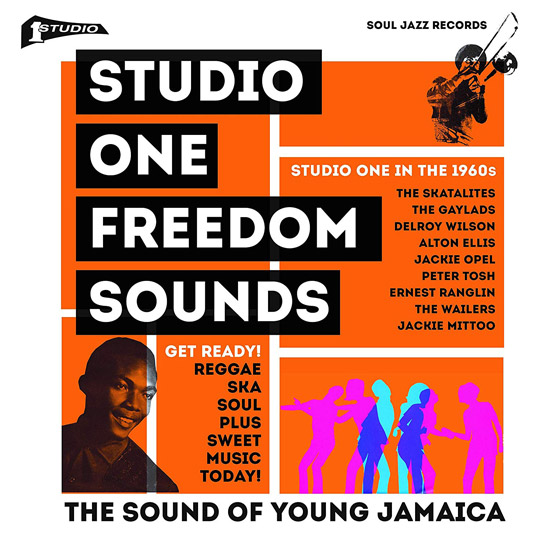 A new compilation out this week on both CD and vinyl – Freedom Sounds: Studio One In The 1960s CD and vinyl, which is released by Soul Jazz.
Looks a decent collection too. Studio One Freedom Sounds is the new collection from Soul Jazz/Studio One based on the intense period in the second half of the 1960s when Studio One's output of ska, soul, rock steady and reggae made it hot property.
During this period, Clement 'Sir Coxsone' Dodd released hundreds and hundreds of singles seemingly on an almost daily basis, making huge stars out of Jamaican singers such as Alton Ellis, Delroy Wilson, The Wailers, Slim Smith and Jackie Opel.
Of course, all of those tracks also featured the best in-house musicians working in Jamaica, including The Skatalites, Jackie Mittoo's Soul Brothers, The Sounds Dimension and The Soul Vendors.
Studio One Freedom Sounds tells the story of Studio One in the 1960s with a set of ska, soul, rock steady and reggae killer tunes, backed up with sleevenotes and track-by-track info by Noel Hawks.
The album is released as heavyweight double vinyl (with download code) as well as CD. In fact, it comes out this week. Fancy a copy? You can check out the track listing below and order a copy right now. The vinyl is £20.99 and the CD is £11.99.
More about the vinyl at the Amazon website
More about the CD at the Amazon website
Track listing:
1. Rain Or Shine – Don Drummond & The Skatalites
2. Morning Sun – The Gaylads
3. Just Because of You – Delroy Wilson
4. Sunday Coming – Alton Ellis
5. I Am What I Am – Jackie Opel
6. I Am the Toughest – Peter Tosh
7. Get Ready – Delroy Wilson
8. Timo-oh – Mr. Foundation
9. Provocation – Roland Alphonso and The Soul Brothers
10. Love Me Girl – Leroy & Rocky
11. Love Who Is Back Again – Slim & Delroy
12. Spread Satin – The Skatalites
13. Contemplating Mind – Barrington Spence
14. Psychedelic Rock – Ernest Ranglin
15. Destiny – Bob Marley and The Wailers
16. Reggae in the Grass – Roland Alphonso
17. We Can Talk It Over – Zoot Simms
18. Hi Jack – Jackie Mittoo