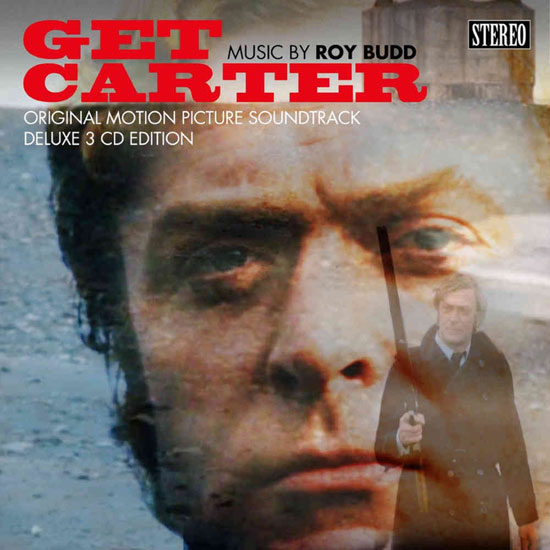 Fans of the classic film might be interested in the Get Carter soundtrack deluxe 3-CD reissue with book, which is out this month.
Of course, you might already have the soundtrack on CD or the vinyl reissue from a few years back. But this one offers up some added value courtesy of some extra music, both from the film and from the back catalogue of the man behind it, Roy Budd.
The soundtrack itself is actually a modern-era release, in terms of the UK at least. The 'Get Carter' theme was issued as a 7-inch on Pye Records, but the original soundtrack LP was only released in Japan on the Odeon label at the time.
Eventually, it got a release on the Cinephile label, but only in 1998, which is probably the vinyl copy you have.
The new and improved edition of Get Carter has three CDs of music from Roy Budd – the first two devoted to the film's soundtrack and the third to the best of Roy Budd's other scores.
Disc 1 is the original Japanese soundtrack, with the addition of 'Hallucinations' (which was on the soundtrack but not the LP). Disc 2 combines other incidental music from the film with single mixes and remixes and other rarities.
Disc 3 is other Roy Budd soundtrack highlights from the likes of Diamonds, Fear Is The Key, The Stone Killer and The Black Windmill.
All of that comes in a 'deluxe' hardback book format with a huge booklet featuring a new, 15,000 essay from film soundtrack writer Charlie Brigden and a foreword from Paul Fishman, as well as numerous images from the cult classic movie.
It's available to order now ahead of the release date of 26th July 2019, with a price of £26.99.
Find out more at the Amazon website
DISC ONE – ORIGINAL SOUNDTRACK
GET CARTER (Intro)
DIALOGUE
CARTER TAKES THE TRAIN (Main Title)
DIALOGUE
LOOKIN' FOR SOMEONE
THE RACE TRACK (Dialogue)
SOMETHIN' ON MY MIND
DIALOGUE
GETTIN' NOWHERE IN A HURRY
DIALOGUE
THE GIRL IN THE CAR
THE PHONE CALL (Dialogue)
LOVE IS A FOUR LETTER WORD
DIALOGUE
LIVING SHOULD BE THAT WAY
DIALOGUE
MANHUNT
DIALOGUE
GOODBYE ERIC + DIALOGUE
DIALOGUE
HALLUCINATIONS
GOODBYE CARTER!
DISC TWO – ORIGINAL SOUNDTRACK BONUS MATERIAL
GET CARTER (Alternative Mix 1) *
PLAYTHING
DIALOGUE
HALLUCINATIONS (Alternative Vocal Mix) *
DIALOGUE
LOVE IS A FOUR LETTER WORD (Alternative Mix) *
MANHUNT (Alternative Mix) *
DIALOGUE
GET CARTER (Alternative Mix 2) *
GETTIN' NOWHERE IN A HURRY (Alternative Vocal Mix) *
HALLUCINATIONS (Instrumental Mix)
HOW ABOUT YOU
GET CARTER (7″ Single Version)
GET CARTER (Dope On A Rope US Remix)
GET CARTER (De Few 2 Smoking Barrels Remix)
GET CARTER (Deadly Avenger Remix)
GET CARTER (Breakneck Dirtbox Remix)
DISC THREE – A BIT OF BUDD
MR FUNKER (M15-FB) (from Foxbat)
WAY OUT M1 (SK 10) (from The Stone Killer)
NO DOUBT (MC-M11) (from The Marseille Contract)
DIAMOND FORTRESS (from Diamonds)
IN THE SHADOWS (from The Stone Killer)
JAZZ IT UP (MC-M4) (from The Marseille Contract)
FREE TARRANT (from The Black Windmill)
CASSETTE JAZZ (from The Black Windmill)
FOR ALL MY DAYS (from Kidnapped)
NO COOPERATION (from The Black Windmill)
TEACHER AND PUPIL (from Paper Tiger)
MAIN THEME (from Fear Is The Key)
LOVE AT FIRST SIGHT (Theme from The Warsaw Concerto) (from The Sea Wolves)
HOW CAN WE RUN AWAY (from Something To Hide)
CRESTA'S SONG (from Soldier Blue)
THEME FROM AUNT HARRIET
THE CAREY TREATMENT (from The Carey Treatment)
VERSAILLES EXIT
WHO NEEDS LOVE ANYWAY