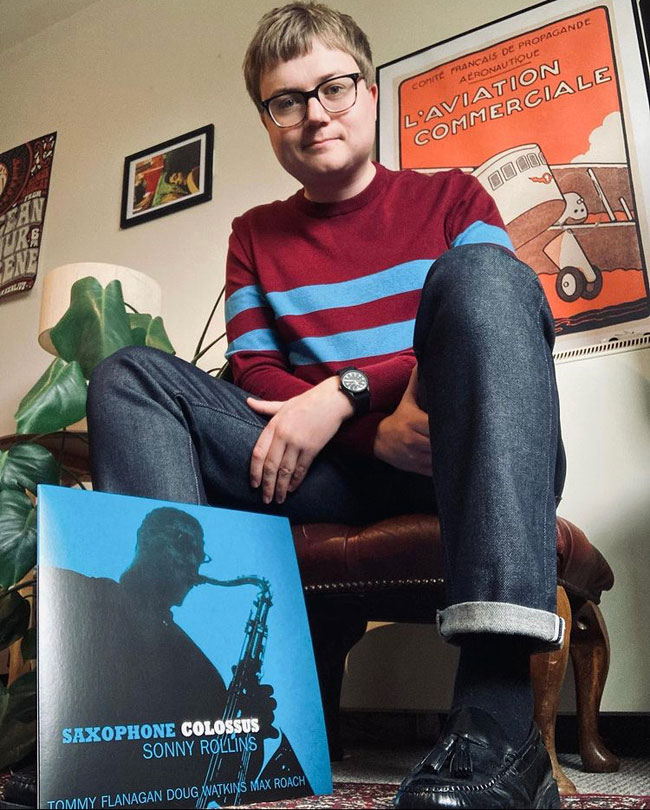 Note that I independently write and research everything in this article. But it may contain affiliate links.
He does a great radio show and knows a thing or two about clothes, So an interview with Tom Hoy seemed like a good idea.
If you haven't heard it, Tom does a monthly show on Totally Wired Radio by the name of Go Go Power! You can listen to past shows here if you want to check them out.
It's a Mod-friendly mix of chat and music over two hours and an entertaining way to pass your time. Tom also loves his clothes and if you follow him on social media, you'll see plenty of photos of his current favourites.
So an interesting guy and someone I have wanted to catch up with for a while, So I do just that. Check out the interview below…
First off Tom, thanks for agreeing to do the interview. And a first question – where did your interest in all things 'Mod' come from? Was there a family influence or was it something you discovered yourself?
It's a weird one really, I guess it's a coincidence, it just so happened everything I was into came under the umbrella term "Mod'.
My Dad was a punk in his teens and is a big Beatles fan, so good music was always being played around the house.
I started to play the drums at primary school and somehow ended up getting into jazz – which I definitely didn't get from my Dad!
All of his side of the family is from Essex and London and I've always been obsessed with the city, it's my favourite place to go. My Grandad, who passed away recently was a proper Cockney, he had the best sense of humour out of anyone I've ever met and I think that spurred on my love for London in the early 60s.
I think my real love for Mod though probably comes from films rather than music, I'm very much what my girlfriend would call a Bond-Geek. I love watching films from that era just for clothes.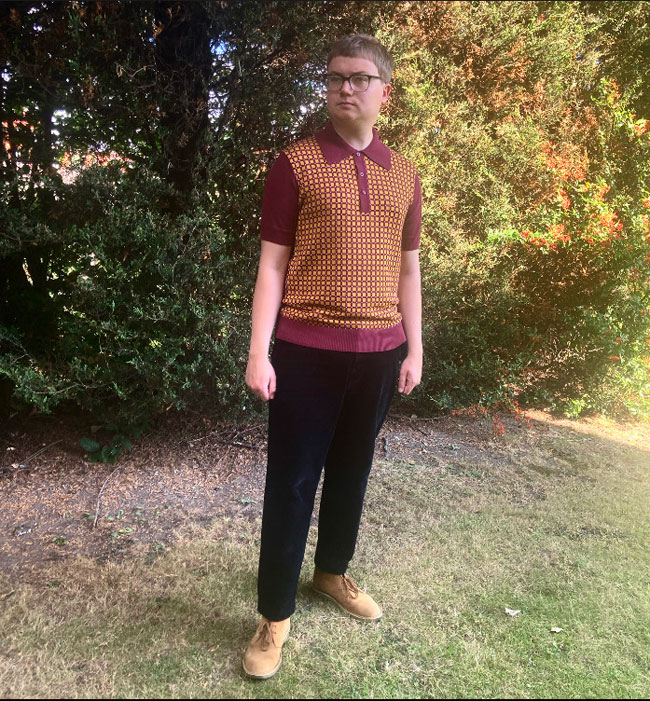 So how did a love of Mod develop to spinning tracks and chatting on Totally Wired Radio? I suspect it was a bit of a journey. Was club DJing involved?
I moved to Manchester to study TV and Radio, originally wanting to write. Part of my course meant I had to do a bit of radio, which I'd never done, as well as TV and I fell in love with it straight away.
I think because I am originally more of a writer I love how visual radio really can be! I love putting soundscapes into my shows and clips from films to set the tone of the music.
I was DJing for Pretty Green and a mutual friend introduced me to Gary Crowley, who was also on the bill. We chatted a lot and Gary asked what I was up to DJing wise. I'd just started recording an hour-long show (which would later act as a pilot for TWR) and Gary told me to send it to him. He put me in touch with Eddie Piller, whose work I was already a huge fan of and he replied and offered me a slot.
That obviously led to a monthly show on the station. How easy was that to do? Is it effectively a part-time job to do a two-hour show? And is it something you do in a studio or do you have a home set-up?
All the shows are pre-recorded up here in my flat in Manchester and sent down to Acid Jazz Towers in London. It means I can either do the whole two hours in one go or I can break it up over a couple of days!
I love making them, I try to keep them interesting too – there's been a lot of Bossa Nova and Latin Soul on the show recently, I do play the odd hit but I like to give people a take on a side of Mod that perhaps may seem a little unfamiliar.
How long has the show been running now? Has it changed over that time?
It's 2 years old now! And to be honest the pandemic happening helped it grow. At the moment I normally stick to one guest on the show, but during the lockdowns when everyone was sitting at home I had multiple at once… I think the most was 5!
In terms of guests, what do you look for before you send out an invite?
It's quite self-indulgent really, I ask people that genuinely interest me and I want to know more about them just as a fan of their work!
I know it's unfair to name names as all your guests have added to the fabric of the show, but has anyone stood out for you? Who gets the repeat booking?
I've been very fortunate with the show and even made friends through guests I've had on. A highlight for me was having Mick Talbot and Steve White on the same show, they were both lovely, they were really cool to talk to just as music fans themself. You forget as well with people like that the amount of work they've done, other peoples records they've played on and the gigs they've done – I try not to think about those moments before talking to them!
In terms of returning guests there's been a couple, Mark Baxter has come on a couple of times, he's a gent and is welcome any time! Neil Jones of The Stone Foundation has been on twice, Neil's great, if there's ever anything new out by the band, he's very supportive of the show and will send over tracks for me to play out.
And of course, I have to give a special mention to my 'Mod Parents', Simon Parr of Heritage Brands and Andrew Lindsay of Mod Shoes. They've both been on the show a couple of times, they're both good friends and have taught me so much about the scene in all forms – they're also very encouraging of anything I've got going on! I probably owe them both a lot of drinks.
And who would you like to get on the show if possible? Also, have you managed to get any of your heroes on?
As I mentioned Mick Talbot and Steve White, they are two heroes of mine, Gary Crowley is a hero as well as a friend, Nass Bouzida of Big Boss Man AKA The Bongolian was really cool to chat to, I've always loved his music. The first-ever show kicked off with Bruce Foxton and Andy Crofts, they were both great to chat to.
There's a very long list of people I'd love to get on, there's the obvious Mod heroes, Weller, Martin Freeman, Bradley Wiggins, but I'm always on the lookout!
Would you say your show is influenced by other shows and people you have encountered along the way? I presume you've learned a bit off Eddie Piller over your time on the station?
Definitely. I've told Eddie before of how much of a fan of Totally Wired aside from me even having a show I am. It's become an alternative to BBC 6 Music and offers a wide diverse range of music from people from all corners of the world.
It all started with the Modcast for me back when it was on Soho Radio, so when Eddie started TWR I jumped straight on board and listened to as much as I could. I almost feel defensive if I hear someone refer to it as an "internet radio station" because it's wider than that, I'd say it's more underground with a bit of a punk ethic about it.
A show I also listened to starting out and still tune into is Kiss! Kiss! Bang! Bang! with DJ Honey. Honey is great at what she does and you can tell it really is her passion. She's introduced me to a lot of new music because she lives in Singapore she has an amazing collection of 60s Asian Soul 45's I would have never had heard of if it hadn't been for her show! Also, she's a past Go Go Power guest!
What about the music. Is there a certain style you play between the chats or do you keep things fairly broad? Any tracks you have 'broken' or pushed to a wider audience over the years?
It's always hard with music from our scene because if something has already been given the 'Mod' badge it means chances are it's because it's already popular. Saying that there's so much good soul coming out at the moment – Stone Foundation always send me over their new stuff, I'm really fortunate as a big fan of theirs.
Colemine records in Brooklyn are doing some incredible stuff, almost a new take on TAMLA. People should check out the Colemine 45's playlist on Spotify, I constantly find new gems on there!
If I was to ask you to list five 'typical' spins on the show, what would they be?
Mother Earth – Almost Grown
Gentleman June Gardner – It's Gonna Rain
The Kevin Fingier Collective – El Basement
The World Pt.1 – Sandi & Matues
Little Johnny Taylor – Somewhere Down The Line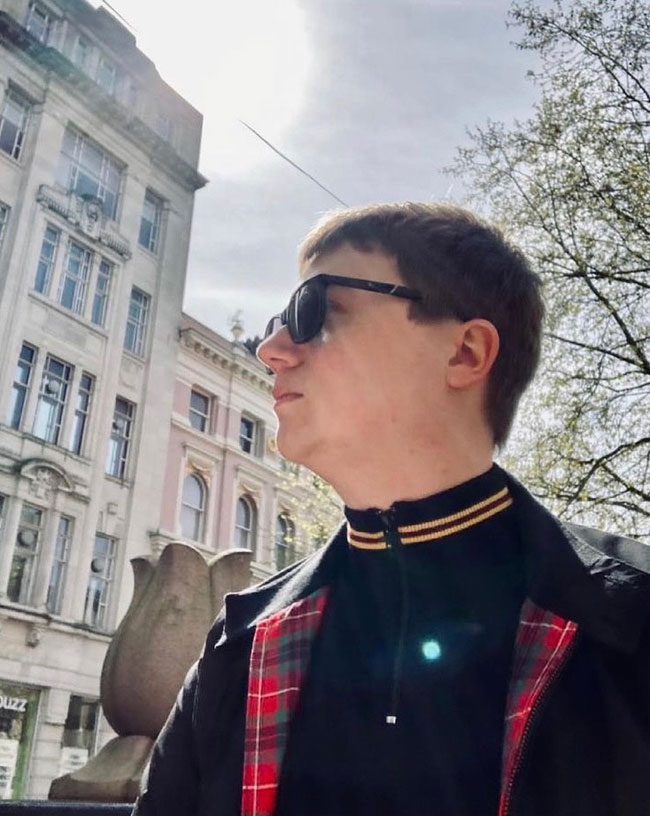 Any plans for the future or are you happy with the way things are on the show?
I'd love to do some sort of live event one day, in what capacity, I'm not sure!
I know it's not all about the music. I follow you on social media and know you love your clothes too. Would you describe yourself as a clothing obsessive?
Yes! I always like to look my best, which in lockdown did prove hard I suppose. I'm not one at all for wearing jogging bottoms or anything like that, I think you can still look good and feel comfortable at the same time.
Anyone that knows me personally would know (I hope!) that I'm not the type of guy to tell someone to "stop, get a picture of me doing this", I like to think of what I post on social media as more of a blog. I love to show people that follow me a record I've got in my collection next to some clothes that I think go hand in hand with the sound/artist.
What are your 'go to' labels right now?
I'm again very fortunate to have a few friends that I like to take pictures for!
Art Gallery Clothing – Alex Banks
I've been a fan of Alex's work for years, I think I remember when I first saw his clothes it was like a lightbulb switching on and my mind telling me that's exactly how I wanted to look. Now and then I'll take some pictures or make a video for Alex of some of the pieces that are coming soon to the label, which I love doing. The details, quality and cut of AGC's pieces are brilliant. I've got more of their clothes than any other label in my wardrobe!
Mod Shoes – Andrew Lindsay
Andy is one of the nicest guys you could meet and his attention to detail really shows in what he produces. I've got a pair of the Deighton Cord Shoes and I love them. They're not like anything I've seen anywhere else and you can pretend to be George Harrison whilst you're wearing them!
Jump The Gun – Adam LeRoy
The late 50s early 60s is always my favourite look and Adam and the team embody that look perfectly. I love everything about their shop, all the correct details are there, I bought a Three Button Moleskine Jacket from there and it's beautiful!
Baracuta
The G9 is probably my favourite jacket of all time, it's simple, understated and timeless.
Uniqlo
I love Uniqlo! If you've read or heard of the book Ametora: How Japan saved American style, then you'll see how Uniqlo can be a great shop to pick up classics similar to what Ivy Leaguers were wearing in the late 50s early 60s.
Bass Weejuns
I wear a pair every day – I love them!
What's your view on the Mod clothing scene right now. Do you think it's in a good place?
It's obviously more accessible than ever, within a couple of minutes with your phone in hand you can have a whole 60s wardrobe. That's great but I'm very much one for going into a shop and experiencing it for myself. Clothes often look completely different in person to what they do in a picture, so it's always good to go and try things on when you can and meet the people that represent what it's all about.
Any plans to go working with clothes? If someone approached you to do some kind of collection, would you be up for that?
I'd love to, as long as it was the right label of course! It'd be great to explore some of my Jazz heroes and what they wore. Maybe one day!
Am I right in thinking you also do a clothing podcast?
That's right! I do one with Simon Parr and Andrew Lindsay called Dedicated Followers of Fashion, which is available on Spotify & Itunes, where we discuss how clothes, music and film are all related. There's four available to listen back to at the moment, hopefully, more soon.
In more general terms, what are your plans for the future? Do you see radio/online DJing becoming a bigger part of your life at all? Or are you happy entering peoples' lives once a month?
It's a strange one because I'm not too sure myself! I enjoy knowing people who are involved in the scene and helping them out, I keep things open! With regards to the show, I definitely think less is more, it gives me time to work on guests and timings of when things launch. Who knows though! The best part of it all for me is meeting new people, whether they say hello in person or over Instagram and sharing interests.
I recently appeared in the Sky Arts Documentary – The Who Sell Out, and got to speak about the Who all day to a camera crew, I'd like that as a job!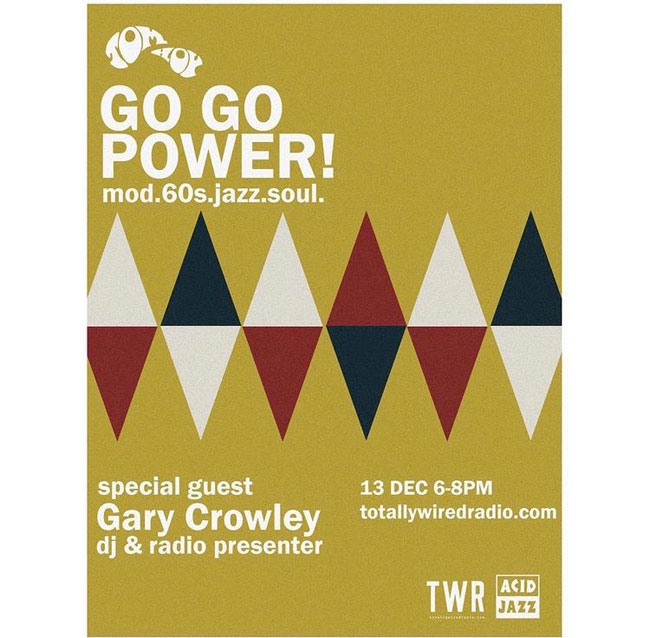 Finally, which other shows would you recommend on Totally Wired Radio outside your own?
There are lots of good ones to choose from, here's a few!
The Modcast / Eddie Piller's Eclectic Soul Show
Noble and Heath
Kevin Fingier – Sensacional Soul
The Rendezvous – Kurtis Powers
Huge thanks to Tom for taking time out to chat about himself and his show. If you want to follow him, he's on social media at Instagram, Twitter and Facebook.
Love Modculture? If you enjoy what you read or have benefitted from it and want to
help with the ever-increasing costs of the site and newsletter
, you can always
buy me a coffee at Ko-Fi
. Every penny is helpful and appreciated.