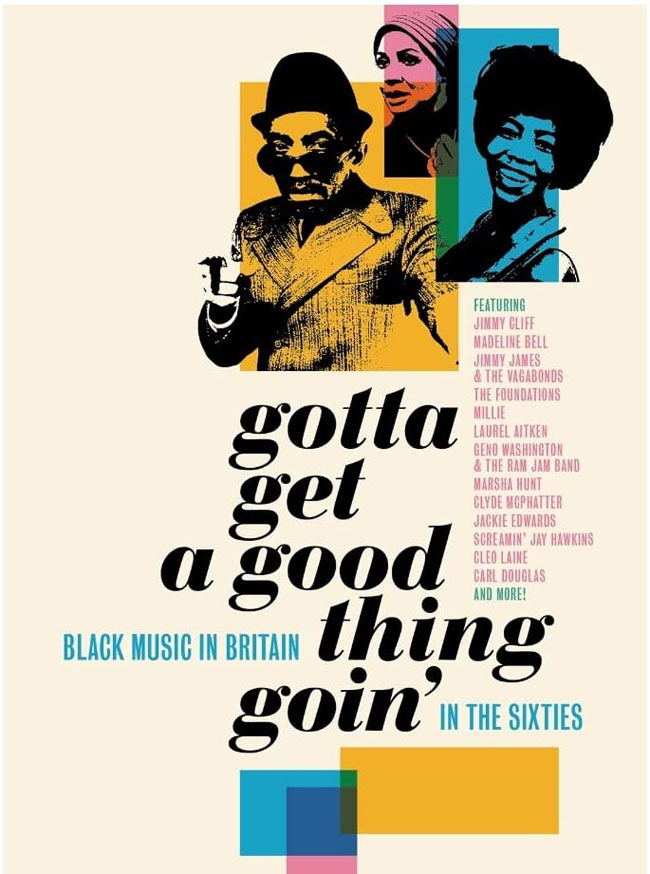 Note that I independently write and research everything in this article. But it may contain affiliate links.
Gotta Get a Good Thing Goin' – The Music of Black Britain in the Sixties is well worth a look.
The word 'interesting' pretty much sums it up. It's not all Mod interest, but a good chunk of it is. Let me explain.
Gotta Get A Good Thing Goin' is described as the first box set to document the huge influence of Black music in Britain in the 1960s. And it's a big one, with 115 tracks over four discs, supplemented with extensive sleevenotes that include an essay from Fitzroy Facey (Soul Survivors).
The premise is that black artists recording in Britain in the 1960s weren't given the exposure they deserved.
The first two discs of Gotta Get A Good Thing Goin' document the 'explosion' of homegrown Soul and Rhythm and Blues on the back of the growing success of labels such as Motown and Stax/ Atlantic.
Artists such as Carl Douglas and Jimmy James were popular live draws, who later enjoyed chart success in the 1970s. Jackie Edwards, Owen Gray and Jimmy Cliff came to the UK from Jamaica after signing with Chris Blackwell's Island Records while Geno Washington was an American GI who stayed here and continues to perform to this day. Clyde McPhatter was the legendary original singer in The Drifters and The Chants would eventually evolve into The Real Thing.
But it's not just about soul and R&B, although half the box set is devoted to that genre. Disc 3 is devoted to the 'homespun' Ska, Rocksteady and Reggae from artists who'd often been born in the Caribbean while disc 4 reflects a wider range of styles including choice selections from many stars of their day. I think the word to describe that final disc would be 'eclectic'. Which is no bad thing.
Have a look at the tracks below, which include numerous tracks new to CD and many 45s which now command three-figure sums on the collector's market.
The box is available to pre-order now ahead of the 29th July release date. Expect to pay around £37.99. You can pre-order at Rough Trade and Amazon.
Track Listing:
DISC ONE
1 THE SOUL BROTHERS Gotta Get A Good Thing Goin'
2 THE FLIRTATIONS Nothing But A Heartache
3 CARL DOUGLAS Serving A Sentence Of Life
4 JIMMY THOMAS Springtime
5 JIMMY JAMES AND THE VAGABONDS This Heart Of Mine
6 JACKIE EDWARDS Come On Home
7 CHRIS RAYBURN One Way Ticket
8 HERBIE GOINS AND THE NIGHT-TIMERS Coming Home To You
9 JIMMY CLIFF Waterfall
10 THE FERRIS WHEEL I Can't Break The Habit
11 GENO WASHINGTON & THE RAM JAM BAND Michael
12 CLEO LAINE Don't You Pass Me By
13 DANNY WILLIAMS Whose Little Girl Are You
14 MADELINE BELL Picture Me Gone
15 WATSON T BROWNE AND THE EXPLOSIVE Some Lovin'
16 EBONY KEYES If You Knew
17 SUGAR SIMONE Take It Easy
18 KIM D The Real Thing
19 BROTHERS GRIMM Looky, Looky
20 LUCAS AND THE MIKE COTTON SOUND Ain't Love Good, Ain't Love Proud
21 THE FANTASTICS Ask The Lonely
22 OLIVER NORMAN Drowning In My Own Despair
23 OWEN GRAY Gonna Work Out Fine
24 JOHN L WATSON AND THE HUMMELFLUGS Lookin' For Love
25 KENNY LYNCH Movin' Away
26 ROOT AND JENNY JACKSON Let's Go Somewhere
27 KENNY BERNARD What Love Brings
28 RAM JOHN HOLDER Yes I Do
29 HOAGY BENSON Turn Me On
DISC TWO
1 THE CHANTS A Man Without A Face
2 MARSHA HUNT Walk On Gilded Splinters
3 THE FOUNDATIONS New Direction
4 CALEB Baby You're Phrasing Is Bad
5 JOHN FITCH AND ASSOCIATES Stoned Out Of It
6 SIMON K AND THE MEANTIMERS Bring Back Your Love (To Me)
7 THE SUGARLUMPS Can't We Be Friends
8 FLAMMA SHERMAN Move Me
9 JACK HAMMER What Greater Love
10 THE SHADROCKS (Featuring Little John) There Is
11 CLYDE McPHATTER Only A Fool
12 RONNIE JONES I'm So Clean
13 THIS 'N' THAT Get Down With It / I Can't Get No Satisfaction
14 JJ JACKSON AND THE JEEPS But It's Alright
15 ERNEST RANGLIN AND THE GBs Swing A Ling Pt. I
16 NORMA LEE Hurt
17 THE CORDUROYS Too Much Of A Woman
18 ERROL DIXON I Don't Want
19 SONNY CHILDE Giving Up On Love
20 RAY GATES Have You Ever Had The Blues (Alternative Take)
21 PAULA AND THE JETLINERS I Know Some Day
22 MAYNELL WILSON Motown Feeling
23 BB JAMES AND DERV Kiss Me, Kiss Me
24 BLUE RIVERS AND HIS MAROONS Take It Or Leave It
25 McFARTHING KISSOON I'm Living Good
26 LARIS McLENNON Confusion
27 FREDDY MACK Sock It To 'Em, J.B. (Live)
28 THE REACTION That Man
DISC THREE
1 BLACK VELVET African Velvet
2 RICO'S COMBO London Here I Come
3 MILLIE My Love And I
4 LAUREL AITKEN Bar Tender
5 WINSTON GROOVY Work It Up
6 PAT RHODEN Jezebel
7 KING HORROR Cutting Blade
8 BERESFORD RICKETTS & THE BLUE BEATS You Better Be Gone
9 THE CLASSICS Worried Over Me
10 SONNY AND THE DAFFODILS That Girl She Done Me Wrong
11 THE BRIXTON MARKET Children Get Ready
12 TONY WASHINGTON AND THE D.C.'s Show Me How (To Milk A Cow)
13 JOE'S ALL STARS Musical Feet
14 THE FABULOUS BLUE BEATS One More Try
15 THE RUDIES Boss Sound
16 BOBBY JOHNSON AND THE ATOMS Another Man
17 LAUREL AND GIRLIE Scandal In Brixton Market
18 AMBROSE CAMPBELL Hey Jude
19 SUGAR 'N' DANDY Girl Come See
20 THE GRUVY BEATS Kent People
21 THE BLUEBEATERS There I Go
22 WINSTON AND PAT Pony Ride
23 TOP GRANT Coronation Street
24 SEVEN LETTERS Call Collect
25 DIMPLES AND EDDIE With RICO'S COMBO Fleet Street
26 CAB KAYE With HIS MUSIC FROM GHANA Everything Is Go
27 CY GRANT King Cricket
28 THE BARNABY RUDGE HIP BAND Run Thru The Park
29 RUPERT AND THE RED DEVILS Please Think Of Me
DISC FOUR
1 SHIRLEY BASSEY Sunshine
2 MAXINE NIGHTINGALE Spinning Wheel
3 PETER STRAKER Breakfast In Bed
4 PEANUT I'm Waiting For The Day
5 MEL TURNER They Killed The King
6 JOY MARSHALL Heartache Hurry On By
7 ELDRIDGE DEVLIN You're My Girl
8 CLEO To Know Him Is To Love Him
9 LORRAINE CHILD You
10 DORRIS HENDERSON AND JOHN RENBOURN Watch The Stars
11 MABEL HILLERY Rock Me Daddy
12 CHAMPION JACK DUPREE With T.S. MCPHEE Get Your Head Happy
13 OTIS SPANN Keep Your Hand Out Of My Pocket
14 SCREAMIN' JAY HAWKINS All Night
15 JOE HARRIOTT QUINTET Liggin'
16 FLASH DOMINCII & THE SUPERSONICS Rora Rora Majo Omo Pupa
17 SHAKE KEANE Green Onions
18 THE NEW ORLEANS KNIGHTS Enjoy Yourself
19 THE CHARIOTS Problem Girl
20 THE SOUTHLANDERS Imitation Of Love
21 WINIFRED ATWELL Bossa Nova Boogie
22 EMILE FORD AND THE BIG SIX Hold Me, Thrill Me, Kiss Me
23 HOWIE CASEY AND THE SENIORS I Ain't Mad At You
24 RICKY WAYNE With THE FABULOUS FLEE- RACKERS Chicka'roo
25 RAY ELLINGTON The Rhythm Of The World
26 THE RAY KING SOUL BAND Soon You'll Be Gone
27 FITZROY COLEMAN AND HIS GUITARS Lucilla
28 DAVY JONES Love Bug
29 GEOFF LOVE AND HIS ORCHESTRA Coronation Street
Love Modculture? If you enjoy what you read or have benefitted from it and want to
help with the ever-increasing costs of the site and newsletter
, you can always
buy me a coffee at Ko-Fi
. Every penny is helpful and appreciated.