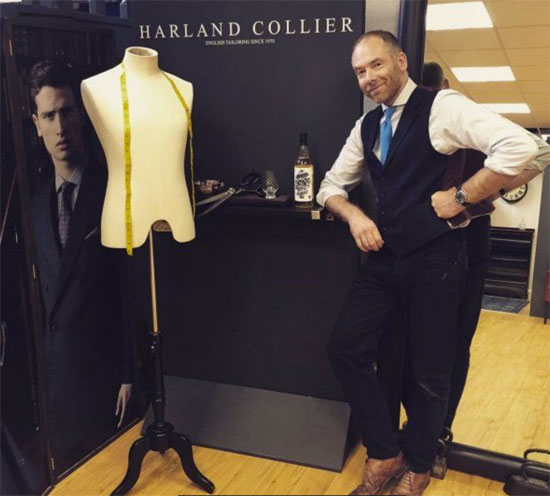 Note that I independently write and research everything in this article. But it may contain affiliate links.
Mike Bennett talks to Nick Collier of Liverpool tailors Harland & Collier about their work and their Mod clientele and their future plans.
Liverpool's Peter Harland Tailors is well known to the Mod scene and the well-dressed within the city and beyond. Established in 1970 Peter's has been the hub of the well dressed for nearly half a century. In his 70s, Peter's knowledge and skills as a craftsman have made him the tailor of choice for the cities two football teams, local musicians and Bradley Wiggins has made an appearance.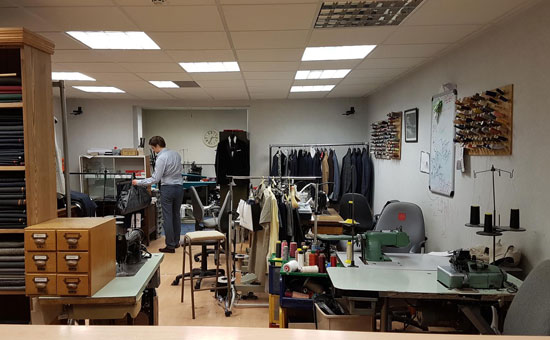 In 2016 Peter decided that whilst not time to hang up his tape measure and cutters, it was time embark on a new phase in his career. Enter Nick Collier. Nick is the new owner and creative force behind the new 'Harland and Collier'. I spent the afternoon with Nick to find about his tailoring journey and to hear about his vision for the future of Liverpool finest and only bespoke tailors.
Nick cuts an impressive figure as a dapper gentleman, turned out immaculately in a three-piece bespoke suit made in his own work room. Nick told me that his love of clothing comes from his dad who is a well-dressed gentleman.
'My dad is a well-dressed man! He always has been. Every day he went out to work in spotless suit, crisp shirt, and well-polished shoes; he still does. His sense of style had an authority about it. My dad impressed upon me the need to look smart and pay attention to detail.'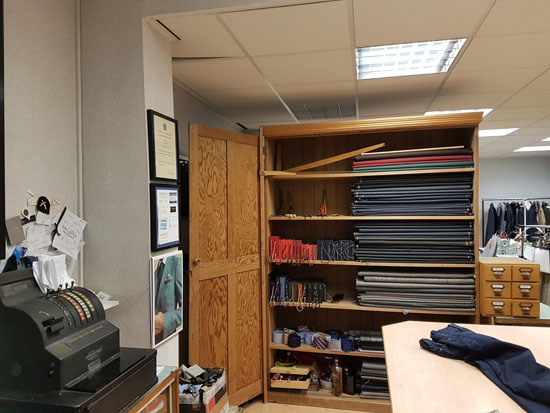 Nick's earlier career was as a solider in the Royal Marines. It was here that he picked up a ferocious work ethic. Nick is a man who likes to get things done. It seemed a strange change of direct from the Marines to the tailors, yet Nick talked me through his journey from solider to tailor.
'What the army gives you a sense of pride in your dress and attention to detail. Everything must be immaculate, there are no half-measures! When I left the forces, it seemed a natural step to consider tailoring. My first appointment was for Gieves and Hawkes Liverpool.
I was initially trained in measuring clients. I was trained by a tailor who had spent the first twenty-five years of his tailoring life working for John Collier, I am sure as a Mod you have heard of Collier's Michael. The next sixteen years of his career was spent at Gieves.'
Nick went on to explain:
'I spent ten years with Gieves, working mainly in their Liverpool store, yet I would spend a couple of weeks a year on the 'Row' too. To work for Gieves your measuring must be spot-on, people are paying more than £3000 a suit, attention to 'perfection' is a must. In my time at Gieves I measured over a thousand clients. I eventually became manager of the Liverpool store.'
So how did you get involved with Peter Harland?
'I have known Peter for over ten years from my time in Gieves. Peter's was the work room for Gieves and Hawkes Liverpool. Peter's reputation as Liverpool's finest tailor is well known. In fact, GQ magazine named Peter the best British tailor outside of the Row. I told Peter that I was thinking of setting up my own tailoring house and he said he was thinking of retiring, and things just went from there.'
Peter Harland retiring is not something that I wanted to hear, having used him for twenty-three years! So I asked Nick about his plans for the future.
'I want Harland and Collier to be the 'Northern Powerhouse of Tailoring'. And I am putting my money where my mouth is! Peter is staying, he works two days a week as a cutter and tailor. I have also employed Sue White. Sue has been a tailor for thirty years and started off at Peter's, she is a genuinely talented crafts person and much sought after tailor; Sue really compliments Peter's work.
I have employed an apprentice who is already at the stage of making his own vests. Paul is still here, and he is considered one of the best trouser makers in the country. I am sure you will agree Michael, he has been making yours for years!'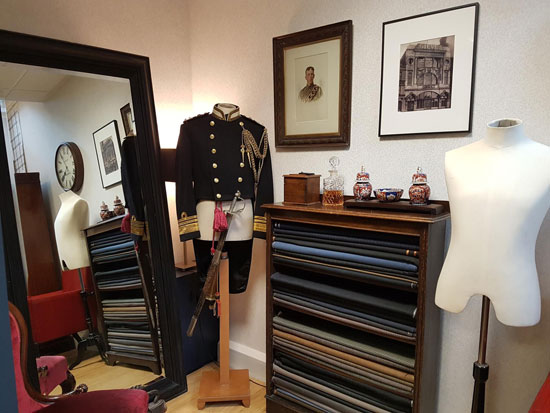 Having had an amazing service from Peter for many years I was keen to find out if the production process was going change in the future.
'No! We have the name 'Bespoke Tailors' on the door, because that is what we are. We need to maintain that to be credible. That is why I have sourced the best staff, and why Peter is staying put! Our bespoke service is at the heart of everything we do. Every bespoke item is made right here, just as yours have been for the past twenty three years; that is not going to change. In Harland and Collier 'Bespoke means Bespoke'.'
Reassured we spoke about Harland & Collier's work for the Mod scene.
'Firstly, Michael I am not going to name names! We do have a significant number of Mod clients and they are happy with us. Peter was making at the birth of Mod, his own style is the Ivy Look.
We have the expertise to create anything in our work room, bell-cuffs, bootcut trousers, tunnel loops, three-button wrap double breasted to that traditional Soho Italian Cut. We can do it all. We have many patterns and a good selection of cloth in store. I am confident that we can make any style that a Mod would desire.'
After a good look around the work room – which is open plan so anyone can see it – it was refreshing to see that the forty-seven year tradition of Peter Harland was going to remain with a new set of eyes firmly fixed on making Harland and Collier the Northern Powerhouse of Tailoring.
Mike Bennett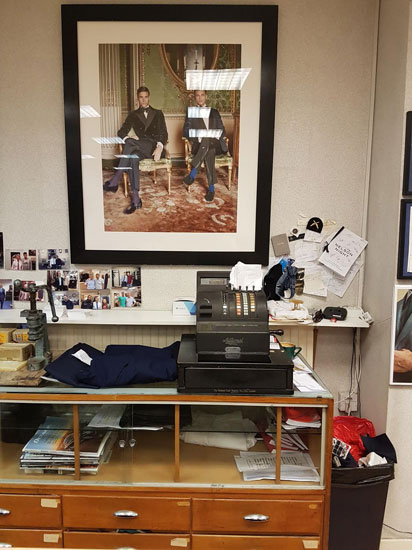 Save
Love Modculture? If you enjoy what you read or have benefitted from it and want to
help with the ever-increasing costs of the site and newsletter
, you can always
buy me a coffee at Ko-Fi
. Every penny is helpful and appreciated.