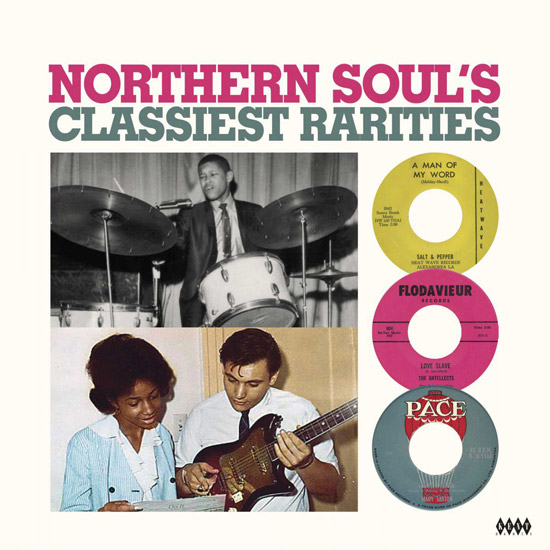 Previously a CD-only series, Northern Soul's Classiest Rarities is making its debut on vinyl.
There are six previous CDs in this series and all are worth checking out if you like a bit of northern soul and don't fancy going for the same old standards. But no vinyl until now.
Of course, you can't fit six discs worth of material onto a single vinyl and the Kent label hasn't made an attempt to do that. Instead, it has picked out 14 tracks for this release, described as the 'absolute crème de la crème' from the series. Basically a starting point. If you want more, you can chase down those CDs (which total 130 tracks) or hope Kent sells enough of this one to do another edition.
The chosen grooves are listed below and if you want a copy of this vinyl release, you can pre-order now ahead of 31st August release date, with the price at £20.99.
Find out more at the Amazon website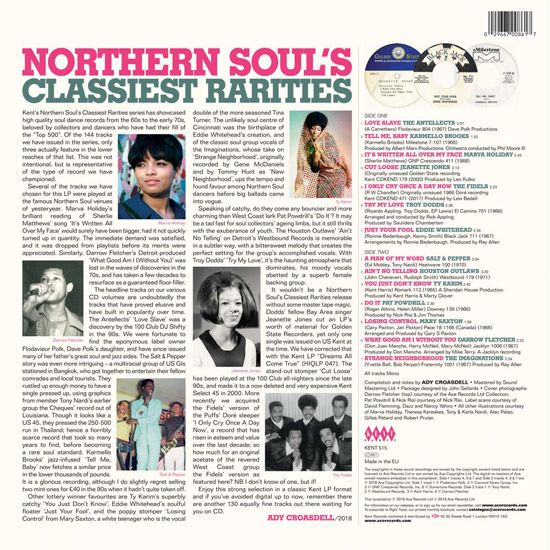 Track listing:
1. Love Slave – The Antellects – The Antellects
2. Tell Me, Baby – Karmello Brooks – Karmello Brooks
3. It's Written All Over My Face – Marva Holiday – Marva Holiday
4. Cut Loose – Jeanette Jones – Jeanette Jones
5. I Only Cry Once A Day Now – The Fidels – The Fidels
6. Try My Love – Troy Dodds – Troy Dodds
7. Just Your Fool – Eddie Whitehead – Eddie Whitehead
8. A Man Of My Word – Salt & Pepper – Salt & Pepper
9. Ain't No Telling – Houston Outlaws – Houston Outlaws
10. You Just Don't Know – Ty Karim – Ty Karim
11. Do It – Pat Powdrill – Pat Powdrill
12. Losing Control – Mary Saxton – Mary Saxton
13. What Good Am I Without You – Darrow Fletcher – Darrow Fletcher
14. Strange Neighborhood – The Imaginations – The Imaginations