Note that I independently write and research everything in this article. But it may contain affiliate links.
I had a chance to talk about the Heavy Soul label and fanzine with Adam Cooper, both of which should be on your radar.
Why? Well, hopefully, the interview explains just why. But in short, both the fanzine, which is about to hit issue 50 and the record label are likely to be of interest to a Mod crowd.
The fanzine is the kind of 'catch-all' you might have picked up as a kid and the label releases limited edition runs of albums and singles largely focused on a Mod audience. Two good reasons to have an interest.
So with that in mind, I caught up with Adam to talk about the past and the present of both.
First up Adam, when did you first become aware of all things Mod?
Hi Dave, would have been like most people – in the school playgrounds. I would have been around nine or ten when music first excited me, so around '81 / '82. I knew nothing about the Mod thing really but knew I liked Madness. One day a friend at school came in wearing his older brothers' tonic three-button jacket and I knew that almost instantly that this was my direction. I remember buying those 1-inch ties with band logos on them: 'The Jam', 'Secret Affair' etc from an underground market in Aylesbury before hearing anything by them, so it was the image before the music that saw me get into Mod. I remember there being a small scene in Aylesbury in '84/'85 and seeing a few parkas about although most had moved on to the scooterist by then in that area.
Was it an ongoing love of Mod or was it something you drifted in and out of?
I don't honestly think you can drift in and out as it seems it's inbuilt to follow a certain set of 'rules' and 'guidelines' that do, in all honesty, govern your life. Maybe it's just me, but it can affect your social circle, how you conduct yourself and this inner feeling that you are better – always striving to complete or add to a collection etc I hated typing that as it makes it sound futile and 'teenagery', but it's true! It's always in you.
I see people come in and out, some took to Rave, some Acid Jazz, some heavier side of Garage etc, but there is always that Modernist element to what they do from what I have seen of them. It's not just a way of dressing, but a set of sensibilities you hold through your life (I hated that bit too!).
Keeping to a music theme (as most of this interview will), which records were the first in your collection – and do you still have them?
I vividly remember asking for 'Absolutely' by Madness for a birthday around nine or ten. I got that on vinyl but switched to cassettes for some reason for years, I liked other stuff too – pop bands of the day: Howard Jones, Ultravox, weird stuff like We've Got A Fuzzbox that I read about in music
mags – so this is aged fourteenish. These were mixed with my Kinks, Who, 60s collections, Jam, Beatles cassettes too.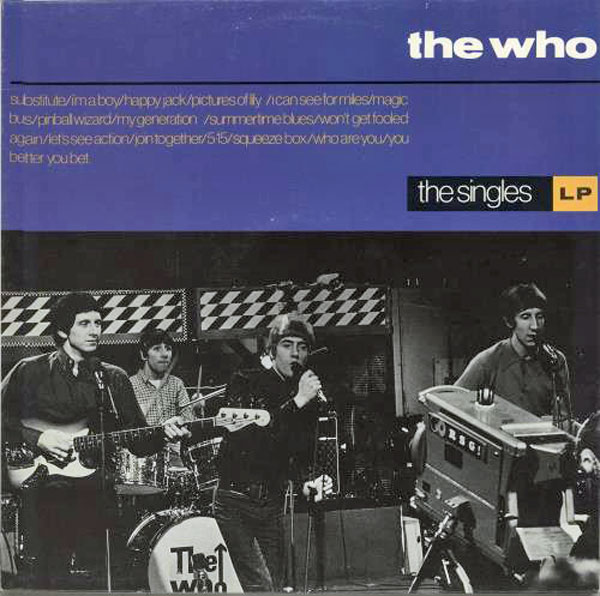 I then bought 'The Who: The Singles' on vinyl in a small shop in Buckingham which I still have – the one with a blue cover and then on a regular Saturday trip to Aylesbury again found Oven Ready Records which was 'chockablok' with the scooterists I mentioned before's record collections. It was big enough to have a 'Mod' section so paper round money and pocket money went on them: Mods Mayday '79, Chords, Purple Hearts etc – all the guitar stuff. 'Sound Affects' was in there too, which I only had on cassette, and that started this lifelong obsession with The Jam.
Mum and Dad starting taking me to London around this age too, so The Cavern' and The Merc were record/poster/fanzine heaven! Mods are by nature hoarders I think, so I would still have all these records.
From that, we can see that you obviously love your music, which probably explains what you do now. But it's a big step to start releasing it and creating a fanzine about it. Let's start with the label first. How did you go about releasing your first record and how difficult was it?
It was a big gamble – I went in blind but saved up the money needed (no Kickstarter malarkey) to do a record and then searched for a band. This was pre most social media, back in the days of MySpace. I stumbled across a band from Berkshire called The Shake! and asked them about it.
We agreed on two songs and then I simply sent them off to be pressed. I didn't know about mastering, promotion, how to sell them or anything really. I think I pressed an unrealistic 500 and made all the sleeves myself. I still love that record. Faye, the singer, had a great voice. I've still got copies! I was
doing one or two releases a year than – not like today (I think there were about 20 in 2019).
Presumably vinyl is a pricier proposition than a CD. Is there a minimum run for each record and with that in mind, are all vinyl releases a risk for you financially?
It is pricey, but worth it. I have always worked on the principle that when enough money comes in I can do the next one. Always been the same. There is no point putting yourself into financial trouble – the stress and pressure would be too much. I think the same money invested is the same money that keeps the label ticking over now. It is bloody hard work to ask people to buy your products though, thankfully I have a great set of people who buy regularly. Without that support, it can't work.
I haven't taken anything out of it and there have been times when you doubt yourself and what you do. As any label owner will tell you, it has to be the love. It's a cliché, but there is no money to be made when you are doing small runs on vinyl as I do.
It's always 250 on the 7-inch and LPs. There have been a few sell-outs, mainly Paul Orwell's releases which is great and that is pumped back into the label. Put in commercial terms, in the real world, it's more of a 'zero-pay job than zero-contract!'
I think you might have just answered it, but would you say is the most successful record or records you have released? If I was to go on Discogs or eBay, which one regularly commands the highest price?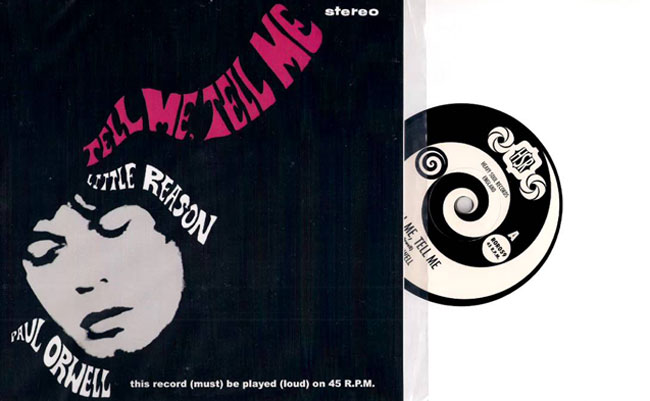 Back to Paul Orwell – his debut 45 'Tell Me Tell Me' fetches silly money. It used to bug me that I thought it was great when people bought three copies at a time, but then I'd see them selling a £6 record for £30+ as soon as they got them. It annoys all label owners, but it's good hype. 'Tell Me,
Tell Me' sold for £150 on eBay a few weeks after it sold out. It's always exciting at release time as you never know how a record will be received – if it will be successful or not.
The Strypes EP was a very slow burner to make a point. They obviously went on to be massive, but to take a gamble on 4 very young lads from Cavan, Ireland took a while.
Anything you think is criminally underrated from the music you have released?
Wow – lots of stuff I have put out is just ace in my opinion – The Magnetic Mind were favourites, brilliant UK Psych band who are no more. SubCulture is a great new band. To get released on Heavy Soul I have to love it and the people behind it – the band members and the main contact etc. I thought 'Fangz' by Paul Orwell was sublime – all in your face Hammond like The Charlatans in their prime, also 'You've Become A Witch' by The Electric Mess – I think I saw that first on Modculture and contacted them immediately.
The Sir Thomas Benjamin Wild LP from last year was a surprise it hasn't sold better – 'I've No More F**ks To Give' has over 5M views on Youtube or something silly like that, but a real departure for me, but again, I loved the music.
Are there any bands you turned down or nearly signed up for a release from who went onto big things?
'It's very difficult to say no to a band as I understand that this is their craft, their soul that they have put into recording these tracks and I hate it when I have to say no. This is normally because I am fully scheduled up for the year as has been the case for the last five or so years or they simply don't fit into the mould.
It is quite funny when I get messages from people who have absolutely no knowledge of what Heavy Soul is about and say they love the label and all the artists when you know they haven't heard a single song and send on their negative rap sh**e – that seems to be the case a lot with the unreleased Punk label Love Child.
I am proud that I gave many bands who went onto bigger things a starting point on vinyl: Stone Foundation, The Strypes, Spitfires and a great singer/songwriter called Joel Sarakula with his 'Northern Soul' single. Also very happy to put out Nine Below Zero's LP last year as they have always been one of my favourite bands,
I'm about to announce another major coup of a band who have been at the foundations of Mod since 1979 – the re-press of a 1980 LP will be announced very soon!
It must be over 10 years now. How many releases have come out of the Heavy Soul stable? Have you broke even over that time?
It's actually a crazy 14 years since The Shake! came out! It continually breaks even in terms of money in, in so much that the next release is ordered as soon as a certain figure is hit. Individually there have been some that haven't broken even, but I treat the fanzine and label as one. It is profitable if you do one that you know will sell maybe twice a year, but I am a record fan I believe in every release I put out and there are great bands on the label that are continually writing and recording great songs.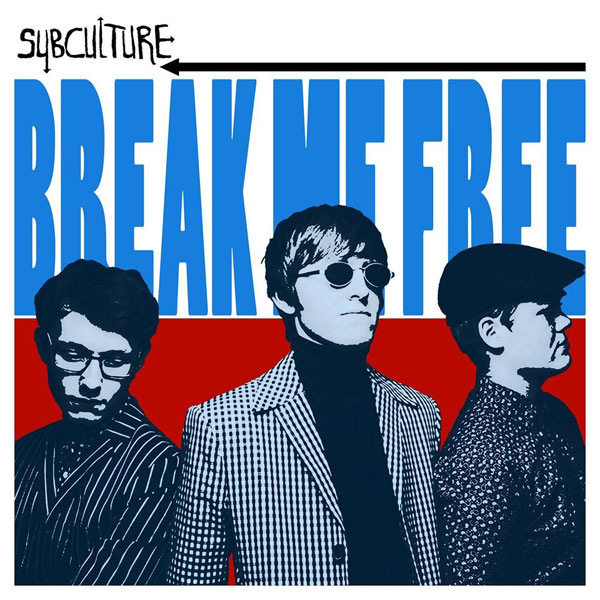 Look at Subculture – four singles in a year and all great with a fifth getting pressed now. It would be an album nowish too but COVID meant they couldn't record. The bands will always have my full support. So to answer the question – it constantly breaks even thanks to combined sales of current and back catalogue releases and the fanzine.
When you are looking for bands to release, is it all down to personal taste or do sometimes you take a step back and think about their wider appeal?
That's a tough one. I still struggle with the fact I run a record label and am first and foremost a music lover, I have to enjoy what I'm putting out. It's never been an ego thing, you won't see me blowing my own trumpet about stuff in person or on Facebook etc. – only the facts about releases
and the occasional football rant. If you stretch yourself too much in terms of the music you lose your direction – and to be honest – you have to deal with people you probably don't want to and I couldn't put out something I didn't love.
I also run Love Child Records and Solution Records with Paul Orwell which covers unreleased Punk/Mod/New Wave on LC and 60s monsters on Solution which has a broader appeal, but again, all are run on the same principle in that I/we love every single release we put out.
I do get offers to do other music on vinyl, but my soul wouldn't be in it if you know what I mean and then a slippery slope would start to begin.
If someone was reading this in a band and thinking 'I reckon we would be a good fit for Heavy Soul', what would be the way to catch your ear?
Contact me. Plain and simple. I still actively chase bands. You have to be motivated to 'muck in' with hyping a release but be realistic and nice. I've been approached before from a band who wanted this and that – hotel rooms for a tour, a van booked to take them on said imaginary tour and clothes to wear on stage – on the back of a 250 run 7-inch! Yes, I run labels, but that is what I do – I can help with getting gigs etc, but realise it's an independent label with a deep love for Modernist sounds.
Any upcoming releases we should look out for?
Heavy Soul-wise, I've just finished off an LP of unreleased and rare Punk/New Wave and Mod from 78 – 83 which is being pressed. Also, the new SubCulture single is being pressed. I have another couple of singles lined up and a major release is being finalised too for an August release. Can't say what yet, but very happy to get this out.
Love Child has just put out unreleased tracks by The Limps on a 7-inch after an LP of unreleased tracks by South Coast heroes The Media. The next EP by Patrol is being pressed. Solution Records has just put out the fifth release by The Drag Set ('Day & Night') backed with Scots Of St James (Tic Toc) after releases by The Action, The Mirage and the mega 45 by Pneumania. Number six is ready to go in a few weeks and 7, 8 and 9 are getting mastered..
So a bit busy!'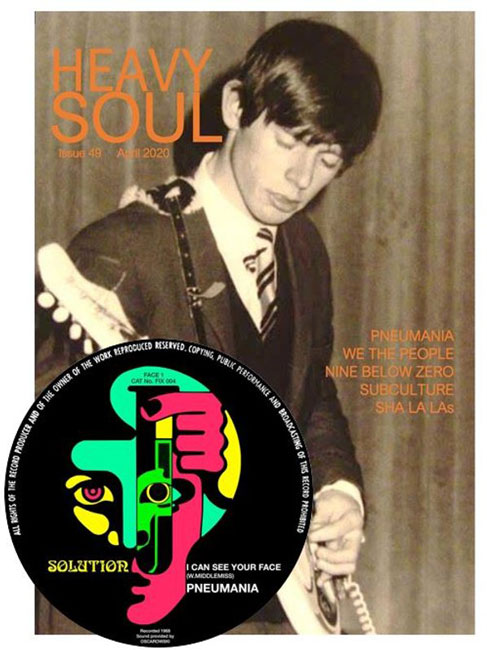 The fanzine, which is celebrating its 50th issue next month, came a little later I believe? What was the thinking behind that?
'I have to keep busy! I like the softened pressure; 'It's my inspiration drive'.
I've always been a fanzine collector from those early days of Carnaby Street shopping and fancied doing one myself. I was thinking of a re-brand as the first few releases form the label were on Rowed Out Records, so it seemed a perfect time to start something new, hence 'Heavy Soul' as the name of the fanzine and the new name of the label.
I constantly have ideas in me and needed another outlet for that so decided on a zine. The first copies sold about 80–100 each which was great and then I started doing one every 10 weeks or so – about five a year.
I think the bottom line in Eddie Piller's recent Modzines book was that fanzines are more in the 'past' than the 'present'. At least, it in terms of numbers. Do you still find a market for the printed word in 2020?
I think so. Depends on your outlook, but fanzines are present in many other genres, as are collections of poetry or small novels. Look at the number of books based on Mod are released every month – people like to have something tangible in their hands – the same with the record/download debate. I still buy books and magazines (funny as I'm a Prison Librarian!). Comics are still popular for kids and adults and stores like Waterstones, WH Smiths are doing fine so there is something there that people like to read sitting down in a comfy chair, in bed, on the toilet or train. Wherever.
But physical reading with paper in your hand is so necessary, not only to learn but to get away from work, computers, life etc.
In terms of fanzines, it is not the 1980s where thousands were photocopied and sold at gigs etc. This is 2020 so it's not the same in terms of a 'scene' but I get new customers every issue who either collect fanzines or did or are just curious.
How hard is it to put together a fanzine on a regular basis – and not as a full-time job?
It's very hard juggling work, life and the label/fanzine. Family matters are between 7 am. and 10 pm and then maybe I get a couple of hours after that to do stuff – minus any noise of course!
If I find something of interest I'll keep a note of it and expand when I get the chance – the interviews take time to research etc, but once they are off I can get the other bits done – the new 45s and 33s, the other regular sections etc.
It is bloody hard work and I am always conscious that I should be doing something else instead of tapping away in the 'office', but Abby, my wife, grew up with fanzines, Mod, music and everything that goes with it so that helps.
I tend to be formulaic with a few sections and try and get five or six interviews per issue which take up the most of the issue, but yes, very time consuming and tiring, but I love it. Issue 51 is about a third done already!
What is/was your finest achievement in terms of the fanzine?
Getting them finished is a major achievement each time! I really enjoy the interviews – in the past, I've had members of The Who, Untamed, meddyEVILS, We The People, David John and The Mood, Downliners Sect, The Eyes, Gita Renik, Misunderstood from the 60s and Baccarudas. Daggermen, Chords, Purple Hearts, Squire, Secret Affair, Direct Hits, Circles, Eddie Piller, Paolo Hewitt, Smiler, Matt Deighton, Corduroy, Makin' Time, Stone Foundation, Spitfires, Strypes, and recent times and more obscure peeps like artist Craig Davison, promoter Adrian Gibson and comedian Steve Furst.
I also had a great half an hour on the phone to legend Mickey Tenner back in 2011 too as well as sitting in a car with Nolan Porter for half an hour outside a Leicester venue which Neal Sheasby kindly arranged. A few words with Shel Talmy in the latest issue was nice too!
I think one of the finest achievements is staying rooted also, and not taking myself too seriously. I'm not an 'author', or have any intentions to be noted and talked about – I'm a fanzine editor at the end of the day.
But my FINEST achievement is keeping going and with the fantastic support I get that will continue. I have made many friends over the years and enjoy the chats I have with everyone.
I have a small list of people I have tried and failed to feature on Modculture. Do you have anyone you would love to feature but haven't had a chance? or anyone turn you down?
The obvious one is Paul Weller (Modculture note – his people turned down me on a couple of occasions too), but what do you ask him given the chance? His life is everywhere musically and stylistically so I have some things that aren't of the norm, but you never know.
Graham Day is up there for me in terms of what he has produced over the years, as is Billy Childish. Trouble is most have sadly passed now. I send requests to some people who either ignore or can't be arsed, which is fair enough – it's not going to help too much for these 'stars' in terms of business and is time-consuming, but all help cement an opinion.
Who else? Ady Croasdell I've never asked – his input over the years has been huge, it's the smaller movers and shakers I'm interested in. If you are in Mojo/Uncut etc every month what more is there to know about you? This won't be popular but also P. Paul Fenech and also The Beastie Boys would be interesting, Gilles Peterson, Snowboy, Darrow Fletcher, Maxine Brown – all my musical heroes. To be fair I've covered most of them so far!
Like the record label question, do you write the fanzine from a personal perspective or do you look at it in terms of what might appeal to a broader, Mod-related audience? In fact, would you say the fanzine is solely Mod-based?
It is a 'Modzine' so is mainly Mod-based, but an often-used term is a 'broad church' and it's true – I'm a big fan of Tenderlonius and Web Web, new jazzy acts, also bands like Moonrite and Greg Foat as well as the '60s acts, through the '79 crowd and modern bands. I love music and different styles. I have a big fondness for Psychobilly and Rockabilly, I have loved Hip-Hop from the late '80s and still do – music I grew up in the '80s but wouldn't put that in as I think people who kindly buy and read Heavy Soul wouldn't be interested. At the end of the day the zine is meant to replicate what I would have bought from The Cavern in 1987.
Who were you most excited about interviewing/featuring?
I honestly enjoy every interview. Standouts are obviously Mickey Tenner. Chatting to him on the phone and him explaining how short the actual Mod thing was, was eye-opening – great stories from him. Nolan Porter was fantastic. Shel Talmy obviously created the Who/Kinks sound, but I also really enjoy anyone with something to say. Brett Ascott is great, as is Mark McGounden, Anthony Meynell, Dennis Greaves, all the 60s bands – some are short and sweet, others go into great detail – the list is endless. The David John & The Mood interview was immense, as was the recent one with Pneumania who couldn't believe the interest in their Oak record.
We are all busy people so for ANYONE to give up their time to answer a few questions about something we have a mutual interest in is great and I am eternally grateful to everyone.
Finally, 50 issues and still going strong. Do you see it carrying on indefinitely in its present form?
YES. I love doing it. If I didn't and it became too much, then I would stop, but I honestly love doing it. I tried an online version that didn't work – it looked good, but no-one bought it. It's not me anyway really. It's like downloads, don't like 'em. As Mods, we are hoarders, we like to collect and be able to stand back and admire our collection. So, yes, Heavy Soul will carry on until arthritis kicks in. Or senility! (won't be long!).
Actually, one last point. If someone reading this wants to pick up the new fanzine, back issues or the music releases, where should they go?
Thanks, pop along to the Heavy Soul website, there are many back issues available as well as all the label releases. It's www.heavysoul45s.co.uk.
Huge thanks to Adam for taking time out of his busy schedule. If you want to know more or buy more, head on over to the link above to get your fill.
Love Modculture? If you enjoy what you read or have benefitted from it and want to
help with the ever-increasing costs of the site and newsletter
, you can always
buy me a coffee at Ko-Fi
. Every penny is helpful and appreciated.