Note that I independently write and research everything in this article. But it may contain affiliate links.
Modculture talks to Daniele Savare about Connection Knitwear and Clothing, the super-stylish new mod label out of Italy. All images by Dominic Hinde.
1. First up, for those who don't know you, how did you end up the mod scene?
It happened around 1982. Before that date I was already into a 60s aesthetic (especially clothes, graphics and jazz music), but I hadn't yet realised that this 'penchant' might have had a name. My early contacts with the Milanese mod scene were quite sporadic, but soon I realised that I was on my way, moving and learning, and here I am now, 32 years later. Definitely a lifelong affair!
2. I've known you for some time and know you love your clothes. But it is quite a step between loving clothes and making / selling clothes. Why did you do set up Connection knitwear?
I set up Connection Knitwear, now Connection Knitwear and Clothing, because I felt that there was a gap in the spectrum of 'mod oriented' clothing ranges: an area that could fit into the 'smart casual' segment, characterised by an extreme attention to detail in line with the artisanal and sartorial tradition, and that may appeal to a public even beyond the Mod boundaries.
This was / is our market niche.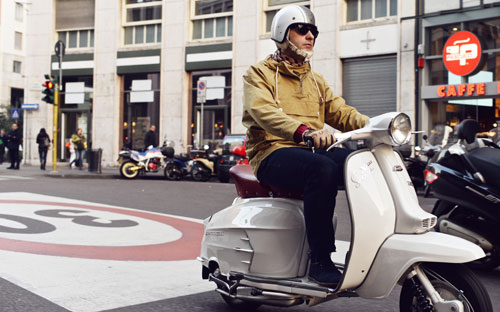 3. What's your unique selling point? Is it all about the cloth and the construction?
I'd say clothes, construction and design. Of course, nobody that making 60s-orientated clothing today can claim to have invented anything absolutely new, but re-introducing rarely seen patterns, or trying to improve some details of classic styles might be considered our 'added value' from the design point of view.
4. Do you have a 'maker' for all the items here or do you have different manufacturers for the different designs in the range? How easy is it to find the 'skills' in the modern era?
We have different makers for different lines (knitwear; suede, leather and wool / suede range; scooter jackets) all based in Milan or in Northern Italy and all Italian.
It wasn't easy to find the right people, not only with the required skills but also available to work on limited runs. Our products have a strong artisanal character, and some are customised and made to order, so a maker's flexibility is almost as important as his / her skills. Of course, things don't always work as scheduled, there might be delays and so on, but we are constantly working with our makers to reduce these to a minimum.
5. Do you think there's a gap in the market for premium, mod-friendly casual gear? Are mods in 2015 still willing to spend the cash on clothing?
Yes, we thought that this gap existed, and are trying to fill it..
Probably, averagely speaking, mods in 2015 spend a lesser fraction of their income in clothes than in the past, so this makes the market more competitive on the supply side. It's very challenging. Our approach is trying to supply  interesting designs, in small numbers, with a consistent quality level in materials and craftmanship.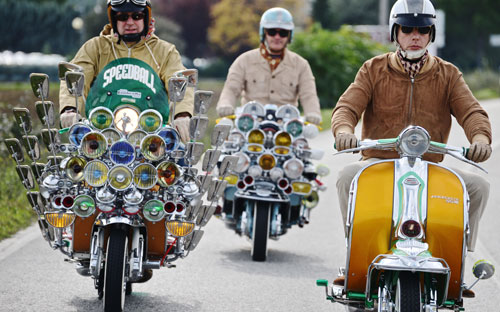 6. Are there any labels or designers past or present that have inspired your range?
Many designers. The most inspirational for knitwear in general and our latest 'yardie cardie' design, is probably the early Duffer of St George. I'm very glad when people 'in the know' compare our range to DSG.
7. Talking of the range, you started off with some knitwear pieces, but the range has expanded of late to take in more styles, not least jackets and outerwear. Was this always the plan?
Yes, it was already in the plan. And we are studying to enlarge our product range even further. This will take more time likely, since it would be wise to consolidate our brand before the next step.
8. All your designs are produced in small runs. Is this for exclusivity or is it a case of trying new designs out to see if the buying public responds?
Both. But it's more for exclusivity's sake. And to keep interest alive with new designs.
9. Have any designs really taken off? On the flipside, have any of the designs not been as successful as you hoped?
Talking about the past collections, most of the styles have been well received, and couple or three of them proven quite successful: sold out, reissued and sold out again. As for the less successful, well, the good of making small runs is that when this happens it hurts more the ego than the Profit and Loss Statement…
10. Some of the pieces in the Connection give a nod to similar mod-friendly classics of the past (like the Rider Jacket or the 'Yardie' cardigan for example). Is that because you can't get these designs in the right finishes anymore or do you think you can improve on what's out there?
Once again, for both of the reasons you mentioned. It's getting more and more difficult, not almost impossible, to find vintage items in mint condition, and exactly how you would like them. On our side, we try to add to vintage styles our personal twist and that 'plus' given by a greater attention to materials and wearability. Not to mention, as for some 'Made to Order' pieces of the last collection, different colours and details options.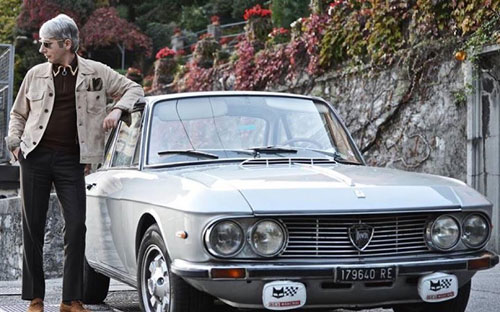 11. I love the look and practicality of the Mick GT scooter jacket. What has been the response to that?
Thank you for your appreciative comment! Our Mick GT is an example of a classic design re-visited and made of a 'period correct' (but very functional) material, the British made L24 Ventile Cotton. This smock created lots of interest, both in retail customers and shops. 90 per cent of the first lot has already been booked or pre-sold even before the maker completed it.
12. I know you have been selling a lot of the designs directly, not least via Facebook. Is that something you plan to keep on doing or do you see yourself setting up a dedicated site or even pushing into more retail stores?
We have just released a website, www.connectionknitwear.co.uk. It'a a 'showcase' website by now, not an e-shop, but it will make easier to browse our range of products and place orders. We are working also with some retail shops that believes in our project and stock some styles of ours. However, we'll keep updated our FB page, because is a valuable instrument to interact with people interested in our job.
13. Is Connection destined to remain a male-only range or is there a chance of some women's knits in the future?
I see Connection as a menswear label, even if we have sold knits to girls as well. Anyway, never say never..
14. What is to come? Is there anything interesting currently on the drawing board you can tell us about?
I hope that everything is currently on our drawing board will result interesting! More seriously, we're planning to develop the suede and leather line, introducing a couple of new knits and (but this will require more time and studies) to take our first steps in sartorial territories.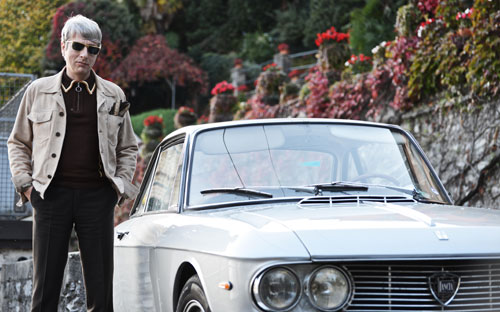 15. Finally, what's your view of clothing aimed at mods in the current era? Are things pretty strong in 2015 or is the market dominated by cheap and obvious designs and labels?
I usually feel more comfortable going bespoke for, let's say, more 'formal' attire, but I like very much the styles sold at Peckham Rye and Mendoza, for their dandy allure, and, for the opposite reason, the linear coolness of Hardy & Johnson sports coats, and most of the John Simons' range.
I love raw denim as well, and vintage military styles, so names like Buzz Rickson, Sugar Cane, Aero Leather Clothing, Levis Vintage Clothing, Lee Japan come to mind.
Obvious designs and cheap labels will always exist, but I think that they normally appeal to a different market's segment. We are more interested in keeping the right balance between tradition and innovation, in terms of design, materials, construction; and seems like that some of our attempts have been appreciated so far. So we keep our fingers crossed and keep on going on our way.
Thanks to Daniele for his time. If you want to know about Connection, do check out that website and if you want to keep up to date with what is going on, keep an eye on the Facebook page too.
All photography in the article is by Dominic Hinde and the images are copyright of both the photographer and Connection.
Save
Love Modculture? If you enjoy what you read or have benefitted from it and want to help with the ever-increasing costs of the site, you can always buy me a coffee.