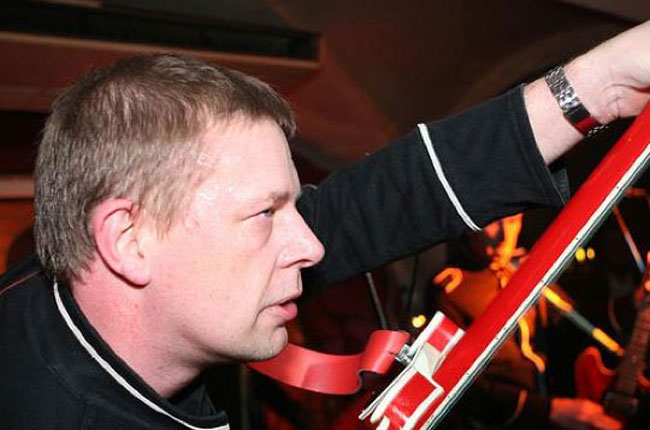 Note that I independently write and research everything in this article. But it may contain affiliate links.
An interview with Graham Day, a man who has given us The Prisoners, The Prime Movers, The Solaflares and more. This is his story.
Now in 2003 with back catalogues of "hard to find" material being re-issued and a new album more readily available in the shops, things are looking good for SolarFlares front-man Graham Day. Phil Tarry caught up with him recently to discuss the past and the present.
"Tell us about the new SolarFlares album "Look what I made out of my head". How was it to make and did you set out with any goals before recording?"
Graham:  "The great thing about recording this album was the fact we had just set up our own studio in my house, so there was a real feeling of excitement and pride in the fact we were truly self-sufficient, with complete artistic control. We knew we had a great natural sound, which we wanted to capture, away from the often sterile boundaries of studios, engineers and time pressures. It's a real basic set-up, just an 8-track analogue machine, a small mixing desk and a few well-chosen budget mics, but it turned out to be perfect for our needs. I'm really pleased with the results."
"Do you have a favourite track on the album and why?"
Graham:  "I couldn't name an actual favourite because the enjoyment of music is so dependent on mood. I would say it's between "The Loving in your eyes" (I think one of my best ever songs) purely for passion and because it demonstrates perfectly the development from our three-piece line-up to the addition of the Hammond, "Feet the wrong way round", such a great melody, and I love the lyrics, "Reflections", again the lyrics and the dreamy bassline and atmosphere, and finally "Hold on", because it's a great Hendrix beat and a fab chorus."
"Have sales of the album been good?"
Graham:  "To be honest I haven't got a clue. All I know is that Big Beat "underestimated" how well it would go, and had to repress even before release, due to pre-sales. Also, they printed a vinyl run, which they hadn't planned, because of demand. Judging by the volume of signings during the last tour, I'd say it's already easily outstripped sales of the previous two albums."
"How did the album launch at Highbury go?"
Graham:  "It was a great night! Four great bands packed into a tiny room, which was sold out by half nine (on a Wednesday!). It was wild, such a great atmosphere, reminded me of the first Prisoners reunion, so many people we hadn't seen for ages turned up from all over Europe."
"This is the 3rd band you've started as a "3 piece" and added an organist at a later date. Do you feel an organist takes the focus away from the guitar and allows you more freedom?"
Graham:  "It's not that at all, I think the guitar will always be the focus of the SolarFlares. Parsley is a great organ player because he knows how to compliment and fit in, without taking over. What it does is allow me to write with a broader scope. For a start, I've always loved instrumentals, and Allan and I have muddled through putting organ parts on in the studio, but have been unable to play them live…now we can! More importantly though, if I can write with the Hammond in mind, it allows me to focus on the actual song, rather than relying on guitar riffs and power chords to bolster the sound."
"What's next for you and the SolarFlares?"
Graham:  "I'm working on songs for the next album at the moment. Having just been on tour, it's important to introduce new material into the set now, so we don't begin to get tired of it. I'm hoping Big Beat will be interested in going for a new release, especially as they're releasing the other two Prisoners albums this year. We have a European tour lined up for the end of Jan/early Feb, and a mini-tour of North England/Scotland in March."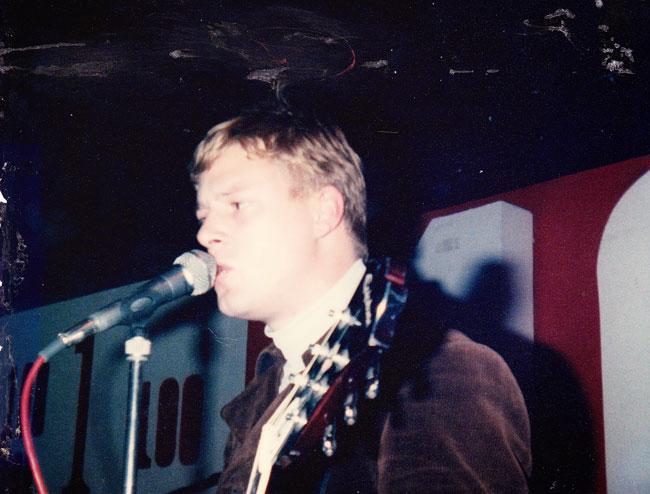 "After producing Phaze's debut album, "Who do we think you are?", do you plan to get behind the mixing boards again for any other bands? Do you enjoy producing?"
Graham:  "I love producing! I've always been sticking my nose into the producing side of things ever since the Last FourFathers and having the studio now at home, I've learnt the "nuts and bolts" of engineering. I've just been producing a band from Paris called Les Terribles. I'm really pleased with it, and to be honest, it sounds corny, but I'm proud to be able to influence other bands, not only in songwriting but in sound and recording. So often a great band will lose its edge by getting a raw deal in an uncreative studio environment.
So many times I've recorded something which sounds crap and an engineer will tell you don't worry we can fix it in the mix. That's total b*****ks, you have to record it how you want it to sound then mixing is a piece of cake! Anyone who fancies letting me loose on their band, give me a call, but I have one condition…I have to like the band, ok!"
"Allan and Wolf are both in other bands, (Phaze and The Buff Medways respectively). Does writing for the 'flares keep you busy enough on its own? Any plans to start an "offshoot" of your own?"
Graham:  "As a songwriter, it's impossible for me to be in more than one band unless I play a different instrument as I did in Thee Mighty Caesars. Imagine, I write a song, do I keep it for my favourite band, and give shit songs to the other? How could I? Do I try and stylise songs to fit different bands? Again, I can't because whatever comes out, comes out, I don't "force feed" songs from a production line. So, no, but I'm always interested in guesting in other peoples bands for a laugh…again if I like the band!"
"In 1988 the GiftHorses split and Martin Blunt and Jon Brookes started the Charlatans. Was there ever a possibility that you could have gone with them?"
Graham:  "No, I left before the band split up. It was Fay's project really, she fronted the band, and I was happy to take a back seat. I was still reeling after leaving the Prisoners and didn't want to take anything seriously. They got someone else in and carried on for a short while before Mart and Jon met up with Tim and kicked off The Charlatans."
"Are you surprised at how much the Prisoners music now sells for on Internet auction sites? (A CD copy of "The Last FourFathers" recently sold for £90 on ebay!)"
Graham:  "Yeah, people are crazy, that CD was only a home-made re-issue! Hopefully, the Big Beat reissues will put a stop to a lot of that nonsense, but I guess the original albums will always be collectable."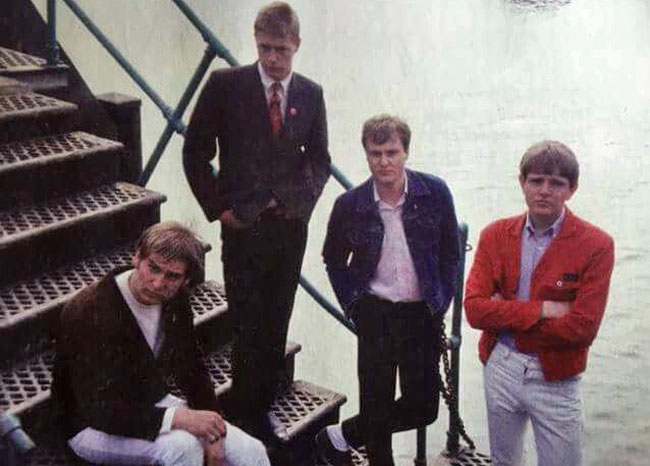 "Name a record in your collection we'd be surprised you own?"
Graham:  "Dunno really? Foo Fighters, AC/DC, Chilli Peppers? I'm obviously mainly into old stuff, but now and again (but not for a long time) I check out something contemporary (then go back to the same old shit, 'cos it's far better!)"
"Which, if any bands around at the moment, do you listen to?"
Graham:  "Probably only Supergrass. I like a few bands around now, but they're on the same circuit as us, so hardly well known, like The Woggles from Atlanta, Phaze (of course), The Masonics and Saffron from Gothenburg."
"What does the term "Mod" mean to you and do you consider yourself to be one?"
Graham:  "I guess it's a way of identification to a scene. When I was in my teens I had a parka and said I was a Mod, but as soon as I got into playing music I started realising that the great supposed "Mod music" was heavily influenced by a wide variety of other music. It broadened my outlook, and being in a band, the worst thing in the world is to be stereotyped because it limits your appeal. I've always been into wild, energetic but tuneful music, whatever its form, and I've played so many "Mod" festivals where we didn't quite fit into the Mod stereotype and received a pretty "cold" reception because of that. So, whilst I think good luck to all those who thrive in that kind of "scene environment", I feel it can be narrow-minded and obstructive…certainly in terms of music."
"Do you own a scooter, if so what do you ride?"
Graham:  "I like scooters, not the ones with a hundred mirrors and foxtails, just yer basic natural ones, but I've never owned one."
"Who were your early influences and has your musical taste changed over the years?"
Graham:  " Hendrix, Kinks, Who, Small Faces, early Pink Floyd, Deep Purple. I love 60's garage punk, and grew up in the 70's English punk era.
My taste hasn't really changed over the years, I had a spell of getting into early 70's funk, like Funkadelic, but that's just like crossing Otis Redding with Hendrix, so it's nothing too far removed."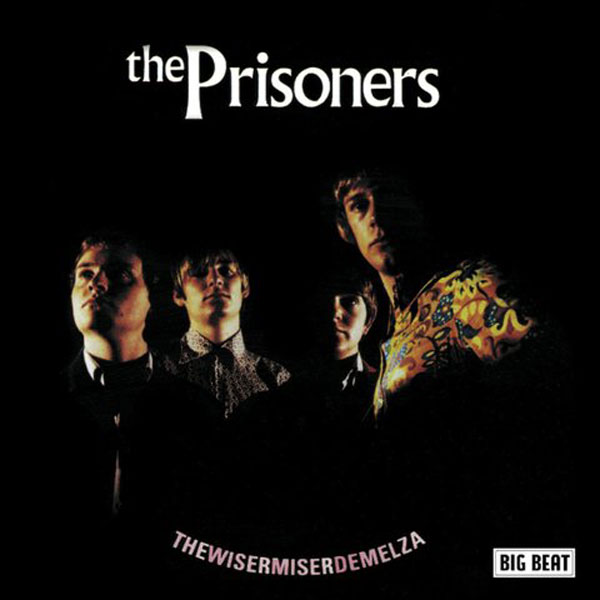 "Is there a particular gig that stands above the rest in your memory from any chapter in your career?"
Graham:  " Not really. Every tour has a real "cracker", usually the one you least expect, like a tiny bar in the middle of nowhere when you expect a farmer and his dog to turn up. Then all of a sudden the place is rammed full of people and they don't let you get off stage till you've played 3 hours!"
Having said that, I particularly liked the first time we played in Bremen, the gig in Gothenburg, and actually the last couple of gigs in London have been really good. Things are on the up!
"Do you have any advice for youngsters just starting out in a band?"
Graham:  " Yeah, just enjoy it for the music. Have a lot of fun, don't take it or yourselves too seriously. And never expect anything!"
"Do you keep in touch with "ex Prisoners" drummer Johnny Symons? If so, what is he up to these days?"
Graham:  " I think he lives abroad somewhere. I haven't seen him since the last Prisoners gig at Christmas 2001. Had a Christmas card from him, but that's about all the contact I've had. Shame, he's a great bloke."
"You were once asked if the unrecorded Prisoners song "All I ever wanted" would appear in the SolarFlares set. "It doesn't sound right without the organ" was your response. What about now Parsley is on board?"
Graham:  "Well, I spoke to James about that the other day because he co-wrote it. We might give it a go."
"Some quick questions to finish…pick your favourite from each of the 2 options…"
"Lambretta or Vespa?"
Graham:  "Lambretta – I think looks nicer"
"Brian Auger or Jimmy Smith?"
Graham:  "Brian Auger – especially with Julie Driscoll"
"Jeans or Tailor-made Suit"
Graham:  "Both have their place in my wardrobe"
"Ben Sherman or Fred Perry"
Graham:  "Fred Perry"
"Desert Boots or Chelsea Boots"
Graham:  "Again, both"
"The Action or The Creation"
Graham:  "Not sure about either"
"Spencer Davis Group or Traffic"
Graham:  "Definitely Traffic"
"Michael Caine or Steve McQueen"
Graham:  "Michael Caine, but he's at a disadvantage 'cos he's gone on to age and do loads of shit. So, both."
"Ipcress File or The Italian Job"
Graham:  "Both, absolutely"
"Beer, Spirits or both"
Graham:  "Beer for first few, then spirits…can't have one without the other!"
Love Modculture? If you enjoy what you read or have benefitted from it and want to
help with the ever-increasing costs of the site and newsletter
, you can always
buy me a coffee at Ko-Fi
. Every penny is helpful and appreciated.