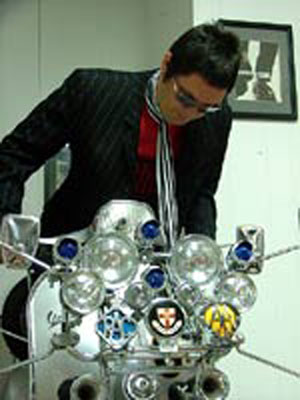 Note that I independently write and research everything in this article. But it may contain affiliate links.
Modculture gets with the times and chats to Guy Brader, the head of a new Mod and stylist orientated on-line shop – modtimes.net.
Guy has long been involved in the Mod and scooter scenes both in the UK and in his current home-base of Houston, Texas. So without further delay – here's Guy!
So Guy, tell me a bit about Modtimes.net and how the enterprise came about if you would.
Mod Times came along unconsciously. In a strange way I had been working towards the idea for some time without even knowing. I studied graphic design at college and dabbled with a little web design. Then being involved with our local scooter club, the Deadenders SC, I was the natural choice to design and produce the clubs, patches, t-shirts and rally stuff. I really enjoyed doing this and found myself designing flyer's and logos on my downtime, almost stockpiling ideas.
Along with this, being a mod myself now living stateside I also had the constant frustration of trying to source out good clothes at reasonable prices without being caught up with rising shipping costs or the weakened dollar in currency exchange with overseas purchases.
Oh I know all about the frustration with the dollar and then often being stuck with duty! So do you see Modtimes.net as being an alternative to ordering mod and related items from overseas or do see it being a viable alternative for folks around the world as well?
Absolutely. Our goal is to offer something a little different along with making classic mod apparel more accessible here on the other side of the Atlantic. I'm hoping our designs will be individual enough to appeal to everyone no matter where you live.
 I know you've been involved in the mod scene a fair while now. How did you first get involved and just how have you managed to keep the faith all these years and so many miles from where you first got involved!?
I got involved in the Mod Scene sometime around the early 80s, going to the usual school dances and youth club dances demanding the DJ spin something better than 'Jimmy Mack' by Martha & the Vandellas. I was living in Boston, Lincolnshire then. I was hopping on the bus most Saturdays with my mates for 5 quid round trip down to London.
We'd walk up and down Carnaby Street all day getting a buzz from London and being in awe at the older mods walking about. Later I ended up being the lead guitarist for the mod band 'The Threads' which made a bit of noise and I had a laugh for a couple of years. It was a great experience, I got to meet a lot of people, saw a lot of bands and attended many mod events.
Fast forward a few more years and I'm living in the States, Houston to be exact. Like many others, I had my lost years, my wife calls them the dark ages. I drifted for a few years but not too long until I found myself again. Since then I haven't looked back, I dug my feet into the US scooter scene and traveled to rallies all over the country, popped home to the UK and attended quite a few UK mod events. There is a small flourishing mod scene here in Texas, you'd be surprised of how many clued in people there are. Just put us all in a record shop, the competition is fierce!
The 'dark ages' eh? Sounds frightening! I've found that people get disillusioned with the scene as it changes from time to time. In fact I've noticed lately a shift in my own involvement and a number of folks dropping from sight. What is it that's kept you involved over the years?
Its really easy to get disillusioned, I did myself during the late 80s, as did many others. All scenes go through there periods of ups and downs, its to be expected. I'm always on the chase for something new. It amazes me how the mod scene over the years keeps reinventing itself and each time adding a little bit more, helping the community to continue to grow. Throughout the years I've always been pulled back to the music, the clothes and the attitude, its a constant reminder of who I am, where I'm from and what drove me to the mod scene in the first place.
So tell me a bit about some of the designs and the type of product that is currently available through Modtimes.net.
Mod Times has initially invested in printing equipment to allow us to print our own designs and also to have a faster turnaround. So currently we are offering t-shirts, turntable slipmats, mousepads and hoodies, that will all come with our designs.
We also offer some marvellous tops for ladies and messenger bags, the bags will come in handy for scooter riding and also doubles up as a good record bag. We also intend to offer many more products such as apparel, books & music, the whole spectrum, its just a matter of time and finding the right product for our store.
As for our designs, I am trying to offer something different, I am a mod, a music fan, a scooter rider, so that comes out in the designs. I want to offer a little for everybody so you will see, mod designs, skinhead, scooterist, stuff for soulies, and anything else in between. Obviously some designs are the usual ones that you expect to see we just want to make these more accessible, but I am also working on our own individual designs, they keep growing by the day.
And badges too I hear? Nothing quite like a nice 1 inch badge in my books. They go nice with those things you dare to stick a pin in, eh?
Yes we've just added 1 inch badges to our list. They will be the classic 1 inch pin-backs too. There is something nostalgic about 1 inch buttons, I can remember collecting them when I was a kid, I've still got a few from those days. If your into Mod Revival we plan to offer a bunch of badges just like the old days to stick on your parka, Harrington or lapel of your jacket. We will also be doing many more designs on them too. We plan to sell them in sets, instead of individually which will make them more economical. Also if you belong to a band, scooter club, or would like a small run of buttons made contact us for our special rates.
Do you plan to do some travelling with Mod Times?
We are always looking for excuses to travel! So yes, travelling is a must. You've got to keep up with the jet-set lifestyle, LOL… Before Mod Times we spent a lot of time traveling around the country to various scooter rallies plus I've popped back home to the UK to attend several events over recent years. I would like to continue to do this, if we can we would like to bring some of our goods along with us too. Just look out for the mod looking gypsies in the corner.
Yes, I know you get around. But as you've mentioned your playing time with the Threads back in the 80s Id like to know what youre up to lately playing wise. I know you have your Penny For The Guy recording project. Tell me a bit about that.
I've been playing guitar since I was 5 years old, its a habit that's hard to shake, I play almost everyday. My dad used to be a guitarist in an unknown beat band called 'The Soundcasters', in fact I've got the original poster in my living room from one of his gigs back in May '64 advertising their fabulous Mersey sound, so he taught me a few chords along the way. Penny for the Guy recording project grew from my music background and my continuous scribblings of new songs. I've got a room full of guitars and recording equipment that I've collected over the years, so I lock myself in the room and record what comes out. I'm sort of a one man band. The majority of my recordings are available as download able mp3s on my Penny for the Guy website here: http://www.pennyfortheguy.com
Or alternatively you can drop me an email through that site and I'll send you a CD in the mail for free.
Well that sounds like a real deal and I would encourage all the Modculture readers to pay the site a visit. Not only for the sounds of course but I know there is a real mix of style commentary, music and other things there as well.
Thanks, the Penny for the Guy site has been sadly neglected for a while especially with having to get Mod Times set up, I'm looking forward to getting some free time to add more content, features and to get back to recording as well, I've got about 10 new songs to get laid down, it's time to dust off the guitars again.
Now would you be so kind as to pass on the contact and website info for those readers who may not have been paying attention? And thanks again for taking the time away from the busy day to day of Mod Times!
Let me just say thanks to Modculture for the interview and for all the work that goes into keeping Modculture site alive. I always enjoy visiting the site, reading the reviews and lurking in the forums. Hopefully once I'm settled I'll get the chance to come out of lurkdom and contribute a bit in the forums as well.
Love Modculture? If you enjoy what you read or have benefitted from it and want to
help with the ever-increasing costs of the site and newsletter
, you can always
buy me a coffee at Ko-Fi
. Every penny is helpful and appreciated.