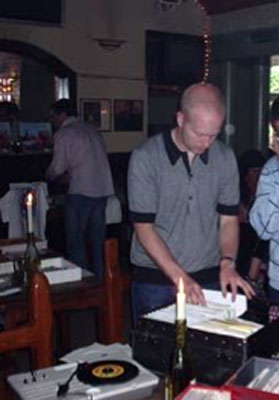 Note that I independently write and research everything in this article. But it may contain affiliate links.
Mik Parry of Sheffield's Pow Wow Club talks to Modculture about music, DJing and today's mod club scene.
1. You've been collecting vinyl for a long time – when did you start seriously buying and when did you become more focused on 60s/soul tunes?
I was into 60s music and blues from a young age and was always looking for old records in charity shops, fairs and car boots sales but didn't start buying 'seriously' (seriously to me meaning actively targeting and collecting original records you want – even though it's not always the cheapest way of having the actual music – and getting them somehow, as opposed to just buying and listening to what you stumble accross) until I started DJing around 1994. I've always bought 60s music along with all sorts from other eras but became more focused on that sound as the acid jazz/funk scene started to fade in the mid 90s. I became really focused on the 60s r&b / soul sound mainly within the last 6 years when I started going to mod clubs, was introduced to lots of great new r&b and 60s soul and decided that that was what I wanted to play if I was to continue DJing. Back to where I started really.
2. How did you get into DJing?
I was working in a big nightclub, the Leadmill in Sheffield, right at the peak of the house scene, and also the acid jazz scene.It was popular to have an 'acid jazz' style second room at big house nights, and that was the sort of sound I was buying then. The DJ doing the room at the leadmill was proving a bit 'deep' for what the club wanted and they wanted rid. I blagged them that I could do a better job and to give us a chance and they did. It was an occasion where I benefited from being a little naive and not really being that good! It was a big club and they didn't want anything too adventurous, just someone who could play fun tunes and rock the dance. As I was only just starting to collect that type of stuff, obvious stuff is pretty much all I had so, in the clubs opinion, I fitted the bill perfectly! I had a varied collection though and was fairly clued up about new releases and hip hop so I had a bit of credibility from the start. Anyway, I rocked the dance one way or another and kept that gig for about 5 years. It also helped that my sister was the manager! Once I started though I quickly got to digging deeper for stuff to play.
3. What have been the high-points and low-points of your time DJing?
The highest points in DJing are when what you play is hip and you feel at the top of your game. Some of the nights playing the back room of that house club were amazing. 1200 people in the club, maybe 300+ in my room, all going mad like ravers did! But it was especially good to see them going mad to something like Eddie Jefferson 'psychedelic sally', Ray Barretto, Cymande or some obscure old funk record. For music of that obscurity and quality to be appreciated to such a widespread extent by such a broad range of people, was amazing, and might never happen again.
It was equally exciting in the late half of the 90s – the 'britpop' era when everyone seemed to be in a good mood and 60s style and music was really popular! The club let me do the second room to the big indie night they had on the Saturday as well, where we'd play more 'swinging' 60s type sounds, along with the quirky exotic funk records and soundtracks that were hip at the time. I was seriously buying by then and with Gav Arno on board, we were playing ridiculously obscure and bizarre tracks as well as cool 60s classics to a big mixed crowd and getting a great response. That night lasted about 5 years too.
Then that whole retro thing seemed to just die in the mainstream and we got booted out, and there were some pretty low points towards the end and after as we and the club gradually realised this! There's nothing worse than feeling that you've gone out of fashion. Now I avoid it by never being in fashion!
Highs since then have been DJing at good mod clubs. As much of a buzz as it is seeing lost masterpieces being appreciated by people who don't have any particular interest or knowledge of the music, It's nice and ultimately more fulfilling, if not financially rewarding, playing to people who already love and appreciate the music.
4. To the best of your knowledge, which tunes did you give first play to?
I've always looked pretty hard for stuff so I'm sure there will be a few things, especially when we were finding really obscure library LPs and tracks off 60s easy listening & jazz albums in the 90s and maybe some r&b in the last few years, certainly a great acetate I've got, but I don't really put too much value on that and never really think about it. I always try to have a few things in my box that no one else is playing in the circles I know, but who knows or really cares if it got played somewhere else years ago by someone I don't know? I only really care about playing stuff that's new to the people I'm playing it to, so that it helps to keep those nights exciting. Finding a mod club gem that's only previously been heard on the Northern or Belgian popcorn scenes can be just as significant as being the first to play something ever – something you can never be sure of anyway.
5. Is record collecting all about money today? Or can you still build a collection on a budget?
It's necessary to spend a fair bit of money I think. You can build a great collection of records on a budget of course, but a definitive collection, or a cutting-edge DJ set? I don't think so. If the ideal is to play a set of the best records you know-of that would suit the club you're playing at, while hopefully keeping it interesting and fresh and fun, then it's just a fact that some of those records will be rare, while equally of course some won't be. But if they're good, they don't have to be that rare these days to cost money. and you've got to have them.
Even if you're scouring America for cheap records and new discoveries all the time, as many people are, there'll always be a time when you just can't find a record that you would love to have and play. Maybe a record that another DJ, dealer or collector has found cheap maybe, but you just can't. The more of those records you can get as quickly as possible, the more your records will reflect what you think is actually the best and most exciting as opposed to just what you've happened to have found cheap, and the better collection of records you'll have to select from. And sometimes the only way to get that great elusive record is to pay – either in records or cash. And whatever anyone pretends – that amounts to the same thing.
6. Why did you start the Pow Wow Club? And what does it offer that other clubs don't?
We had no manifesto, but it was to an extent a bit of a gap in the market that inspired us. There was a point where a lot of the specialist do's I was going to were friendly and great music-wise but often felt a bit insular and exclusive, as if part of a private society. And they were sometimes low on numbers, making it hard to build an atmosphere. They were specialist music nights, many still going strong today, where the night would probably only appeal to real enthusiasts, like me, who go to dance to, hear and even buy the latest, best and rarest sounds. I like these nights but it would be a shame if the best music played at these events began and ended at them, because it deserves a bigger audience. And on the other hand, a lot of the traditional mod scene do's seemed to be quite nostalgia based, and though often fun, seemed to be losing the progressive and open minded attitude that seemed to have previously driven the mod scene.
But I saw no reason why a general mod night should be like that. It was almost as if the mod scene and more importantly 'sound' had run it's course, yet there was a massive wealth of new music out there. People seemed to think you had to progress to different styles of music, yet there was massive room for progression witin the music the mod scene grew up on. The music is very diverse, has very broad appeal and is very accessable and the image side of it is, in theory, something to show off in public and enjoy, not hide at private functions or fancy dress parties.
My experience DJing to 'normal' crowds taught me that you could have big events with a party atmosphere and even a mixed crowd without compromising on the music, but I wasn't convinced it would work these days until the 'Outta Sight' night in Manchester started literally filling up every month, always with respected specialist DJs and uncompromising music. That, and other successful, lively scenes like that in Glasgow, gave us the inspiration to be a bit more ambitious than we would have ever dared. We hired a big, proper night club and went a bit further promoting it. We basically took a gamble guaranteeing that it would be a great party that everyone with an interest in great mod music would enjoy and thankfully a lot of people seemed to take a risk on it and it was a great success. We do know how to party so it wasn't that much of a risk i suppose.
Our intention was just to try and combine the best elements of both types of do while keeping it definitely and proudly a mod event. I think what it offers is something for everyone and a proper party like you don't often get anymore. We appreciate that people with an interest in music from that era – whether they consider themselves 'mods' or not – all have different tastes and you can't please everyone with every track you play. But everyone involved likes a good party and good music, surely. Our club is open to anyone yet the music should please the most serious enthusiast. Because of that we managed to have a great party, play real hardcore music and attract a cool, discerning clientele. Hopefully we will again.
7. How healthy is the mod/soul club scene generally going into 2008? And the mod scene generally?
I think fairly healthy, but not as healthy as it could be. I appreciate people can't always travel, but I'd prefer to see fewer but bigger and more ambitious do's. I'd rather go out less but see more people when I do and see a real good unified atmosphere, with a good mix of all the styles that fall under the mod musical umbrella – in one room. If people like one style particularly – r&b, soul, psych, ska etc – then the smaller do's can cater for them at other times, but the big mod do's should play the best of everything and be true to the mod sound and ethic. It seems strange that this scene has the most varied tastes yet a good mix of them all is the hardest thing to find. There's a huge variety of music, obscure and well known, that appeals to mods, yet at a lot of do's you seem to find people playing everything but. So I'd like to see mod nights hold their own as events and the mod sound hold it's own as a night's entertainment. I actually think it's what most people want and hopefully we'll see more of it.
8. Clothes or music? What gets the priority?
Music for me. I think clothes are maybe more important in life, for the dignity and self respect they can give you. But once you have clothing covered, it's not that much fun in isolation is it? It's no good being the smartest person in your own house, life is about getting out and appreciating other people.
Music is the best medium of human expression – not only do you interact with the artist who made it, which is very enjoyable with or without company, you can interact with people while listening to it. It is the foundation of going out and makes a night out far more constructive than it would be without it. With this great music, you can go out and be as generally hedonistic as anyone, but all along you have been appreciating great art. That is cool. If you're dressed well that's great, but other people clothes doesn't give me that much pleasure, other people's music does. Music is good for the soul, clothes for the character.
9. Which three tunes have had the longest life in your box?
Bo Jr – Coffee Pot – a tune I could have played at any club I've ever played at more or less
Billy Hawks – Oh Baby – same goes.
Jackie Mittoo – Got My Boogaloo – a funky Hammond ska version of a Jimmy Smith associated R&B track, with a drum break…some tracks you couldn't have tailor-made more precisely!
10. And finally, which three tunes would get you on the dancefloor right now?
Eddie Jefferson – psychedelic sally
Azie Lawrence – Pempelem
Danny Owens – you're a little too late
Love Modculture? If you enjoy what you read or have benefitted from it and want to
help with the ever-increasing costs of the site and newsletter
, you can always
buy me a coffee at Ko-Fi
. Every penny is helpful and appreciated.