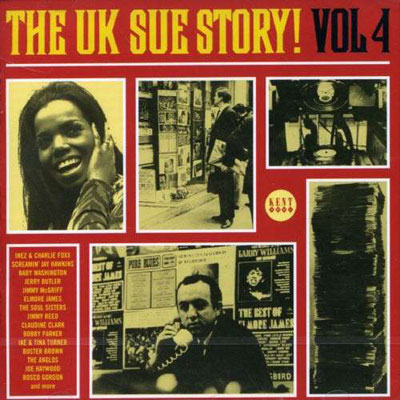 Note that I independently write and research everything in this article. But it may contain affiliate links.
Doug Hadgraft bends the ear of Ace records' compiler extraordinaire Tony Rounce about the recent Sue Records album reissues.
Let's start with the obvious question. Which  tracks were impossible to license for the project?
Too many to mention, really, but here's a few:
Willie Mae Thornton: Tom Cat – we have been trying to trace the owner of Soto Play, Tom Cats owner, for many years but all our attempts to do so have been fruitless.
Bobby Lee Trammell: New Dance In France – BLT owns this, but he is a big man in local politics in his hometown now and tends to play down his musical past.
Tommy Duncan: Dance, Dance Dance – the owner of its US label Falew!, Fats Lewis, would appear to be dead. Nobody knows where Tommy Duncan is either – if we did know we would have licensed it from him and paid him a royalty directly.
Roy C: Shotgun Wedding – the licensing rights to this have reverted to Roy C himself and with all due respect to a great artist, he's not the easiest man that I've ever tried to do business with.
Robert Parker: Let's Go Baby – Gerri Hall, Lydia Marcelle, Raymond Parker, all still caught up in the bankruptcy, more than 30 years ago of the Dover distribution company, which looked after labels like Nola, Manhattan, Safari etc.
Barbara Lynn: anything! – Barbara's Jamie side are not available for worldwide licensing at this time.
Edgewood Smith: Yeah – could not trace either the owner of the US label or Mr. Smith himself.
The Lamp Sisters: A Woman With The Blues – Universal (who do own it) can't find paperwork to substantiate their ownership, a common fate for most Duke-Peacock masters I'm afraid. Without absolute written proof of ownership, most majors will not license their masters.
Sonny Boy Williamson: Boppin With Sonny
– the rights for this US Ace release reverted to the owner of Trumpet records and the master is not currently available for license.
The Santells: So Fine – still haven't been able to find out who actually owns the US label it appeared on
Mr. Dynamite: Sh'Mon – ditto!
Paul Martin: Snake In the Grass – EMI claim that the rights reverted to producer Gene Redd, who has passed away. His widow does not seem too interested in doing business with Ace or anybody else for that matter.
The Fascinations: Girls Are Out To Get You – is owned by the Curtis Mayfield Estate. WEA have the rights of licensing this master, but only for North America. It's currently unavailable for license anywhere else in the world.
Don and Dewey: Soul Motion – was owned by Sonny Bono, who's dead of course.
June Bateman: I Don't Wanna – I wrote to June several times to see if she wanted to license it directly and offered an advance and a royalty, but never got a reply at what I was assured was a current address.
Tim Whitsett: Macks By the Tracks – having exhausted all avenues of contact in the run up to the release of Sue 4, I have subsequently opened up a line of communication that should lead me to direct contact with the Whitsett family and hopefully, the eventual first time CD reissue of Macks By the Tracks, sometime in 2007.
That should give you something to be going on with!
Have you ever seen a Gerri Hall? I have heard rumours that it exists but do not know anyone that has actually seen one. For example, a friend of mine was telling me a London mod DJ had one in the early 80s and it was a white label pressing and the expected matrix matched up etc…but again he personally never saw it in the flesh. Plus I've heard reports that there was an advert in record collector selling Gerri Halls in the 80s, but they were all sold out instantly and nobody knows who bought them.
For the record, although I cannot absolutely dispute the existence of the rumoured test pressing, I certainly do not believe that Gerri Hall was ever actually pressed on a finished red-and-yellow label. Like you I don't know anyone who has ever held a copy in their hands, and I know plenty of 'will-pay-top-dollar' hardcore UK label collectors.
Yeah, I have to agree with you on the Gerri Hall. Why would they do a test pressing for just that one? I'm sure Mick Smith classes it as unreleased.
If he does, I'm with Mick 100% on Gerri Hall. In fact I don't even really believe that it ever made it to test press stage (why would there be a TP of this one when there are so many others that were never afforded that luxury). I think that Raymond Parker (4022) is also an urban myth, unless you've seen vinyl evidence to the contrary.
Raymond Parker is still on my list of wants but I have been meaning to ask Mick Smith his opinion on that one.
If Mick's never seen or owned a copy then, as you said about Gerri, it definitely doesn't exist.
Another one that people have never seen is Loop De Loop – Soul Sisters.
Rob Finnis tells me he's seen this, although he doesn't actually have a copy. But he's not usually wrong about anything, so I will believe in its existence until someone can prove otherwise.
Another interesting one is the Ernestine Anderson LP – obviously didn't come out but its planned picture appears on the back of a few LPs. The cover was identical to the US release.
Yes, and I shouldn't imagine 'Keep An Eye On Love' sold enough copies to have warranted the LP issue even if Juggy hadn't retrieve the rights to US Sue at that time!
Also wasn't there an sampler LP pressed up for DJ's only – possibly called Club Soul with just a white sleeve?
Correct! My friend Brian Peters (the only surviving member of the original Scene DJ roster of Brian, Guy Stevens and James Hamilton) has the only traceable copy, which was actually Guy's copy originally. The catalogue number, which I don't have to hand, was recycled for 'Pure Blues'. There were appparently less than a dozen copies pressed and these really WERE test pressings.
A copy of the Club Soul turned up in Earwaves records in Manchester around 2 years a go. Went swiftly for £100. I was gutted – it was white cover with printed insert. Maybe it came from a Twisted Wheel DJ?
I'm sure that the copy that was sold in Manchester would have originated from the late Roger Eagle, he would definitely have had one at some point as a friend of Guy's and a pioneering R&B/soul DJ. Come to think of it, Guy would probably have had a bit of trouble giving away a dozen copies back then, as there can't have actually been 12 DJs who would have been interested in playing its contents!
One planned Sue release that never materialsied and that was possibly never even allocated a catalogue number is:
Pure Gold 311: Donnie Williams – Boogie Chillen's Playhouse/Mister B
– we have a copy of a letter from Guy Stevens to collector Harold Eastwood saying that the record had been licensed and that he was very excited about the prospect of releasing it. Heaven only knows why Sue didn't. By my estimation it would have come out somewhere between WI 327 and WI 340 had it been released here. 338 is a missing number, though, so it could well have been planned to be Mr. Williams.
The ZZ Hill ep has always eluded me as well, so was glad to get those tracks on CD.
I had the chance to buy it when it was a new release, and turned it down because I really wanted the Jackie Day tracks rather than 'Dancing Fast, Dancing Slow' and they were not on there, of course!
Tony, thanks for taking time out to answer these questions, its good to know I dont need to continue hunting Raymond Parker but I begrudingly may have to add Loop de Loop back on. More importantly, congratulations to Mike Atherton and yourself on this excellent and enjoyable release. Now for the vinyl copy!
Save
Love Modculture? If you enjoy what you read or have benefitted from it and want to
help with the ever-increasing costs of the site and newsletter
, you can always
buy me a coffee at Ko-Fi
. Every penny is helpful and appreciated.