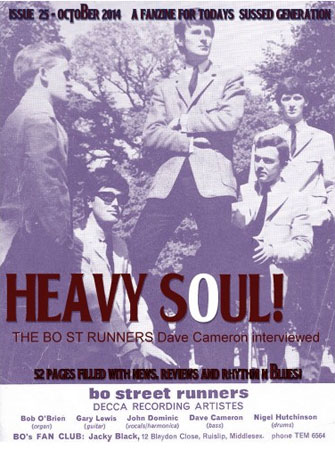 Yes, they have got to issue 25 – and Heavy Soul is still worth picking up.
It's the usual mix of articles, interviews and reviews, this month also featuring an eight-page reggae supplement and a 20-track club sounds CD – the tracklisting for that is below.
As for the magazine, there are pieces on the rarest Robert Johnson 78, Statuto, the new Millions Like Us box set, Billy Childish, The Small Faces Swedish EPs, the short lived Crash Records label, Real Stars Are Rare, Cyril Davies' new EP, Jesse Hector as well as the eBay spy, the news section and much more. Interviews are with The Bo St Runners' Dave Cameron, the second part of the Colin Swan interview, The Teamsters, young Mod Tom Hawick, Tony Beesley about his new 'Sawdust Caesers' book, Paul Molloy from Glasgow and Chris Pope on his new CD.
All of that for £5.50. You can order one here.
CD tracklisting:
1. EUGENE JEFFERSON – I Won't Cry No More
2. KIM WESTON – You Can Do It
3. BIG MAYBELLE – Whole Lotta Shakin' Going On
4. FREDDIE KING – That's What You Think
5. WILLARD HARRIS – Straighten Up Baby
6. THE IDEALS – Go Get A Wig
7. SKIP MANNING – Ham & Eggs
8. JIMMY VICK – Take A Trip
9. JESSIE MAE – Don't Freeze On Me
10. LOUIS BLUE BOY JONES – Hey Now
11. LITTLE WALTER – Come Back Baby
12. JACKIE WILSON – Somebody Up There
13. CHANCE HALLADY – Thirteen Women
14. BEVERLEY ANN GIBSON – Three Dollar Bill
15. COOKIE JACKSON – Try Love One More Time
16. KITTY WHITE – I'm Gonna Be A Fool Next Monday
17. FREDDY BUTLER – Fountain Pen
18. CHARLES SHEFFIELD – I Got Fever
19. CARL LESTER – Don't You Know That I Believe
20. LITTLE WILLIE JOHN – It Only Hurts A Little While