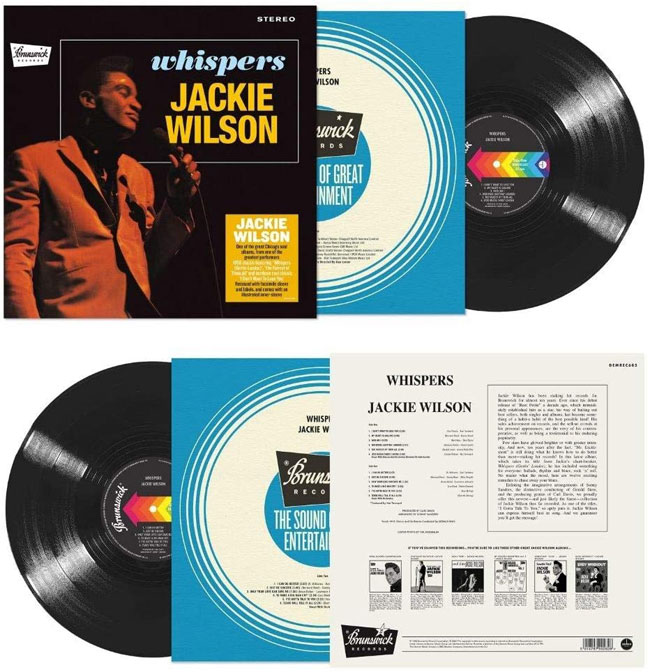 An original can get a bit pricey, so good to see this Jackie Wilson – Whispers vinyl album reissue on the shelves.
As you can see from the image above, it's a lovely thing to own too, should you be a fan and not own an original. Or if you just want to replace a worn-out copy.
If you don't know, Whispers is Wilson's 1966 album released on the legendary Brunswick record label. Highlights from it include the title hit, written by Barbra Acklin and David Scott, plus 'just be sincere' And 'I don't want to lose you'. But you can check out all the tracks below.
The album is reissued on 140g classic black vinyl complete with the original artwork and a nice printed inner sleeve. Sometimes it's the little touches that make these things special.
If you want a copy you can pre-order now ahead of the 31st July 2020 release date, with the price at £18.99.
Find out more at the Amazon website
Tracks:
1. I Don't Want To Lose You
2. My Heart Is Calling
3. Who Am I
4. Whispers (Gettin' Louder)
5. The Fairest Of Them All
6. (Too Much) Sweet Loving
7. I Can Do Better
8. Just Be Sincere
9. Only Your Love Can Save Me
10. To Make A Big Man Cry
11. I've Gotta Talk To You
12. Tears Will Tell It All