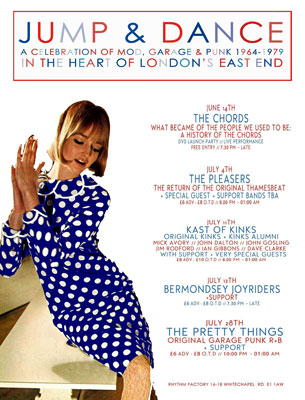 We flagged up a gig by The Chords recently, which was the first instalment of Jump & Dance – A Celebration of Mod, Garage and Punk 1964 – 1979 at the Rhythm Factory in London.
The next of those gigs takes place this week (July 4th), with late 70s power-pop band The Pleasers, along with support from The Lost Boys and Dave Edwards spinning some tunes.
It runs from 8pm – 1am, tickets are £6 in advance and you can get tickets and full details here.
After that, there is a gig by Kast of Kinks on July 11th, described as 'original Kinks plus Kinks alumni (Mick Avory, John Dalton, John Gosling, Jim Rodford, Ian Gibbons and Dave Clarke). Support too, along with an exclusive screening of previously unseen footage of The Kinks. Tickets £8 available here.
Finally, on the 28th July, you can catch British R&B legends The Pretty Things playing live, with support from The Troubadours. £8 in advance to see them, with the night kicking off at 7:30pm. Details of that one here.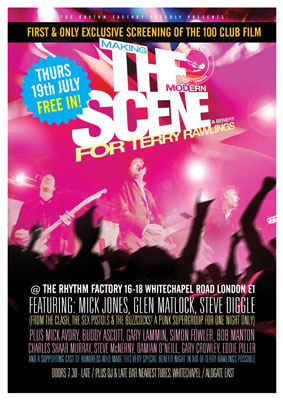 As a separate night (but related), the tribute event for the man behind the above events is screened – Making The Modern Scene. It's the film concert of the 100 Club benefit for Terry Rawlings which featured members of the Clash, Buzzcocks, Sex Pistols, Chords, Purple Hearts, Ocean Colour Scene, Undertones and more. Free entry on this night, which is Thursday 19th July from 7:30pm. More on that here.