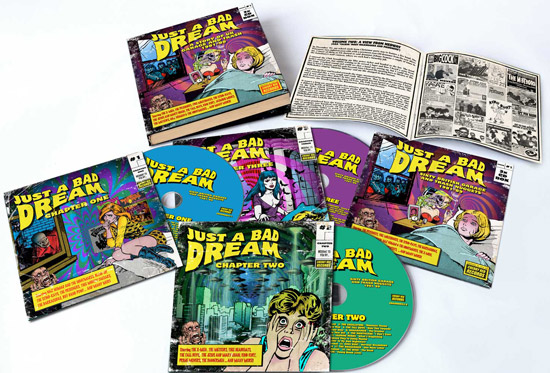 Possibly of interest to readers of these pages is the upcoming Just A Bad Dream: Sixty British Garage Nuggets 1981-89 box set.
I say 'possibly' because although it touches on bands that have been popular with people on the mod scene, it has a much wider reach than that. Rather like the underrated Children of Nuggets box set from some years back. One foot in the 1960s and the 1980s, as well as other genres.
The official write-up adds:
Sometimes, a disparate crowd of random influences and a handful of scene-makers coalesce out of nothing, and before you know it a movement is happening. So it was in the UK in the early-to-mid- '80s, when an unlikely set of bands resurrected the spirit of mid-'60s Garage Rock.
Fusing that sound with elements of the pre-Fab Four, Psych, Mod, Rockabilly and Psychobilly, and greasing the wheels of this new machine with a thick slab of post—punk sensibility, bands across the UK began to shout and holler like they hadn't in years, capturing their work on often rough and ready recordings, issued on Big Beat, Hangman, Hit Records, Media Burn, Creation and other equally fried labels. From London, Medway and the South East to Edinburgh and beyond, the Trash movement spread, quickly reaching out into mainland Europe and beyond.
Here in the UK, Trash finally enjoyed its moment in the sunshine in 1984, when four of the scene's key bands appeared on Channel 4's flagship music show The Tube.
Spiky, brash, loud and unfettered by delusions of grandeur, this is the sound of the post punk UK music scene looking backwards whilst moving forwards. Not for the faint-hearted, sure, and always likely to tell you where you can stick it, but this is a sound that has stuck.
The garage and trash scene, albeit under different names and sprinkled with a layer of post-Millennial self-awareness, continues to thrive around the world. Wherever one finds guitars, amplifiers and the primal spirit, one finds Trash.
Packed full of rarities and collectibles – the Medway Valley and Billy Childish related material is currently particularly sought after – 'Just A Bad Dream' will appeal to fans of '80s Psychedelia, Mod Revival, Indie, Psychobilly and, of course, the '60s Garage Rock that influenced so many of these artists.
The box is over three CDs and features all the key players, as well as 'I was there' sleevenotes from Mike Spenser, Lenny Helsing and Vic Templar. The box has been produced by Alec Palao and comes with that eye-catching comic book design on 16th November 2018.
You can pre-order on Amazon right now, with the price at £19.33. Full track listing below.
Find out more about the box set at the Amazon website
Track listing:
DISC ONE:
1. LITTLE BY LITTLE – Thee Mighty Caesars
2. SUBMARINE SONG – The Cannibals
3. NEXT TIME AROUND – The Barracudas
4. JUNE RHYME – The Sting-Rays
5. HUP TWO THREE FOUR – Sid Presley Experience
6. WHAT I WANT – The Prisoners
7. JUST A BAD DREAM – The Bugs
8. A GLIMPSE – The Green Telescope
9. WRITHING ON THE SHAGPILE – The Dentists
10. GO GORILLA – Ug And The Cavemen
11. I HEAR NOISES – The Vibes
12. THE WHOLE WORLD IS TURNING BROUCHARD! – Biff Bang Pow!
13. DRIVE ME WILD – The Aardvarks
14. GET WHAT I CAN –
The Margin Of Sanity
15. LITTLE MISS MISFIT – The Discords
16. DIRTY JEAN – The Mild Mannered Janitors
17. 125 – Blow-Up
18. STROLL ON – Auntie Vegetable
19. MR UNRELIABLE – The Inmates
20. JUST CALL ME SKY – Naz Nomad And The Nightmares
DISC TWO:
1. YOU CAN'T POLISH A TURD – Sexton Ming
2. MUNSTERS THEME – The Escalators
3. VEGETABLE MAN – The Jesus And Mary Chain
4. RIDE THIS TORPEDO – The Tall Boys
5. DON'T LET HER DARK YOUR DOOR – The Thanes
6. THE CRUSHER – Bananamen
7. TALK – The X-Men
8. I WANT THAT GIRL – Emptifish
9. I DON'T CARE – The Morticians
10. SWAMP THING – The Meteors 11. WHAT'S HAPPENING –Jasmine Minks
12. AND IN ENGLAND THEY'RE GOING MENTAL – Nutmeg
13. LIVIN' IN MY OWN NIGHTMARE – Prime Movers
14. FEVER IN MY POCKET – The Mindreaders
15. NERVOUS BREAKDOWN – King Kurt
16. I KNOW YOU LIED – The Stayrcase
17. ONE MORE LETTER – The Daggermen
18. WAITING NATION – The Psylons 19. THE DEAD – The Wigs
20. YOUNG BLOOD (LIVE) – Thee Headcoats
DISC THREE:
1. YOU WEREN'T BORN YOU WERE CREATED (LIVE) – The Playn Jayn
2. BRAND NEW CADILLAC – Thee Milkshakes
3. DON'T BE SORRY – The Surfadelics
4. TOO FAR GONE – Marionette
5. NO GREAT SHAKES – The Beatpack
6. ROCK AND ROLL TRAITOR – The Unholy Trinity
7. HE TELLS ME HE LOVES ME – The Delmonas
8. LA JUICE – The Wolfhounds
9. GARBAGEBRAIN – Revolving Paint Dream
10. LEAVE ME ALONE –Clapham South Escalators
11. MY EMANCIPATION – The Primevals
12. SHELTER FROM THE RAIN – Change Lings
13. PLUTONIUM MIND SHOCK – The Surf Rats
14. THE CURSE – The Golden Horde
15. SO IT'S NOT TO BE – The Delmontes
16. FARMER JOHN – The Gruff Men
17. THE HELL TRAIN – The Krewmen
18. HELLHAG SHUFFLE – Sunglasses After Dark
19. RINGING IN MY EARS – The Jackals Of Fresh Kid
20. THIS IS THE END OF THE WORLD (DEMO) – The Screaming Dead