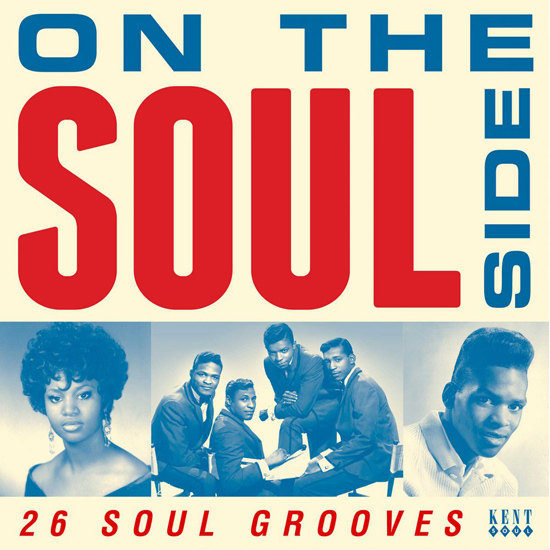 It is a Kent classic and one a good many of us probably have on vinyl. If you don't or want a new version, you will soon be able to get On The Soul Side on CD.
This was the bestselling Kent album of 1983,a 14-track compilation of classic soul / northern soul from the likes of Capitol, Liberty, Imperial, Veep, UA, Minit and Sue. But this isn't a straight reissue onto disc. The CD set has been expanded.
There are now 26 tracks on this particular collection, the extra tracks taken from the same group of labels. All 26 tunes are original recordings, most not available on other Kent CDs, including a previously unreleased Patrice Holloway dancer from the 'Stolen Hours' sessions.
So classics from June Jackson, Patrice Holloway, Bobby Sheen, Little Anthony and the Magnificent Men's LP-only 'Nobody Treats Me The Way You Do' plus 'sophisticated ballads' from Lou Rawls, Marv Johnson, Garnet Mimms, Timi Yuro and Merry Clayton as well as early Rhythm & Soul anthems from the Showmen, Earl King, Benny Spellman and Gene McDaniels.
Still the original and iconic Ian Clark sleeve design, but a hike in price from the 1980s as you would expect. £13.30 is the price, with a release date of 25th May 2018.
Find out more at the Amazon website
Track listing:
01 Love And Desire – Patrice Holloway
02 Gonna Fix You Good (Every Time You're Bad) – Little Anthony & The Imperials
03 Dr Love – Bobby Sheen
04 Ready, Willing And Able – Jimmy Holiday & Clydie King
05 A Lot Of Love – Homer Banks
06 Lipstick Traces (On A Cigarette) – The O'Jays
07 The Record – H.B. Barnum
08 It Was Easier To Hurt Her – Garnet Mimms
09 Fortune Teller – Benny Spellman
10 It Will Stand – The Showmen
11 Boy Watcher – Ginger Thompson
12 Do-Wah-Diddy – The Exciters
13 I Want You To Be My Baby – Ellie Greenwich
14 Point Of No Return – Gene McDaniels with The Johnny Mann Singers
15 Baby I Love You – Jimmy Holiday
16 What's A Matter Baby (Is It Hurting You) – Timi Yuro
17 If You Were A Man – Clydie King
18 Nobody Treats Me The Way You Do – The Magnificent Men
19 The Thrill Of Romance – Patrice Holloway
20 It's What's Underneath That Counts – June Jackson
21 What You Gonna Do (When Your Love Is Gone) – Bobby Womack
22 Trick Bag – Earl King
23 Don't Let Your Eyes Get Bigger Than Your Heart – Sylvia Robbins
24 The Man Who Don't Believe In Love – Marv Johnson
25 Love Is A Hurtin' Thing – Lou Rawls
26 Nothing Left To Do But Cry – Merry Clayton