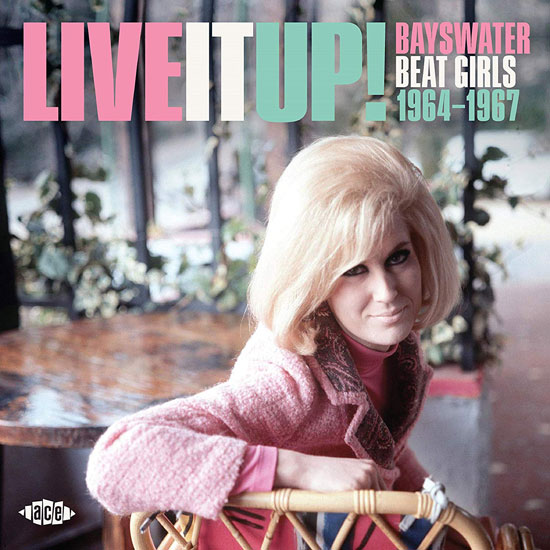 Another instalment in the 'Beat Girls' series by Ace Records, this time the Live It Up! Bayswater Beat Girls 1964-1967 CD.
Yes, CD-only as far as I can tell. No mention of vinyl which is a shame, as these albums and the covers look amazing in the larger format. We can hope, but it isn't looking good.
With this compilation, it's all a question of balance. Ever since 'Brit Girls' became a recognised collecting genre and compilations started appearing in the 1990s, label such as Decca, EMI and Pye in the 60s have been heavily represented.
On the flip side of this, the women on Philips and its associated labels such as Fontana and Mercury haven't been compiled anywhere near as much. Live It Up! Bayswater Beat Girls 1964-1967 hopes to put this right.
The 'girl' vibe was a strong one for Philips with the success of Dusty Springfield and as a result, they tried their best to sign as much female talent as they could from all corners of the UK, as well as some relocated American, Jamaican and South African-born girls.
Of course Dusty is here, along with recognised names such as Madeline Bell, Kiki Dee and Susan Maughan, but the appeal for fans and collectors is likely to be the lesser-known tracks and artists on this 25-track compilation. You can check out all the music featured below.
Of course, this is Ace, so expect a bumper booklet featuring scarce photos and ephemera, plus an introduction by 'genre-expert' Ian Chapman and a 5000-word track commentary by compiler Mick Patrick.
Fancy it? The album is available to pre-order now ahead of the 30th August 2019 release date, priced at £14.93.
Find out more at the Amazon website
Track listing:
1. I Really Got Carried Away – Madeline Bell
2. Heartbeat – Dusty Springfield and The Echoes
3. By My Side – Sharon Tandy
4. So Little Time – Diana Dors
5. I Just Don't Know How – Angelina
6. With a Kiss – Kiki Dee
7. 32nd Love Affair – Friday Brown
8. I Like a Man – The Caravelles
9. Make Him Mine – Susan Maughan
10. My Street – Millie
11. Live It Up – Dusty Springfield
12. Please Go Away – Marilyn Powell
13. Chasing My Dream All Over Town – Jenny Wren
14. Keep On Lovin' Me – The Kaye Sisters
15. You Beat Me to the Punch – Karol Keyes
16. How Can I Be Sure – The Caravelles
17. Small Town – Kiki Dee
18. Born a Woman – Friday Brown
19. The Music Attracts Me – Clare Torry
20. Eeny Meeny – Ayshea
21. No One Can Take Your Place – Karol Keyes
22. Girls Like Boys – Ethna Campbell
23. Wishin' My Life Away – Angelina
24. The Thought of You – Jenny Wren
25. Love Makes the World Go Round – Sharon Tandy