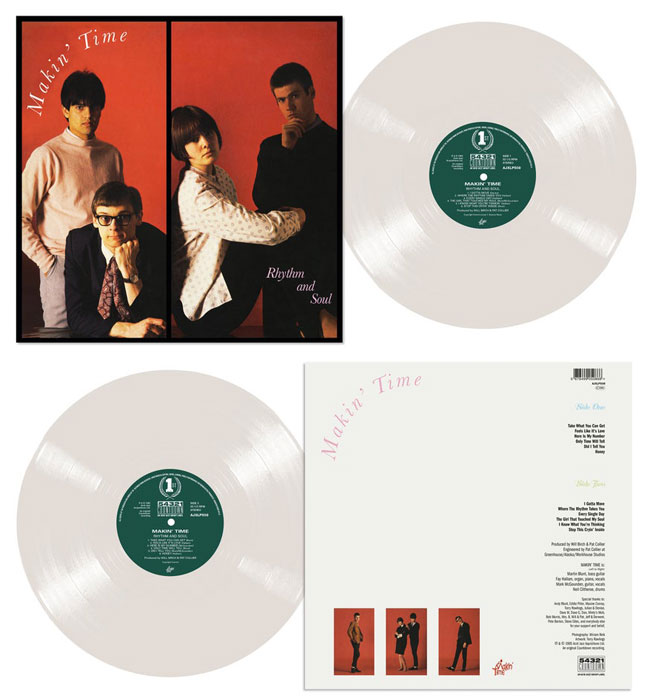 The first reissue on this format since the original release, the Makin' Time – Rhythm & Soul white vinyl reissue can be ordered right now.
Originally released by Eddie Piller's Countdown label, the album is back via Eddie Piller nice more. Yes, this is out via Acid Jazz this time, although it still seems to be labelled as Countdown.
It was quite a release too. Taking a step away from the Mod revival sounds, this was a mix of power pop and 1960s pop and soul, courtesy of organ-playing Fay Hallam and guitarist and vocalist Mark McGounden, along with Martin Blunt, who is probably best known as a longstanding member of The Charlatans.
If you want to refresh your copy or go for it for the first time, Acid Jazz is reissuing it on what looks like a white vinyl. The details don't state as much, but the picture tells the story.
Track listings below and if you want a copy, you can pre-order one from either Acid Jazz or Amazon.
Tracklisting:
Take What You Can Get
Feels Like It's Love
Here Is My Number
Only Time Will Tell
Did I Tell You
Honey
I Gotta Move
Where The Rhythm Takes You
Every Single Day
The Girl That Touched My Soul
I Know What You're Thinking
Stop This Cryin' Inside