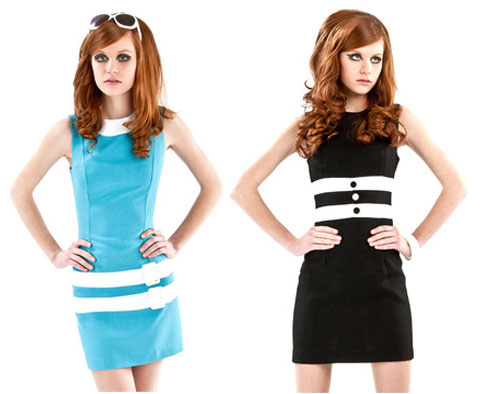 We actually mentioned this company way back in 2008, but now it seems you can get Marmalade dresses discounted at Fab.
Whether you like them perhaps depends on how much you are into the 'swinging sixties' look. Traditionalists faithful to the early part of the '60s will probably be less keen on the bold colours and the 'dolly bird' cuts on offer here. It's all down to personal taste, as ever.
As for the dresses, they're out of Canada, the work of Magdalena Sokolowska and Jake Williams, with 11 styles, all very much with the same 'look', currently discounted at the European version of the Fab store. Four of those are pictured here, but you can see all of them on the site.
As for pricing, they're available from 89 Euros. Note that you'll have to sign up (for free) to browse the site. Also, the site is European, but it does ship widely – including to the UK.