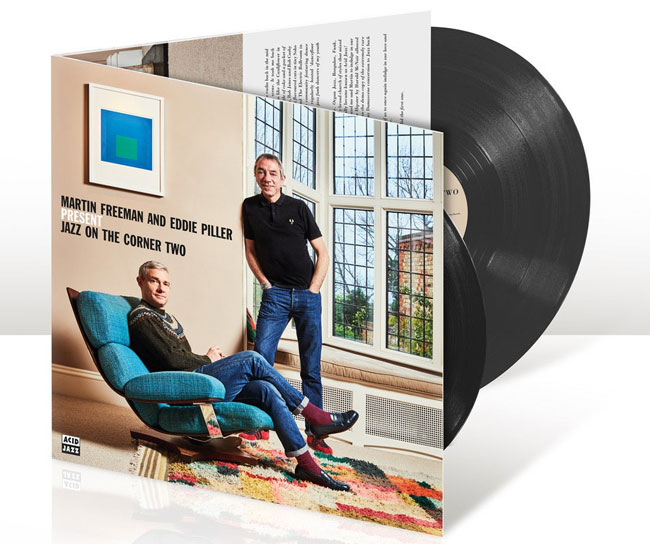 Yes, a sequel. Martin Freeman and Eddie Piller present Jazz On The Corner Two is coming on CD and vinyl.
Hardly a surprise really as the first volume was massively popular. If you missed it, you can pick up the double CD set for just £9 now with the double vinyl pricier at just over £22. Well worth picking up whatever the format.
Looks like the second one will be worth a closer look too. Just unveiled, it is being made available on those same double-disc formats on 3rd July 2020. Although you can pre-order both now directly from Acid Jazz if you like to plan well ahead.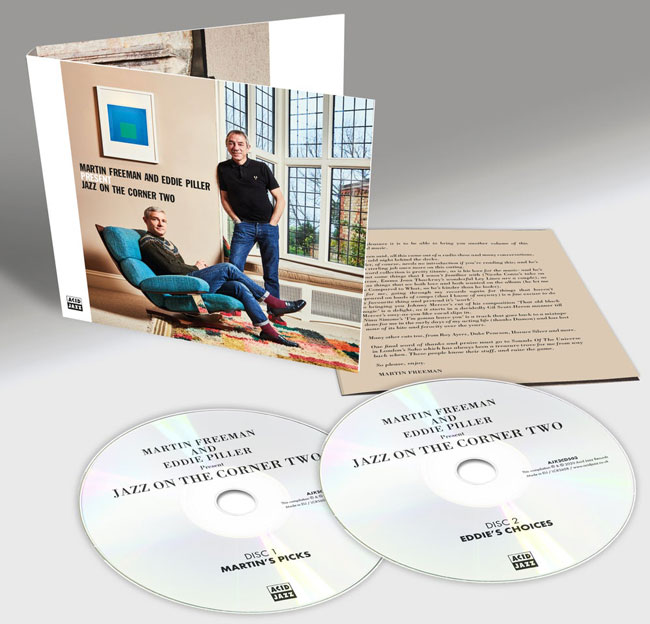 The new collection is described as 'diverse, with each of the people concerned getting a disc to showcase their picks. According to Martin Freeman:
'…going through my records again for things that haven't appeared on loads of comps (as far as I know of anyway) is a fine excuse to do my favourite thing and pretend it's work.'
Eddie Piller adds: 'From the moment I first heard Gilles Peterson on pirate radio back in the mid-eighties I fully embraced the underground London Jazz scene. It took me back to my childhood, accompanying my dad to jazz pubs like the Cauliflower in Ilford. Later, reminiscing of DJs whilst frequenting the likes of Upstairs At Ronnie's and other word-of-mouth Soho jazz spots.'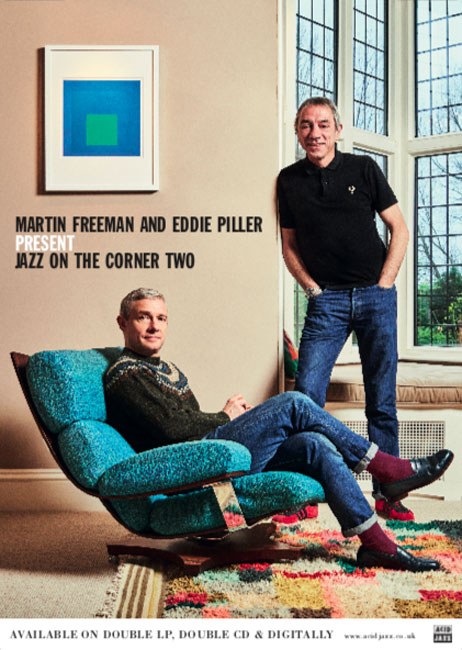 The tracklist is below and both are available on pre-order. The CD set is £10, the vinyl is £20 and if you want to show off your love of the album at home, you can also pick up an A2 poster for £7.99 at Acid Jazz.
Find out more about the CD and LP at the Amazon website
Tracklisting:
Disc 1 – Martin Freeman
01. Stanley Turrentine – The Magilla
02. Nina Simone – I'm Gonna Leave You
03. The Jazz Crusaders – Tough Talk
04. Roberta Flack – Compared To What
05. Duke Pearson – Gira,Girou (Round and Round)
06. Lonnie Liston Smith & The Cosmic Echoes – Summer Days
07. Roy Ayers – A Tear To A Smile
08. Les McCann – Us
09. Johnny Mercer – That Old Black Magic
10. The Modern Jazz Quartet – Concorde
11. Horace Silver – Tranquilizer Suite Part 4: Perseverance and Endurance
12. Chico Hamilton – Conquistadores
Disc 2 – Eddie Piller
01. Emanual K Rahim & The Kaliqs – Al Amin (The Knower)
02. Brian Auger Oblivion Express – Freedom Jazz Dance
03. Gene Ammons – Jungle Strut
04. George Benson – Shape Of Things To Come
05. Chris Earland – Leaving This Planet
06. Emma Jean-Thackray – Ley Lines
07. Nicola Conte – Caravan
08. Lorez Alexandria – Nature Boy
09. Chet Baker – Do It The Hard Way
10. The Lyman Woodard Organisation – Creative Musicians
11. The Bukky Leo Quintet – Rejoice In Righteousness
12. Patrice Rushen – Haw Right Now