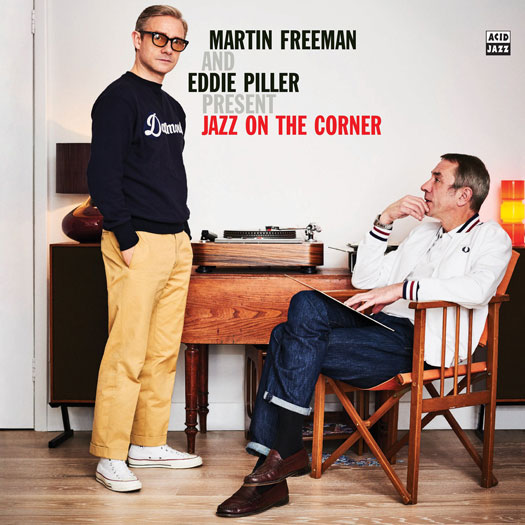 Looks an interesting one. Martin Freeman And Eddie Piller Present Jazz On The Corner on CD and vinyl, with via Acid Jazz.
Here's the back story:
When Acid Jazz founder Eddie Piller asked Martin Freeman to do a jazz radio show they could hardly imagine the response. From around the world emails and tweets inundated the show and they swore to themselves that they couldn't leave it there.
Now, two years on this compilation of their favourite jazz has arrived. From the rolling hard bop of Lee Morgan and Art Blakey, via screaming soul organ, jazz funk original acid jazz onwards to the post modern spiritual jazz of Kasami Washington, this is an incredible journey.
Update: The CD is now massively reduced on Amazon. You can pick up the double CD of this album for just £4.99 (from a previous £13.66). No idea if this is a short term deal or not, but that's the price now. The vinyl is also slightly reduced, but not to the same level. It is £17.35 (down from £20.66).
More on the CD at the Amazon website
More on the vinyl at the Amazon website
CD track listing:
Disc 1 Martin's Side
1/ If you're going to the city – Mose Allison (3.47)
2/ Terra firma irma – Joe Gordon (7.42)
3/ Kozo's Waltz – Art Blakey's Jazz Messengers (6.49)
4/ Listen Here – Eddie Harris (7.37)
5/ Some kinda mean – Sam Jones (5.49)
6/ Get up off your knees – David Axelrod (3.38)
7/ Psychedelic – Lee Morgan (6.32)
8/ A walk on the wild side – Jimmy Smith (5.57)
9/ Now at last – Blossom Dearie (3.20)
10/ Trees and grass and things – Charles Williams (4.33)
11/ The Rhythm Changes – Kasami Washington (7.44)
Disc 2 Eddie's Side
1/ Bend Your Head Down Low – Geoffrey Stoner (3.58)
2/ Just In Time To See The Sun – Leon Thomas (2.59)
3/ Chains – Blacks & Blues (3.26)
4/ Look At Me, Look At You –Marlena Shaw (4.01)
5/ Sphynx – Brand New Heavies (6.13)
6/ The Hipster – Harold McNair (4.37)
7/ Sad Little Girl- Les McCann (2.52)
8/ Mi Hermano – Blue Mitchell (5.24)
9/ Mother Of The Future – Norman Connors (6.50)
10/ Cherrystones – Eugene McDaniels (3.12)
11/ Bolivia – Ulf Sandberg (8.13)
Vinyl track listing:
Side 1
Mose Allison – If You're Going To The City
Les McCann – Sad Little Girl
Lee Morgan – Psychedelic
Eddie Harris – Listen Here
Harold McNair – The Hipster
Side 2
Art Blakey's Jazz Messengers – Kozo's Waltz
Joe Gordon – Terra Firma Irma
Blossom Dearie – Now At Last
Blue Mitchell – Mi Hermano
Side 3
Jimmy Smith – A Walk On The Wild Side
David Axelrod – Get Up Off Your Knees
The Brand New Heavies – Sphynx
Marlena Shaw – Look At Me, Look At You
Charles Williams – Trees and Grass and Things
Side 4
Geogrey Stoner – Bend Your Head Down Low
Blacks & Blues – Chains
Leon Thomas – Just in Time To See The Sun
Norman Connors- Mother of The Future
Kasami Washington – The Rhythm Changes