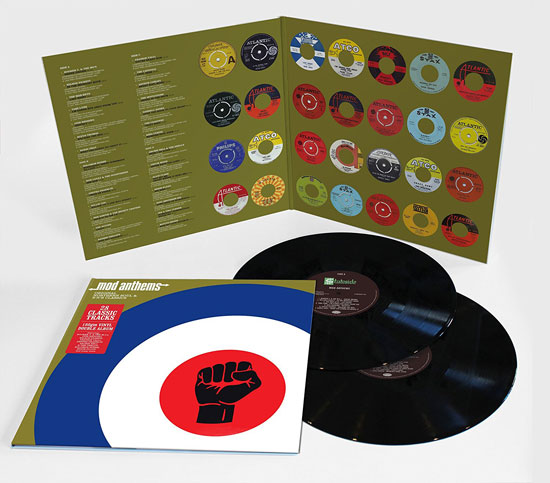 Remember the Mod Anthems CD set (pictured above)? Well, that same Mod Anthems collection is coming out as a limited edition vinyl release.
Ok, not quite the same. That's because the original release was an 80-track release covering three CDs. This is a double heavyweight vinyl album from Warner Bros, described as a limited edition, although I'm not sure just how limited. I would guess not that limited, as it isn't numbered.
The heavyweight (180g) vinyl set manages to fit in 28 tracks in total. Think of it as highlights of that original set, all packed into packaging that features the original label artwork of all of the 7-inch singles inside.
You can see the tracklisting below. It is out now, selling for £17.99
Find out more at the Amazon website
Track listing:
Side 1
1. Booker T & Mg's – Green Onions
2. Wilson Pickett – In The Midnight Hour
3. The Mar-Keys – Last Night
4. Tami Lynn – I'm Gonna Run Away From You
5. Otis Redding – Respect
6. Rufus Thomas – Walking The Dog
7. Doris Troy – Whatcha Gonna Do About It
Side 2
1. Solomon Burke – Everybody Needs Somebody To Love
2. Aretha Franklin – Chain Of Fools
3. Willie Tee – Walking Up A One Way Street
4. Rex Garvin – Sock It To Em Jb
5. The Astors – Candy
6. Esther Philips – Just Say Goodbye
Side 3
1. Frankie Valli – You're Ready Now
2. The Capitols – Cool Jerk
3. Arthur Conley – Sweet Soul Music
4. The Invitations – Skiing In The Snow
5. Darrell Banks – Open The Door To Your Heart
6. The Coasters – Crazy Baby
7. King Curtis – Memphis Soul Stew
Side 4
1. Archie Bell & The Drells – Here I Go Again
2. Chuck Wood – Seven Days Is Too Long
3. Alice Clark – You Hit Me (Right Where You Hurt Me)
4. Eddie Floyd – Big Bird
5. Soul Brothers Six – Some Kind Of Wonderful
6. Ike And Tina Turner – Somebody Somewhere Needs You
7. Bettye Swann – Kiss My Love Goodbye
Save