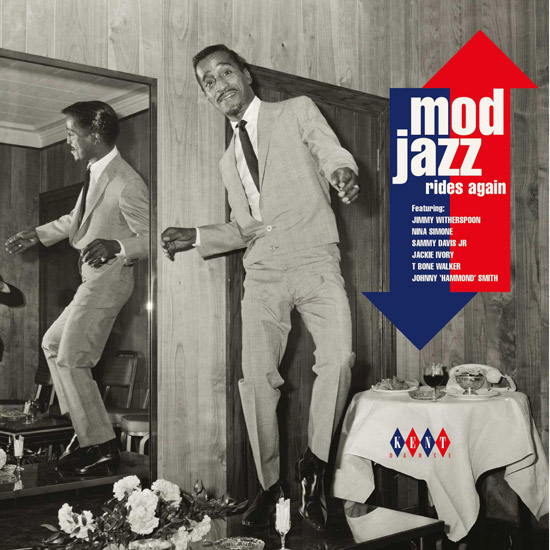 Yes, some more Mod Jazz from Kent, this time going under the name Mod Jazz Rides Again.
As the label itself says: The Mod Jazz series has inspired imitators and copycats, but the original is still the best, as this latest volumes proves.
There are indeed a variety of mod jazz albums out there now, most treading a fairly safe path. But the albums from the Kent / Ace always have a bit more about them. Superbly compiled and with loads of background detail in the booklet. Always worth picking up and have been since 1996.
This one mixes up jazz, latin & R&B and according to Kent it 'may be the best one yet'. But you can make your own mind up about that on 28th September, which is when the album is released. Although you can pre-order now – more on that in a moment.
First up, let's look at there album, which includes the likes of Sammy Davis Jr with 'I Know A Place', Jimmy Witherspoon doing 'Hey Mrs Jones'. Nina Simone's 'Come On Back, Jack' if you want the big names.
For some organ grooves, check out the likes of Shirley Scott, Ray Franklin, Playboy Five or the Tempo Rhythms or get some Latin from Montego Joe and Harold Betters and much more besides. I've added the track listing at the end of the page.
Compiled and annotated by Dean Rudland and Ady Croasdell, Mod Jazz Rides Again is just a CD release as far as I can see and is available to pre-order now for £13.09.
Find out more at the Amazon website
Track listing:
1. Popa Nickel – The Tempo Rhythms
2. Hey Mrs. Jones – Jimmy Witherspoon
3. The Bold – Russell Evans & The Nite Hawks
4. Shanks & Grits – Ray Shanklin
5. Hot Tamale Man – Harold Betters
6. Sherry's Party – Ray Johnson
7. I Know a Place – Sammy Davis Jr. & Buddy Rich
8. Sha-bazz Pts. I & II (Edits) – The Rhonda Scott Trio
9. Fat Man – Montego Joe
10. Pluckin' – Jimmy Mayes & the Soul Breed
11. I'm a Dues Payin' Man – Otis Spann
12. Do the Thing – Gate Wesley
13. East 24th Avenue – Billy Graham & the Escalators
14. Come On Back Jack – Nina Simone
15. Sticks and Stones – Johnny 'Hammond' Smith
16. Hi Heel Sneakers – Jackie Ivory Trio
17. Shake It Baby – T-Bone Walker
18. Spoonful – Playboy Five
19. Empire City – Gene Walker
20. I've Got My Walkin' Papers – Clarence Daniels & Obie Jessie
21. Pushin' the Button of the Soul – Hank Jacobs
22. Timber Pt. II – Candy Phillips
23. Out House – Eddie Bridges & His Lowriders
24. What Is Love – Bobby Jenkins Quartet