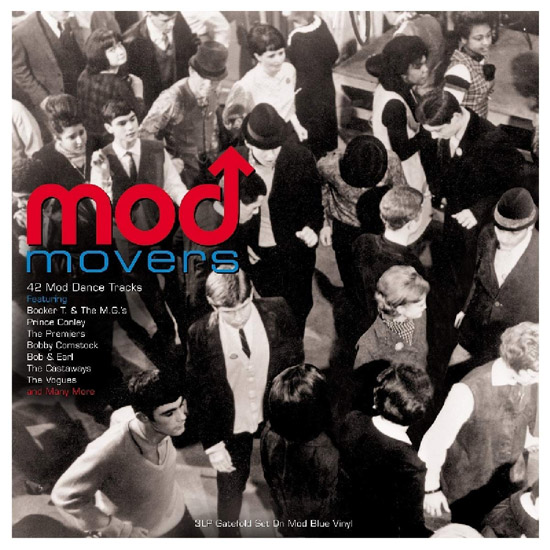 A lot of vinyl for not a lot of cash. This is the Mod Movers three-LP blue vinyl box set.
I don't know much about it either, except that it has come out via the Not Now Music label, which seems to specialise in budget box sets and collections, including a number of mod titles.
The ridiculously cheap 60s Mod Soul CD collection was a recent release, following on from a succession of other titles covering R&B, soul and jazz.
This one is a slight departure, but at the same time very much in the same area. The label specialises in budget collections featuring generally known tunes, with a few lesser-known titles thrown in for good measure. As you can see from the track listing, this is very much the case here.
The slight departure is vinyl and in this case, blue vinyl over three discs. Have a look at the track listing to see what you think and if you do fancy it, the LP collection is available to order now, selling for £13.75. Not bad for three LPs and 42 tracks.
Find out more at the Amazon website
Tracklisting:
Disc: 1
1. Harlem Shuffle ~ Bob & Earl
2. Arabia ~ Delcos
3. Five O'Clock World ~ The Vogues
4. Money (That's What I Want) ~ Barrett Strong
5. Free For All ~ King Curtis
6. Land Of 1000 Dances ~ Cannibal & The Headhunters
7. Fire ~ Gino Parks
8. Last Night ~ The Mar-Keys
9. Liar, Liar ~ The Castaways
10. Cool Jerk ~ The Capitols
11. La La La La La ~ The Blendells
12. Louie Louie ~ Richard Berry
13. For This I Thank You ~ Gino Parks
14. Moanin' ~ Bobby Scott
Disc: 2
1. Farmer John ~ The Premiers
2. I'm Going Home ~ Prince Conley
3. Work Song ~ Oscar Brown Jr.
4. I'm Gonna Dance ~ The Decades
5. Big Daddy ~ The Pagents
6. The Bounce ~ The Olympics
7. So What! ~ The Lyrics
8. Green Onions ~ Booker T. & The M.G.'s
9. Let's Stomp ~ Bobby Comstock
10. Hurricane ~ Dave 'Baby' Cortez
11. Hold It ~ Bill Doggett
12. Comin' Home Baby ~ Mel Tormé
13. Watch Your Step ~ Bobby Parker
14. I'm A King Bee ~ Slim Harpo
Disc: 3
1. Some Other Guy ~ Richie Barrett
2. Bad Boy ~ Larry Williams
3. I Got A Woman ~ Booker T. & The M.G.'s
4. Do Re Mi ~ Lee Dorsey
5. Just A Little Bit ~ Rosco Gordon
6. Night Train ~ James Brown
7. They Can't Hurt Me ~ The Lyrics
8. Slander ~ Ty Wagner
9. What'd I Say ~ Tom & Jerry
10. Let Me Be Your Boy ~ Wilson Pickett
11. Baby Please Don't Go ~ Mose Allison
12. You Got Love ~ The Sa-Shays & The Royal Impalas
13. Dimples ~ John Lee Hooker
14. You Can't Sit Down (Part 1) ~ Philip Upchurch Combo