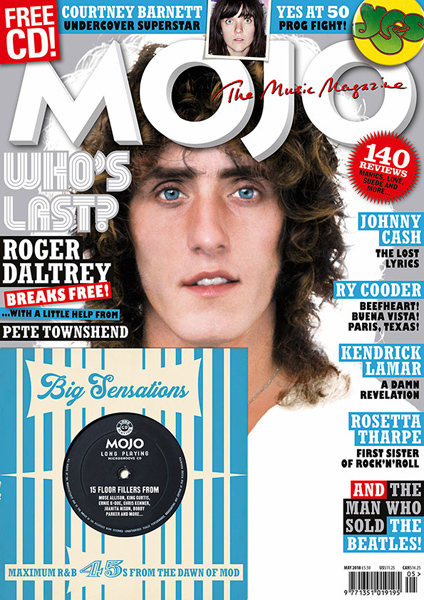 Got the new Mojo? Its worth a look. In fact, it's worth it just for the mod-inspired cover CD.
The mod vibe is very much from the cover star, with a hefty feature on Roger Daltrey in the magazine this month, covering something like 13 or 14 pages and featuring words from the man himself, Pete Townshend, Wilko Johnson and more. If you are a Who fan, it's definitely something to check out. Nice insight into the new Roger Daltrey album too.
Of course, there is that CD as well. It's titled Big Sensations – Maximum R&B 45s from the dawn on Mod and really does have some crackers on it, not to mention mod dance floor fillers. I've listed all the tracks at the end of the article.
Frustratingly, I haven't got one as I get digital copies of the magazine that don't come with the cover disc. Don't make that mistake, nip down to the newsagents or order a physical copy online.
Anyway, it's out now either at your local shop or online here for around a fiver.
CD track listing:
1. Bobby Parker – Watch Your Step
2. King Curtis – Hot Rod
3. The Egyptians – Party Stomp
4 Chris Kenner – I like It Like That
5. Mike Pedicin – Burnt Toast and Black Coffee
6. Charles Sheffield – It's Your Voodoo Working
7. Dale Cunningham – Too Young
8. Juanita Nixon – Stop Knockin'
9. McKinley 'Soul' Mitchell – The Town I Live In
10. James Ray – If You Gotta Make A Fool Of Somebody
11. The Donays – Bad Boy
12. Jan Bradley – Mama Didn't Lie
13. Rosco Gordon – Just A Little Bit
14. Ernie K-Doe – A Certain Girl
15. Mose Allison – Eyesight To The Blind