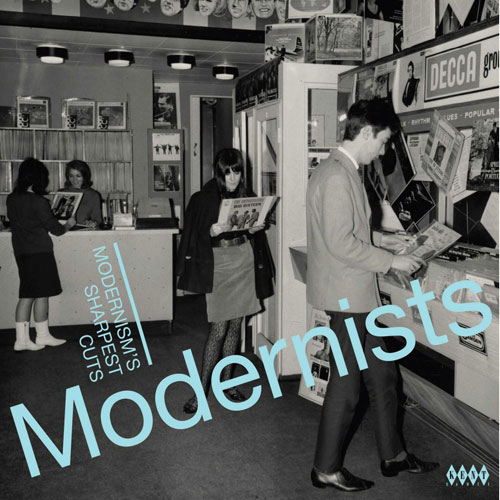 This is a huge release for Kent and Ace. We're talking the vinyl release of Modernists: Modernism's Sharpest Cuts.
This is actually an all-new album, although the content is mainly pulled from past releases. Essentially a vinyl reworking of the best of two must-have albums, Modernists – A Decade Of Rhythm & Soul Dedication from 2015 and Modernism from 2016.
Both of those were the 'sort of R&B and club soul that could have been danced to by the original mods – if only they had known about it'. Now the pick is on this 14-track vinyl album.
Some extras too, including tracks pulled from the Mod Jazz series and three exclusives to this album. Indeed, three of the tracks here are released on vinyl for the first time, including the 'super rare' Go by Little Johnny Hamilton and the Creators.
So if the idea of classic club soul from Bob & Earl, Bessie Banks and Jeb Stuart, jazzy R&B from Floyd White and Clarence Daniels and 'almost-funk' from Chuck Higgins and Chet Ivey ticks the boxes (and much more besides), this is an album you really need to own.
It is available to order now, selling for £13.26.
Find out more at the Amazon website
Track listing:
Side 1
01 Sundown – The Merced Blue Notes
02 The Real Thing – Troy Dodds
03 All Around The World – Chuck Higgins
04 I'm Gonna Get You – Leroy Harris
05 (You Should Have Been A) Doctor – Bessie Banks
06 Dancing Everywhere – Bob & Earl
07 Soul Is My Game – Chet "Poison" Ivey & His Fabulous Avengers
Side 2
01 Go – Little Johnny Hamilton & The Creators
02 Ain't That Soul – Teddy Reynolds
03 A Feeling Deep Inside – The Corvairs
04 Another Child Lost – Floyd White
05 Hard Working Girl – The Clarence Daniels Orchestra, vocal Obie Jessie
06 Jet Set – Mel Williams
07 East Side – Hank Jacobs
Save