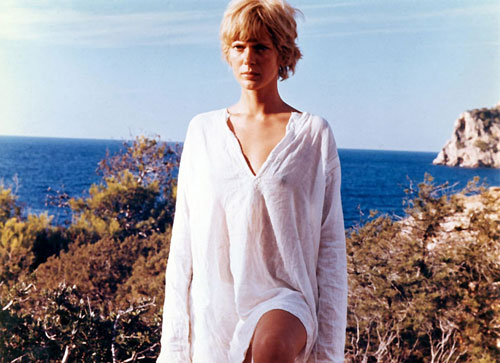 Note that I independently write and research everything in this article. But it may contain affiliate links.
I first saw this as a late night channel 4 screening many years back. Fasty forward and More is now out on Blu-ray. Does this Pink Floyd-soundtrack movie still cut the mustard?
I guess it does, although More's value today is more as a 1960s period piece than a warning about the harm from drugs.
Essentially, More is a love story – or two love stories if you like. The first of those is between Stefan (Klaus Grunberg) and Estelle (Mimsy Farmer). Stefan is a German student, fresh out of college and on the hunt for some excitement in his life. So he goes hitchhiking and ends up in late-60s Paris. Hanging out with the hippies there, he becomes friendly with Charlie (Michel Chanderli), a gambler and petty crook.
They both need cash, so after Charlie 'borrows' some money from the bag of Estelle at a party (unbeknown to Stefan), they secure a house breaking job and the money that comes from it. Stefan, who has fell under Estelle's spell at the party, takes the money back (plus interest), discovers drugs, discovers Pink Floyd, falls for Estelle, finds out she's a heroin user (or occasional user anyway) and vows to follow her to Ibiza, when he's completed the 'job' in Paris. What could possibly go wrong?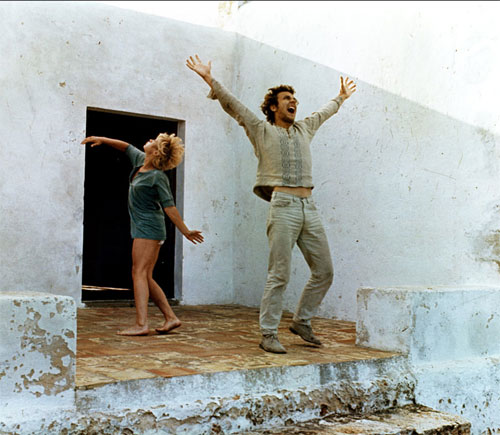 In a few short weeks, Stefan lands in an Ibiza untouched by mass tourism and rave music, an Ibiza  populated by the locals, a gaggle of hippies and odd 'character'. Indeed, one of those is the man Estelle is staying with, Dr Ernesto Wolf, an ex-Nazi and generally shifty character.
Eventually, after necking down an absinthe with Wolf and a purple heart with a an oddball hippy, he finds Estelle, downbeat after 'a little trip' and generally acting differently to the way she was in Paris. Not that Stefan cares – he's in love and he's just happy she's around.
But problems are only just around the corner…
Unknown to Stefan (again), Estelle has stolen money and drugs off Wolf. The pair sneak off in the night from Wolf's hotel, finding a hideaway in the hidden depths of the island – or so they think. It's paradise, that's for sure. The beach, the blue skies, the clear blue sea – it's an escape from the world and the love story Stefan was perhaps dreaming off when he made the boat trip over.
But the slide downhill is about to begin…
First, it's the arrival of Katie, one of Estelle's drug buddies, breaking their peaceful isolation. Then another old friend enters Estelle's life once more – heroin.
Once she's back on it, she's desperate to bring Stefan into that relationship too. He tries it once, gets hooked and…well, everything changes. The love affair between the two is secondary to the love affair the pair have with the heroin.
It's not obvious at first, but things gradually start to crumble as the heroin doses crank up, made worse when Wolf's heavies finally catch up with Estelle. He wants his drugs back – or at least – he wants them to work off the 'debt' selling drugs on the island. There's no escape from the island, so there's no choice.
The relationship breaks down even more, but the drugs keep coming, despite attempt to get clean. It can only end one way – badly. You've probably guessed it does. I'll not spoil the ending with the detail.
As an anti-drugs movie, I'm not sure More completely works. It's just a little too glamorous. It stars Mimsy Farmer in her prime, looking stunning in just about every scene (despite playing a hardened heroin addict). But at the same time, it's not a pro-drugs flick either, it's a little too bleak for that too. In essence, writer / producer / director Barbet Schroeder pitches it about right.
I'm not sure the plot quite works either. The time in Paris is a little rushed and the relationship between the two lead characters at the start of the movie doesn't quite sit right either. The demise at the end is a little rushed too, almost as if Schroeder didn't know where to go next.
Yet despite all of that, I love More. All the more so in Blu-ray, because it really is a visual treat.
The high-definition version turns up those bright colours  – the blue of the sea and the sky, the white of the houses, not to mention the brightness of the hippie gear. It's just a joy to watch.
Then there's that Pink Floyd soundtrack. Or should that be The Pink Floyd, with the band, just post-Barrett, knocking out some haunting grooves that fit the mood perfectly. That alone is worth the admission.
Some nice extras too, the usual hefty BFI booklet, trailers for other Schroeder flicks and a newly-commissioned documentary on the story behind More (which, annoyingly, wasn't on my advanced copy).
So a fine thing to watch, even with its occasional shortcomings, especially in high definition. You might even be reaching for the Ibiza holiday brochures by the end.
Find out more about the DVD and Blu-ray at the Amazon website
Love Modculture? If you enjoy what you read or have benefitted from it and want to
help with the ever-increasing costs of the site and newsletter
, you can always
buy me a coffee at Ko-Fi
. Every penny is helpful and appreciated.