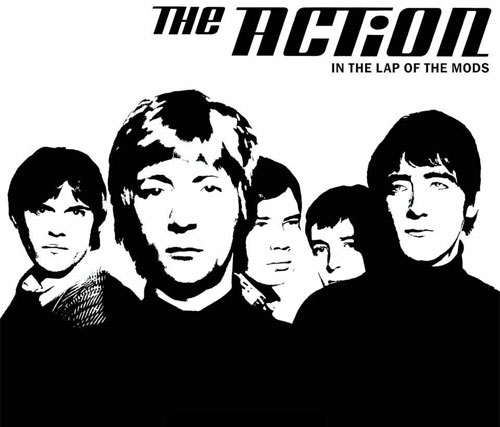 Note that I independently write and research everything in this article. But it may contain affiliate links.
If you happen to be planning that Christmas list, The Action – In The Lap Of The Mods by Ian Hebditch and Jane Shepherd really should be on it.
The legendary mod band have finally got a book that looks to be worthy of their reputation. They had little commercial success, but their music sounds as fresh and vibrant today as it ever did. If you want some top notch, mod-friendly British beat, The Action really should be in your collection, without question.
Fan and co-author Ian Hebditch, who was a first generation mod from Portsmouth (and regular at the town's legendary Birdcage Club) mixes an insight into the '60s mod scene with a knowledge of the band, assisted by exclusive comment from all original band members, helping to explain what both mod and the Action were really about. Mentions of the Beatles, the Who, Rod Stewart, David Bowie and Captain Beefheart indicates just some of the circles the Action moved in.
The book has taken 10 years to compile, which perhaps gives you a clue as to the kind of detail on offer here. Talking of detail, the finished version of the book is no flimsy, mass market production either.
There are two versions available. The Hardcover Edition (21.6 x 28cm) has 176 pages  and is printed in full colour on high quality 170g matt paper for £35. It features:
The Action's story told in full detail for the first time based on dozens of interviews and extensive research
Contributions from all original band members – Reggie King, Mike Evans, Roger Powell, Pete Watson and Alan King, in addition to Ian Whiteman and Martin Stone
Comment from well-known Action fans and contemporaries Pete Townshend, Paul Weller, Peter Banks and Phil Collins along with other industry figures connected with the band
Foreword by Sir George Martin CBE
Over 200 colour and B&W images many of which are reproduced for the first time including:
Previously unseen informal and promotional photographs of the band, publicity material including press releases, flyers and posters, rare items of memorabilia such as gig posters, handbills and fan club material, plus single releases, acetates and recording session sheets from Abbey Road Studios
An in-depth account of the Birdcage club in Portsmouth, a legendary Mod venue and Action stronghold.
A list of every track ever performed by the Action whether on stage, TV, radio or on record.
Accounts of the Action live at venues across the UK and Europe including recollections from fans in Holland and former regulars at such iconic clubs as the Marquee, the Goldhawk, Watford Trade and the Cavern in Liverpool.
The story behind the original Action line-up's reformation in 1998
If that's not enough, there's also the Limited Edition. This special edition of 400 individually numbered copies comprises the hardback book along with the following bonus items (neither of which will be sold individually) housed inside a black, clothbound presentation slipcase:
An incredibly rare and previously unreleased one-track 7-inch single, 'Why Do You Wanna Make Me Blue' with a brown card sleeve – an exact replica of a single-sided acetate/demo the Action recorded for an unsuccessful audition for Decca on 31 May 1965, prior to them signing with George Martin's AIR company. This precious nugget represents the earliest known recording of the Action.
Where The Action Is – a 96 page paperback supplement printed in full colour on 115g recycled paper – a comprehensive chronology of the Action featuring a daily diary of events, gigs played, appearances on TV and radio, record release/tour dates/chart positions and details of recording sessions at Abbey Road, supplemented with press extracts and additional items of rare memorabilia and ephemera not included in the hardback book. Also features an extended Action family tree and full discography of the band.
That sells for £75 and for fans, very likely worth it just for the record.
Both books are available from 19th October, although you can pre-order now. You can do that via the Action Book website.
Love Modculture? If you enjoy what you read or have benefitted from it and want to support the growing costs of the site, you can always become a website supporter.