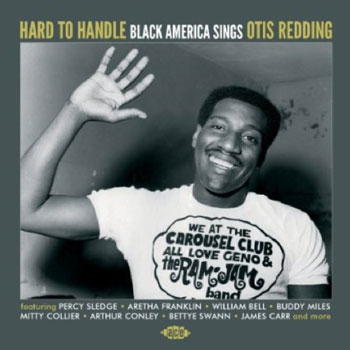 Fresh out today (and with a review to follow from us soon) is Hard To Handle – Black America Sings Otis Redding.
Released by Ace, the contents pretty much live up to the title, with the songwriting of Otis Redding meeting the some of the biggest voices from back in the day. 25 acts reinterpret classic Otis Redding, pretty much a who's who of the '60s and '70s.
Compiled by Tony Rounce (see an interview we did with him in the past here) and with the kind of booklet you would expect from an Ace release, you can grab a copy for £9.99. Tracklisting below.
Find out more at the Amazon website
Tracklisting:
1. These Arms Of Mine – Albert Washington & The Kings
2. Sister Pitiful – Judy Clay
3. I've Been Loving You Too Long (To Stop Now) – William Bell
4. Baby Cakes – Maxine Brown
5. Think About It – King Floyd
6. Shout Bamalama – Mickey Murray
7. Security – Irma Thomas
8. I've Got Dreams To Remember – Percy Sledge
9. Give Away None Of My Love – Buddy Miles
10. I'm Missing You – Mitty Collier
11. I Can't Turn You Loose – James Carr
12. Chained And Bound – Bettye Swann
13. Just One More Day – Clarence Carter
14. Wholesale Love – Arthur Conley
15. Hawg For You – Tina Britt
16. Loving By The Pound (Tk 2) – Otis Redding
17. Hard To Handle – Patti Drew
18. A Year, A Month And A Day – Arthur Conley
19. Fa Fa Fa Fa Fa Fa (Sad Song) – Lou Rawls
20. Monkey On My Back- Jackie Hairston
21. Keep Pushing Me – James & Bobby Purify
22. Good To Me – Donald Height
23. Respect – Aretha Franklin
24. (Sittin' On) The Dock Of The Bay – The Staple Singers
25. I Got The Will – Etta James