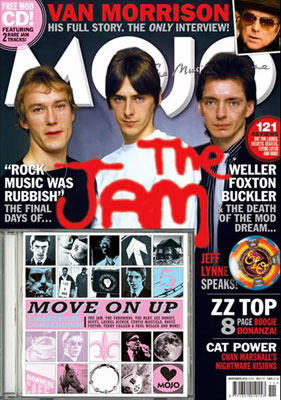 No prizes for guessing which band is the focus for the new Mojo magazine, although the loosely mod-themed CD is a bit more leftfield than you might imagine.
The main focus is on the Jam, loosely connected to the band's split and of course, the reissue of The Gift album, which we featured earlier in the week. There are interviews with Weller and Foxton, with new material about the end of the band. In connection with that, there's also a feature on the Style Council, featuring both Weller and Mick Talbot, amongst other material.
As for that CD, it's called Move On Up – A Modernist Compendium and is quite a mixed bag. Possibly not one of the best cover CDs, but interesting enough and far from the worst. Tracklisting below and magazine in newsagents, selling these days for £4.60.
CD tracklisting:
The Jam – Just Who Is The Five O'Clock Hero
The Yardbirds – You're A Better Man Than I
Lee Dorsey – Ride Your Pony
Laurel Aitken – Bad Minded Woman
The Beat – Twist And Crawl
Prince Fatty & Hollie Cook – And The Beat Goes On (dub)
Andy Lewis featuring Keni Burke – (Love Is) Alive In My Heart
Curtis Mayfield – Move On Up
Aaron Neville – Hercules
Terry Callier and Paul Weller – Brother To Brother
The Moons – Jennifer (Sits Alone)
Dexys – Nowhere Is Home
Bruce Foxton – Number Six
Wilko Johnson – Down By The Waterside
The Jam – The Great Depression (live)