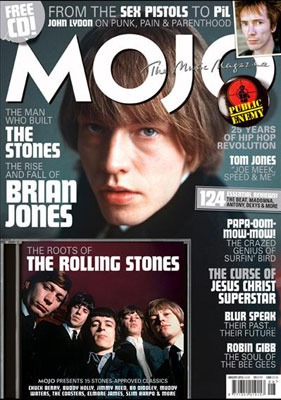 The issue is a bit average, but the new Mojo magazine has a decent cover CD – The Roots of the Rolling Stones.
It's to back up a Brian Jones special, which is  the highlight of the issue by some way. The CD isn't bad though, a mix of (mainly) blues, soul and rock 'n' roll from the late 50s, early 60s. Tracklisting is below and the issue is on the shelves now.
Talking of the blues, you might want to check out the new Blues Magazine, which lists the 20 Great British Blues albums from the '60s, compiled by the mod scene's own Dave Edwards and Claudia Elliott. That's also out now.
One last point about Brian Jones – the house where he died has just gone up for sale. You can find out all about that here.
The Roots of the Rolling Stones CD tracklisting:
1. Elmore James and the Broom Dusters – Dust My Blues
2,. Eddie Taylor – Bad Boy
3. Jimmy Reed – Hush Hush
4. Bo Diddley Cops and Robbers
5. Dale Hawkins – Susie-Q
6. Gene Allison – You Can Make It If You Try
7. Muddy Waters – I Want To be Loved
8. The Coasters – Poison Ivy
9. Arthur Alexander – You Better Move On
10. Bo Dlddley – Pretty Thing
11. Chuck Berry – Memphis Tennessee
12. The Crickets with Buddy Holly – Not Fade Away
13. Muddy Waters – I Just want To Make Love To You
14. Jimmy Reed – Honest I Do
15. Slim Harpo – I'm A King Bee