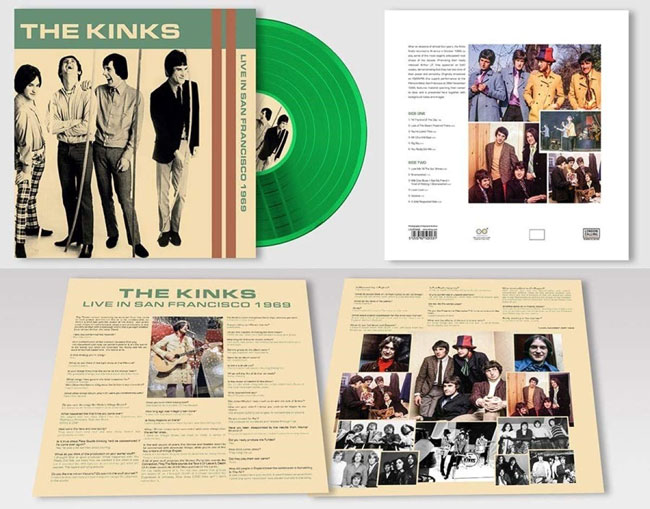 You can already pick up a CD, but The Kinks – Live In San Francisco 1969 is coming out on limited edition vinyl.
A couple of things to note here. First off, the vinyl is cheap. Well, a lot cheaper than you might expect. Secondly, it is on 180g green vinyl, which I believe is hand-numbered.
As for the audio, I honestly don't know. I haven't bought the CD and live albums can be a bit hit or miss. But it sounds like an interesting one, as this is a show from the first US tour in four years, caught on at the Fillmore West, San Francisco on 29th November 1969.
The show here was captured by (and broadcast by) KSAN-FM, so you would presume a radio broadcast would be of reasonable sound quality. In terms of the music, the tour was in support of their newly released Arthur LP, so expect that and some classics from earlier years too. Tracks at the end.
All of that in a package with background notes and images, as you can see from the image above. It's available to pre-order now ahead of the 15th May 2020 release date, selling for £11.99.
Find out more at the Amazon website
Note that it is also available on Rough Trade, which is selling it for a more believable £19.99.
Tracklisting:
SIDE ONE
1. Till The End Of The Day 1.52
2. Last of The Steam-Powered Trains 6.23
3. You re Lookin Fine 6.44
4. Mr Churchill Says 4.20
5. Big Sky 3.10
6. You Really Got Me 3.40
SIDE TWO
1. Love Me Till The Sun Shines 5.36
2. Brainwashed 1.10
3. Milk Cow Blues > See My Friend > Tired of Waiting > Brainwashed 9.34
4. Louie Louie 3.47
5. Victoria 3.10
6. A Well Respected Man 3.03