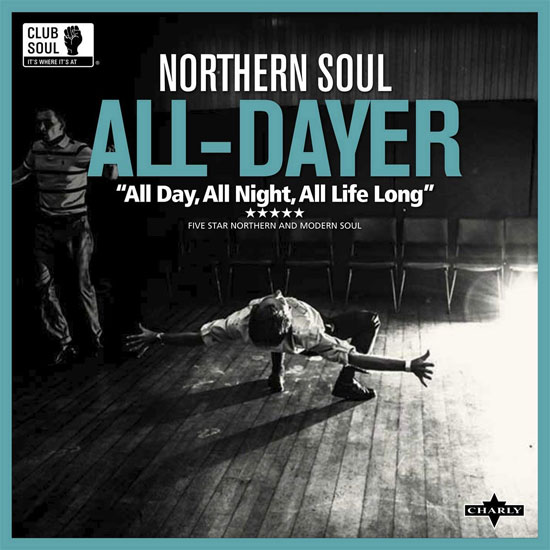 Not strictly mod, but there should be interest in these Northern Soul All-Dayer and All-Nighter vinyl releases.
They are part of Charly's Club Soul strand of releases, which are generally pretty decent albums. The content changes, but the series tends to focus on rare and classic soul, often with a club-specific theme. Not so here.
These two albums, both pressed on heavyweight 180g vinyl, look at two different sides of the northern soul coin, the all-dayer and the all-nighter.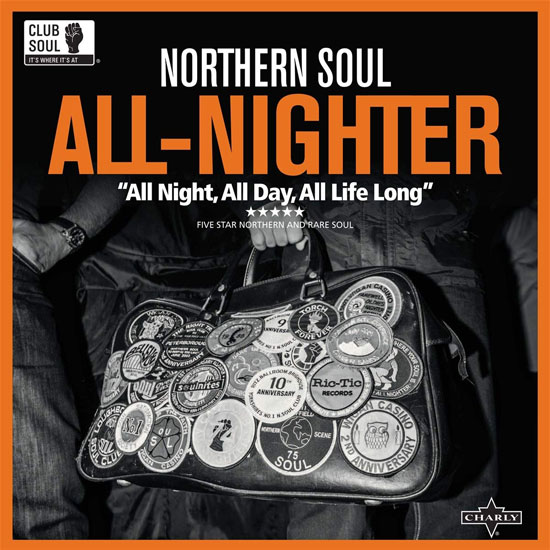 Let's start with the first one, which is based around the music of the all-dayer event, but is also closely aligned with the all-dayers at the Manchester Ritz, described as the country's 'most forward-thinking' event, mixing classic northern with some more modern soul grooves that appealed to younger club-goers.
The other album – the All-Nighter – celebrates the 'after dark' club scene that took you through to daylight, starting at Manchester's Twisted Wheel in September 1963, then later at the Golden Torch in Stoke-on-Trent from 1970-72, and of course at the Wigan Casino Soul Club from '73 onwards.
All 16 All-Dayer tracks on both compilations have been remastered from analogue tapes and original vinyl, with new liner notes and cover photography completing the package.
Both track listings are below and if you want either, both are available to pre-order now ahead of the 26th July 2019 release date. The All-Dayer is £17.95 and the All-Nighter is £19.99.
Northern Soul All-Dayer vinyl at Amazon
Northern Soul All-Nighter vinyl at Amazon
Northern Soul All-Dayer tracks
Side 1
1. Ann Sexton & The Masters Of Soul "You've Been Gong Too Long" – Ann Sexton & The Masters of Soul
2. Sam Baker "It's All Over" – Sam Baker
3. Razzy Bailey "I Hate Hate" – Razzy Bailey
4. Gene Townsel "There's No Use Hiding" – Gene Townsel
5. Nina Simone "Touching And Caring ( 7″ Edit )" – Nina Simone
6. Steve Dixon "All That's Left Are The Memories" – Steve Dixon
7. Tony Love "Crying Time Is Over" – Tony Love
Side 2
1. Eldridge Holmes "Lovely Woman"
2. Cliff Holmes "I Need Ya' Baby"
3. Brief Encounter "Human"
4. Gregg Jolly "Love Is"
5. Bliss "If You Need Somebody"
6. Touch Of Class "Love Means Everything"
7. Veda "You Make Me Feel So Real"
Northern Soul All-Nighter tracks
Side 1
1. Mill Evans "When I'm Ready" ( 02:11 ) – Mill Evans
2. The Sharpees "Go On And Laugh" ( 02:56 ) – The Sharpees
3. Tiny Tim Harris "Don't Say" ( 02:45 ) – Tiny Tim Harris
4. Willie Harper "Here Comes The Hurt Again" ( 02:30 ) – Willie Harper
5. Chico, Barbara & Junior "Don't Cry ( Ain't I Black Enough For You ? )" ( 02:20 ) – Chico/Barbara & Junior
6. Jimmy Seals "The Yesterday Of Our Love" ( 02:33 ) – Jimmy Seals
7. The Delicates "Stop Shovin' Me Around" ( 02:43 ) – The Delicates
8. Vinnie Zen & The Rogues "Bricks, Broken Bottles And Sticks" ( 02:28 ) – Vinnie Zen & The Rogues
Side 2
1. McKinley Mitchell "My Sweet Baby" ( 03:05 )
2. Eddie Bo "Our Love ( Will Never Falter )" ( 02:37 )
3. Betty Harris "Show It" ( 02:52 )
4. Harold Burrage "Fifty / Fifty" ( 02:24 )
5. Eldridge Holmes "Let's Go Steady" ( 02:41 )
6. The Accents "Who You Gonna Love ?" ( 02:15 )
7. Van McCoy & Friends "Ain't Got No Love ( Instrumental )" ( 02:30 )
8. The Ulti-Mations "Sad Souvenirs" ( 03:02 )