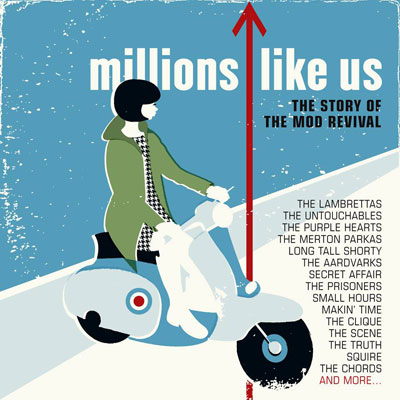 Good news for anyone waiting patiently for Millions Like Us – The Story Of The Mod Revival 1977-1989 box set on the Cherry Red label – the final tracklisting has been confirmed and pre-orders are now being taken.
What we don't have is a release date, which we presume is still on track for November 2014. That's not long off now. It certainly isn't the August date that one well-known retailer has listed!
The box set is likely to be an impressive affair (with booklet and background detail from John Reed) – Cherry Red has put out some really nice boxes of late. Obviously, if you love the music, that's probably the key thing here, with the confirmed tracklisting available below, slightly different to the one we were sent in the box set's early days I think, at least in terms of running order and possibly content too.
Anyway, feel free to compare and contract. Amazon is doing pre-orders right now for £30.99 if you want to get in early.
Pre-order the box set at the Amazon website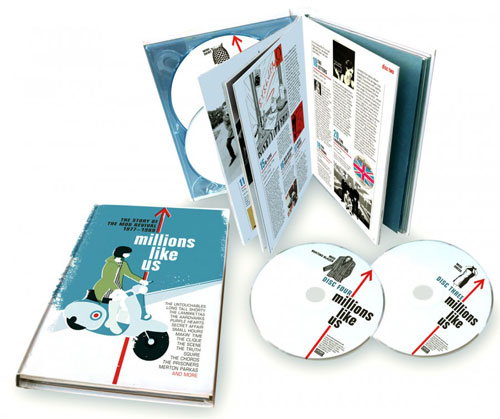 Tracklisting:
DISC ONE
1.    THE NEW HEARTS – Just Another Teenage Anthem
2.    THE EXITS – The Fashion Plague
3.    THE REACTION – I Can't Resist
4.    STRANGEWAYS – All The Sounds Of Fear (Demo)
5.    SEMA 4 – Sema 4 Messages
6.    SPEEDBALL – No Survivors
7.    THE JOLT – See Saw
8.    THE CIGARETTES – They're Back Again, Here They Come
9.    THE KILLERMETERS – Why Should It Happen To Me
10.    THE DONKEYS – What I Want
11.    SECRET AFFAIR – Time For Action
12.    PURPLE HEARTS – Millions Like Us
13.    THE CHORDS – Now It's Gone
14.    BACK TO ZERO – Your Side Of Heaven
15.    SQUIRE – Walking Down The Kings Road
16.    MERTON PARKAS – Plastic Smile
17.    THE CROOKS – Modern Boys
18.    UNTAMED YOUTH Untamed Youth
19.    THE FIRST STEPS – The Beat Is Back
20.    THE NIPS – Gabrielle
21.    THE TEENBEATS – Strength Of The Nation
22.    THE LAMBRETTAS – Go Steady
23.    LONG TALL SHORTY – 1970's Boy
24.    LES ELITE – Career Girls
25.    BEGGAR – Don't Throw Your Life Away (live)
26.    THE MODS – Let Me Be The One (live)
DISC TWO
1.    THE CIRCLES – Opening Up
2.    THE ODDS – Saturday Night
3.    SEVENTEEN – Bank Holiday Weekend
4.    THE MOST – Carefree
5.    THE SCENE – Hey Girl
6.    THE SAME – Wild About You
7.    THE VANDELLS – Bank Holiday
8.    THE DIRECTIONS – Three Bands Tonite
9.    THE CHORDS – Maybe Tomorrow
10.    STA-PREST – School Days
11.    9 BELOW ZERO – Pack Fair And Square (previously unissued demo)
12.    THE ACCIDENTS – Blood Spattered With Guitars
13.    MI5 – Television Screen Heroes
14.    SECRET AFFAIR – My World
15.    Q-TIPS – S.Y.S.L.J.F.M. (The Letter Song)
16.    RED BEANS AND RICE – That Driving Beat
17.    DEAD BEATS – Choose You
18.    THE LETTERS – Nobody Loves Me
19.    THE NAME – Fuck Art Let's Dance (Demo)
20.    THE LAMBRETTAS – D-a-a-ance
21.    SQUIRE – My Mind Goes Round In Circles
22.    THE SCENE – I've Had Enough
23.    D.C.10's – I Can See Through Walls
24.    RUN 229 – Soho
25.    THE FIXATIONS – No Way Out
26.    TWO TONE PINKS – Don't Lecture Me
DISC THREE
1.    SMALL HOURS – The Kid
2.    WEEKEND – Tina's Party
3.    THE UPSET – Only For Sheep (previously unissued)
4.    THE AMBER SQUAD – Can We Go Dancing
5.    THE TIMES – Red With Purple Flashes
6.    THE HEARTBEATS – Go
7.    THE DODOS – Blind To Fiction
8.    THE RETREADS – Would You Listen Girl
9.    LONG TALL SHORTY – Win Or Lose
10.    THE GENTS – The Faker
11.    THE CLUES – No Vacancies
12.    THE ONLOOKERS – You And I
13.    SMALL WORLD – Love Is Dead
14.    PURPLE HEARTS – Plane Crash (Respond version)
15.    THE STRIPES – One Step Ahead
16.    DIRECT HITS – Modesty Blaise
17.    THE DIPLOMATS – I'll Keep On Holding On
18.    THE TRUTH – Confusion (Hits Us Everytime)
19.    THE PRISONERS – Hurricane
20.    FAST EDDIE – I Don't Need No Doctor
21.    THE JETSET – Wednesday Girl
22.    DEE WALKER – Jump Back
23.    THE WAY OUT – Time Moves Us On
24.    MANUAL SCAN – Nothing You Can Do
25.    MOD FUN – I Am With You
DISC FOUR
1.    THE SCENE – Something That You Said
2.    STUPIDITY – Bend Don't Break
3.    THE MOMENT – In This Town
4.    THE UNTOUCHABLES – Free Yourself
5.    THE COMBINE – Dreams Come True
6.    THE ALLJACKS – Guilty
7.    MAKIN' TIME – Here Is My Number
8.    THE CO-STARS – Kiss And Make Up
9.    THE BOSS – One Good Reason
10.    THE BLADES – The Last Man In Europe
11.    5:30! – Catcher In The Rye
12.    SOLID STATE – Train To London Town
13.    ELEANOR RIGBY – I Want To Sleep With You
14.    THE RAGE – Looking For You
15.    THE THREADS – Step Back
16.    THE RISK – Jobs For The Boys
17.    JAMES TAYLOR QUARTET – Blow Up
18.    THE KICK – Julie London
19.    THE REFLECTION A.O.B. – All I Want To Be
20.    STUDIO 68 – Get Out Of My Hair
21.    THE LEEPERS – Paint In A Day
22.    THE CLIQUE – Worming
23.    THE AARDVARKS – Arthur C. Clarke
Save