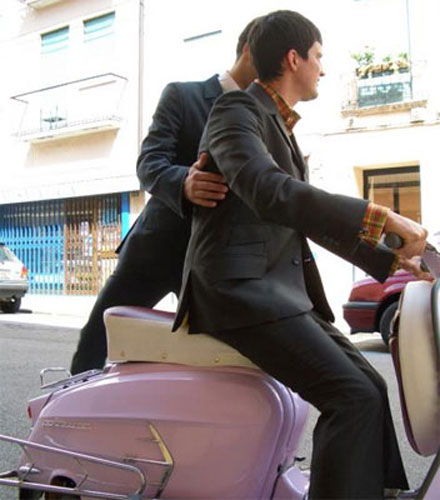 The man behind the DNA Groove label offers up his advice on buying off the peg on the high street.
Off the peg clothing has never been so 'mod oriented'. From designers to rock stars down to the ordinary Joe, slim suits, narrow lapels, slim ties, flat fronted trousers, chisel toe shoes, Ivy League trends – it's all there readily available for every pocket, either from high street shops or internet sites and independent boutiques.
However, as with everything out there, there is quality and there is quantity, the well made and the cheap-o ready to disfigure out of shape after a few washings and wear. Not every one has the dispensable cash to pay big bucks for their clothes, especially if you are still at school, living with your parents or without a job (hard times these are). But it's good to be able to set apart the two when you are thinking of spending your hard earned. Most of the times spending large amounts of dough does not mean paying for quality, au contraire.
Here are a few hints and pointers you should consider when buying the cool threads that maketh a mod, or any gent or lady for that matter. This is intended to be helpful when you are going through the rails or browsing a website, what to look for and what to feel for. I will limit myself to what I think are the relevant aspects of modernist clothing.
Shoes:
Shoes are considered by many the most important item one is wearing, the one that reveals your good (or bad) tastes at a glance. They reveal one's character. One thing for sure is that they should be the most comfortable garment you are wearing, for obvious reasons.
1. As most dress shoes are made of leather, find out what kind of leather is used. This detail should be specified on shoes sold online as the buyer cannot obviously feel them. Calfskin is most commonly used for a decent pair. Leather should feel soft & appear instantly comfortable when worn. I personally tend to think that if a shoe is very uncomfortable at first, it will remain so. However it is also true that leather will soften with use (due to the warmth and movement of your feet), often adapting itself to the feet, which means 'giving' a little in the process.
2. Lining is alo important, with leather still the focus here. Quality leather should still be used to work on the lining. A good example of such leather again, would be calfskin. Make sure that the lining is smooth at the folds around the seams and edges. Fine stitch is important along the lining because a fine binding and clean finishing defines the quality of workmanship. Dress shoes should also have insoles made from leather rather than layers of cardboards. These leather insoles are durable and prevent unnecessary foot odour because it allows the foot to breathe and absorb perspiration. It can also be easily replaced when worn out as well as helping in shaping the bottom of the shoes which isn't possible with cardboard insoles. Also, the less stitching on the uppers, the more effort was made to use a whole skin (meaning that the entire top was made by a full skin and not bits of it) and this usually means higher production costs.
3. Dress shoes should have a leather sole. This too is important to keep the foot 'breathing'. A leather sole is always a sign of a better-quality shoe. Rubber/plastic soles are good to keep the water out but also help keep the moisture in (this means sweaty feet).
4. Goodyear welt (the extra bit of leather you often see stitched on between the upper and the sole), stitched leather soles are usually sign of an expensive, well made shoe. However this only means that the shoe can be resoled, and is mainly a shoe-longevity issue rather than a quality one. There are plenty of quality shoes which use a glued leather sole, this is not only cost effective, but also allows for slimmer lines and are surely more suitable for warmer and dryer climates. Unless you really run your shoes down to the ground (pun intended), glued soles on quality footwear can last you a lifetime. Of course, a glued sole cannot be replaced but only repaired. If you are looking for a heavyweight, heavy duty shoe, look for stitched leather soles.
5. If you purchase shoes online, make sure you try them on a rug before wearing them on the streets (thus scratching up the soles). This would makes things much easier if you need to return them.
The suit:
There are 3 ways to tell a mod from the rest of the crowd: how the trousers break, the shoes he is wearing, and by the cut of his suit. Surely the hair style is also important but nowadays many gents simply do not have enough of it to style, or there are many Paul Weller lookalikes – but are nowhere near looking as smart as the Modfather. When buying a suit, here is what to look for other than style (which varies from person to person):
1. Fabric needs to be of wool, cashmere, silk, cotton or linen. The last two are of course great summer fabrics but are limited to those few occasions you will be needing them over the warmer months, so maybe a better choice would be lighter weight wools which would do ok in summer and could still be used in the half season, in a club or in the office. Mohair is a fine hair taken from the South African angora goat, and its properties are perfect for year round use as they keep you cool in summer and warm in the winter. 60% mohair is usually the largest percentage of this fine fabric in suiting material and can be one two or three ply. Tonic is very sought after and was first invented by Doermeuil and patented as Dormeuil Tonic. Since then there have been many variations of the original named 'Tonik' with a 'k'. Fabric composition should always be stated in the inner labels, or clearly stated in the description, as should the country of production. Remember that many bigger labels (with exceptions), although labelling their garments as 'Made in Italy/Britain/France', actually only finalise in these countries, adding buttons or last minute finishings in these western nations. They are actually made in developing nations for the obvious reasons. This does not always mean that they are of a lesser quality (many Chinese makers for example have acquired great sartorial skills over the years, using the same machines and same quality fabrics as their european counerparts). Lining should be either of silk (of course the preferred choice) or viscose, but never polyester and again, should be clearly stated in the inner labels. Make sure that the lining is not too soft or thin as it could wear easily. Overall finishing should be clean, with little pouching of the lining (although minial pouching should be allowed so that body can move comfortably).
2. The chest of a jacket is given its structure by the inside canvas that lies between the outer shell (wool, cashmere etc) and the inside lining. In the better quality jackets this is stitched in, allowing some space between the layers, and this helps overall movement and allows it to drape in a more natural way. Many high street brands, and often the bigger more expensive labels, use glue to attach the afore mentioned padding. This is obviously cost effective but can result in an ill-fitting suit (as it doesn't have the natural movement to follow the body). To check for this you can pinch the chest 'pulling' the outer layer from the lining. Should you feel an inner layer 'floating' inbetween, then this is stiched, and should it all feel glued into the outer layer then it is glued. In fully tailored clothing, the padding is 'floating' or stitched all the way down to the end of the jacket, something rarely done in OTP (off the peg) garments as this is very time consuming and thus an expensive task. As far as drape and fit are concerned, there is no difference between half and fully stitched canvasses. Should you be purchasing online, the item description should include these details or you should ask the seller directly.
3. Working cuffs are preferable, meaning that the buttons can do up. However, the button hole should either be stitched up at sale (thus cut open after trial) or it should not be there, tailored in after trial. In this last case the cuff will thus be slit open but will not have any button hole seams. The problem with 'finished' working cuffs is that the sleeve cannot then be altered in length, unless you take it apart from the shoulders and that is a costly task and needs an experienced tailor. Rarely will you see a good quality suit jacket having the cuff button holes already slit up and working.
4. Trousers should have a inner fabric waist band, and inner button to properly close up the waist. Pockets are usually made in cotton fabric, and lined to the knee. The bottom trouser leg should be sold unhemmed so you can adjust length at your desired inseam, unles there is an in house tailor to do the job for you.
Knitwear:
Again, as with all of your garments, only choose natural fabrics like merino wools, cashmere, makò or Sea Island cottons. Knitwear is either 'fully fashioned' or 'cut and sew'. This should be specified on internet sales. The former being of higher quality make and has a better over all fit as it is woven to size. On the fully fashioned knits, you will find marks around the arms and neck and see how the garment was knitted into shape. Also, the inner seams of the fully fashioned tops seem knitted together, rather than stitched up. To keep the shape, always fold these and store them away in sealed plastic bags, in order to protect them from moths during long term storage. You never want to keep knitwear on a clothes hanger.
Overcoats:
What has been said about suit jackets also holds for over coats, including the floating canvas. Choose cashmere for warm coating, or heavy weight cavalty twill, tweeds or wools. Avoid polyester or their blends. Raglan sleeves on overcoats allow for easier movement, although personally do not look as good as set in sleeves.
Purchasing clothes online or at a shop is always an exciting experience for modernists and the like-minded. Remember never to have enthusiasm over run your good sense and so if it doesn't look right and feel right – step back from it and give it a miss. When you do purchase something, always keep tags and labels intact until you are sure to keep it (this will be handy if item needs to be returned). Now go out there and treat yourself to something special and keep in mind these few basic pointers for a better shopping experience. Oh and one last thing, if you need your 'other half' to come along for pointers, then you are probably reading the wrong site in the first place.