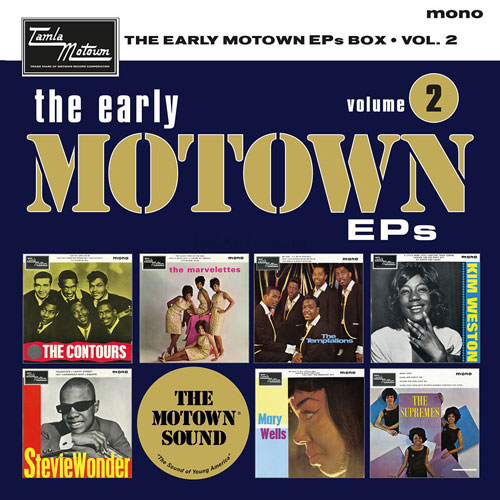 Think the last one of these was well over a year ago. Now it is belatedly followed by The Early Motown EPs Volume 2 box set.
The first box focused on the original 1965 Eps, with this follow-up containing the second batch that followed a couple of months later, some of which command very high prices on the collector's market. According to the label, the Kim Weston, The Marvelettes and The Contours are 'very rarely seen'. Not anymore.
The box set vinyl all have 'Garrod and Lofthouse' style covers, with seven EPs within. The full breakdown is below. If you want the box, it is on pre-order now ahead of 27th January 2017 release. It sells for £45.72.
Find out more at the Amazon website
Tracks:
EP1 – The Contours
A – Can You Jerk Like Me
A – That Day When She Needed Me
B – Can You Do It
B – I'll Stand By You
EP2 – The Marvelettes
A – Too Many Fish In The Sea
A – He's A Good Guy (Yes He Is)
B – You're My Remedy
B – Little Girl Blue
EP3 – The Temptations
A – My Girl
A – I'll Be In Trouble
B – (Girl) Why You Wanna Make Me Blue
B – The Girls Alright With Me
EP4 – Kim Weston
A – A Little More Love
A – Another Train Coming
B – Looking For The Right Guy
B – Go Ahead And Laugh
EP5 – Stevie Wonder
A – Fingertips
A – Happy Street
B – Hey Harmonica Man
B – Square
EP6 – Mary Wells
A – My Guy
A – Oh Little Boy (What Did You Do To Me)
B – What's Easy For Two Is So Hard For One
B – You Lost The Sweetest Boy
EP7 – The Supremes' Hits
A – Where Did Our Love Go
A – Baby Love
B – Come See About Me
B – When The Lovelight Starts Shining Through His Eyes