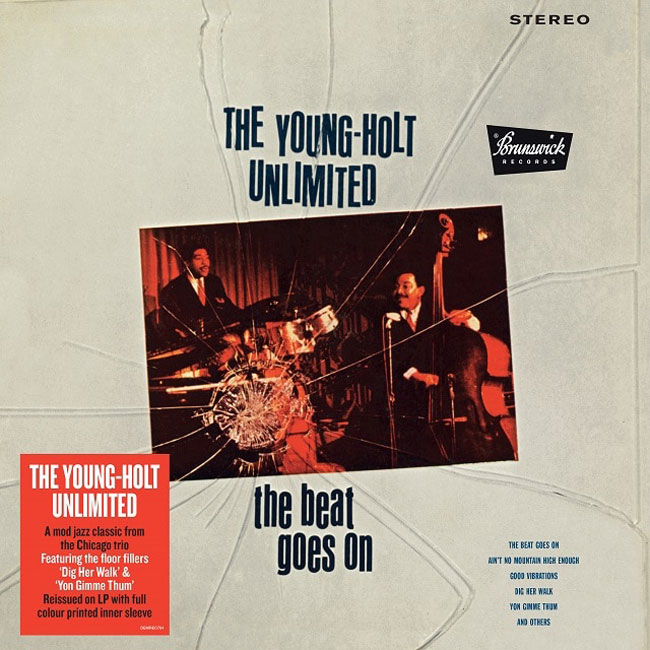 Another reissue from the Brunswick stable, Young Holt Unlimited – The Beat Goes On is available once again on vinyl.
A welcome reissue too as this is a pretty decent collection. Dating back to 1967 and fitting effortlessly into the 'Mod jazz' bracket, this is a reissue of the original album, with the same cover and a printed inner sleeve.
The Chicago trio offers up a mix of originals and covers (including Good Vibrations oddly), as well as some dance floor fodder too, with the likes of You Gimme Thum and Dig Her Walk.
10 tracks in total, cut on 140g classic black vinyl and available to pre-order now ahead of a January release. Tracklisting below and the price is £17.99.
Find out more at the Amazon website
If you are after a wider introduction to some Mod jazz on vinyl I would recommend having a look at Mod Jazz or the double That Cat Was Clean! The Mod Side Of Jazz. Alternatively, any of the Soho Scene vinyl collections.
Tracklisting:
The Beat Goes On
Yum Yum
Doin' The Thing
Ain't No Mountain High Enough
Good Vibrations
Dig Her Walk
Yon Gimme Thum
How Insensitive (Insensatez)
Listen Here
Baby Your Light Is Out