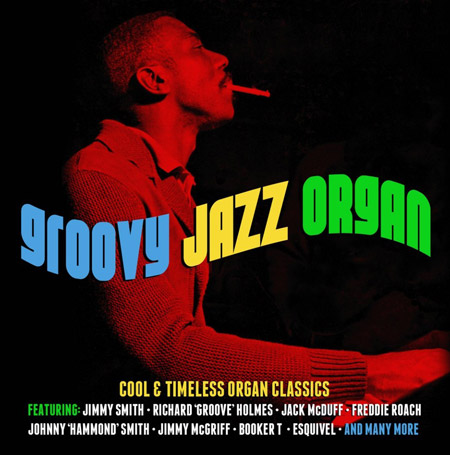 Didn't notice this one sneaking out, but the Groovy Jazz Organ three-CD box set is now on the shelves, following that (now) well-worn pattern of a lot of tracks for not a lot of money.
It is pretty much what you expect, three discs of classic funky Hammond from all the people you would associate with it from the 1950s and into the '60s. Yes, Green Onions, I've Got A Woman and All About My Girl are here, but so are so many more lesser-known tunes – 36 tracks in total to keep you dancing well into the new year.
Of course, we aren't expecting the kind of packaging you would associate with labels like Ace, but this is still looking good value for £5.99, especially if you want an introduction to the sub-genre.
Find out more at the Amazon website
Tracklisting:
Disc: 1
1. All About My Girl – Jimmy McGriff
2. Face To Face – Baby Face Willette
3. The Beast – Milt Buckner
4. De Bug – Freddie Roach
5. Minor Dream – Larry Young
6. Shoo, Shoo Baby – Mel Rhyne
7. Southern Exposure – Fred Jackson
8. Spaceman Twist – Lou Donaldson
9. You Can't Sit Down – Phil Upchurch Combo
10. Neckbones (feat. Willis Jackson) – Johnny 'Hammond' Smith
11. King Bee – Bill Doggett
12. Green Onions – Booker T. & The MG's
Disc: 2
1. Walk On The Wild Side – Jimmy Smith
2. Whap! – Jack McDuff
3. Hootin' 'N Tootin' – Fred Jackson
4. This Here – Richard 'Groove' Holmes
5. I've Got A Woman (Part 1) – Jimmy McGriff
6. Carioca – Ed Lincoln
7. What's The Trouble? – Jackie Davis
8. Hip Twist – Shirley Scott
9. Lullaby Of Birdland – Wild Bill Davis
10. Organ Boogie – Phil Upchurch Combo
11. The Champ – Jimmy Smith
12. The 3rd Man Theme – Esquivel
Disc: 3
1. The Honeydripper – Jack McDuff
2. It Could Happen To You – Shirley Scott
3. Hit The Road Jack – Lou Bennett et son orchestre
4. Sweatin' – Richard 'Groove' Holmes
5. Summertime – Dave 'Baby' Cortez
6. Rip Tide – Johnny 'Hammond' Smith
7. D.T's – Milt Buckner
8. Nice 'N' Greasy – Lou Donaldson (feat. 'Big' John Patton)
9. Talkin' About J.C. – Larry Young
10. Ahm Miz – Freddie Roach
11. Deed I Do – Bill Doggett
12. Jumpin' Jupiter – Baby Face Willette