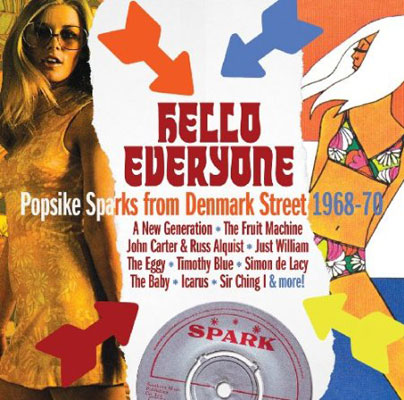 If you like your beat and pop on the psychy side, you might well appreciate the release of Hello Everyone – Popsike Sparks From Denmark Street 1968 – 70 on the Grapefruit label.
It came out this week, a showcase for 'some of the finest, most obscure British psychedelic pop singles' produced by the Spark label over that two-year period, all of which were recorded in the basement studio of the label's Denmark Street premises, often featuring many of the same musicians.
Of course, many of the tunes here are bona fide rarities on vinyl and as such, pricey releases. But the 27-track set here certainly doesn't break the bank. Want a tracklisting? There's one below. If you want the album, that sells for £9.99.
Hello Everyone – Popsike Sparks From Denmark Street 1968-70 at Amazon.co.uk
Tracklisting:
1. Hello Everyone – Sir Ching I
2. Room At The Top Of The Stairs – Timothy Blue
3. Smokey Blue's Away – A New Generation
4. The Laughing Man – John Carter & Russ Alquist
5. Baby Come Back To Me – Simon De Lacy
6. The Wall – The Fruit Machine
7. Heartbreaker – The Baby
8. Cherrywood Green – Just William
9. You're Still Mine – The Eggy
10. Police Is Here – A New Generation
11. Follow Me – The Fruit Machine
12. She Won't See The Light – Timothy Blue
13. House For Sale Val Mckenna – Val McKenna
14. Sadie & Her Magic Mr Galahad – The New Generation
15. Midsummer Dreaming – John Carter & Russ Alquist
16. Hooky – The Eggy
17. Eartha Kitt – Eartha Kitt
18. Michael Blues – The Baby
19. Hiawatha Mini Ha Ha Love – Sir Ching I
20. The Old Iron Bell – Gene Latter
21. Cuddly Toy – The Fruit Machine
22. Mr C – A New Generation
23. The Devil Rides Out – Icarus
24. Give A Hand To The Clown – Carlew Choir
25. Digger – The New Generation
26. I'm Alone Today – The Fruit Machine
27. Hurdy Gurdy Man – Eartha Kitt