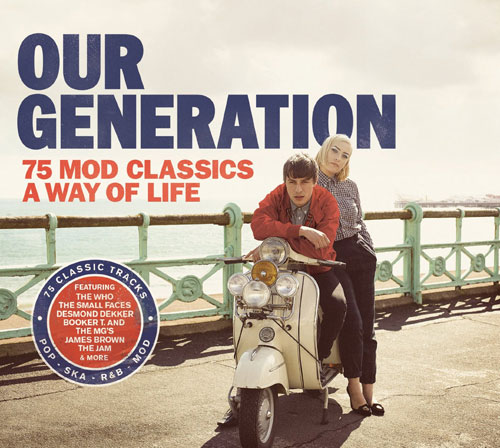 I know, another of those 'best of' collection. But this Our Generation box set has been put together by Eddie Piller and for a general overview, looks a pretty decent option.
Of course, within the 75 tracks selected there's every chance that you'll have a number of these already. But if you want a box with everything from The quick, Timebox, Graham Bond Organisation and Les Fleurs De Lys through to  The Jam, Secret Affair and Dexy's, taking in some R&B, ska and soul along the way, then it's worth checking out. A good few you might not expect on such a collection too – like Pow Wow by Manny Corchado for a start.
You can see the full track listing below.
Anyway, in addition to the box release, there's also a promo video worth watching too – that's also below.
If you want the box set, it is available for £9.99 right now.
Find out more about the box set at the Amazon website
Track Listing:
Disc: 1
1. My Generation – The Who
2. I'm a Man – The Spencer Davis Group
3. 5 4 3 2 1 – Manfred Mann
4. All Or Nothing – Small Faces
5. For Your Love – The Yardbirds
6. Beggin' – Timebox
7. Biff Bang Pow – The Creation
8. She's About a Mover – Sir Douglas Quintet
9. Bert's Apple Crumble – The Quik
10. Right Track – Billy Butler
11. I'm Gonna Be a Rich Man – The Foundations
12. Long Tall Shorty – Graham Bond Organisation
13. Circles – Les Fleurs De Lys
14. 123 – Len Barry
15. Something's Got a Hold of Me – Etta James
16. Looking Out My Window – Tom Jones
17. Twist & Shout – The Isley Brothers
18. The Entertainer – Tony Clarke
19. First I Look at the Purse – The Contours
20. He's My Sunny Boy – Diana Ross & The Supremes
21. Yeh Yeh – Georgie Fame & The Blue Flames
22. We're a Winner – The Impressions
23. He's So Fine – The Chiffons
24. Hi-heel Sneakers – Tommy Tucker
25. Um Um Um Um Um Um – Major Lance
Disc: 2
1. Green Onions – Booker T. and the M.G.'s
2. The in Crowd – Dobie Gray
3. Harlem Shuffle – Bob & Earl
4. Boom Boom – John Lee Hooker
5. Smokestack Lightning – Howlin' Wolf
6. Night Train – James Brown
7. Last Night – The Mar-Keys
8. I'm Comin' Home – Mel Torme
9. Ain't That Peculiar – Marvin Gaye
10. Since You've Been Gone – Aretha Franklin
11. I Can't Turn You Loose – Otis Redding
12. Roadrunner – Jr. Walker & The All Stars
13. You Can't Sit Down, Pt. 1 – Phil Upchurch
14. Needle in a Haystack – The Velvelettes
15. Uptight (Everything's Alright) – Stevie Wonder
16. The Way You Do the Things You Do – The Temptations
17. Going to a Go Go – Smokey Robinson
18. Love Loves to Love – Lulu
19. 25 Miles – Edwin Starr
20. Teen Beat 65 – Sandy Nelson
21. Leaving Here – The Birds
22. When I'm Gone – Brenda Holloway
23. I Can't Wait to See My Baby's Face – Dusty Springfield
24. Devil With the Blue Dress On – Shorty Long
25. Time Is On My Side – Irma Thomas
Disc: 3
1. A Town Called Malice – The Jam
2. Time for Action – Secret Affair
3. Maybe Tomorrow – The Chords
4. Poison Ivy – The Lambrettas
5. Dance Stance – Dexys Midnight Runners
6. Something That You Said – The Scene
7. Eleven Plus Eleven – Nine Below Zero
8. Midnight to Six – Small Hours
9. Melanie – The Prisoners
10. Plastic Smile – Merton Parkas
11. Too Much Too Young – The Specials
12. Tears of a Clown – The Beat
13. 54-46 Was My Number – Toots and The Maytals
14. Blazing Fire – Derrick Morgan
15. You Can Get It If You Really Want – Desmond Dekker
16. Phoenix City – Roland Alphonso
17. Our Day Will Come – Ruby and The Romantics
18. I Spy for the FBI – Jamo Thomas
19. Don't You Just Know It – Huey 'Piano' Smith
20. Pow Wow – Manny Corchado
21. Do I Love You? – Frank Wilson
22. Go Go Power – Sugar Pie Desanto
23. Wade in the Water – Ramsey Lewis Trio
24. Love Potion #9 – The Coasters
25. Grow Your Own – Small Faces
Save