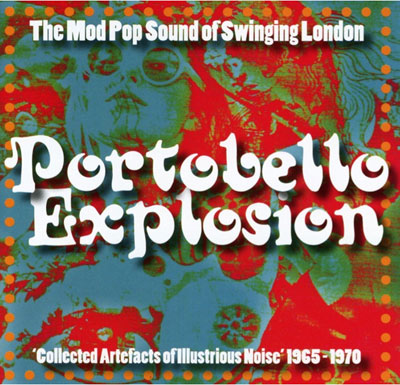 Note that I independently write and research everything in this article. But it may contain affiliate links.
Big thanks to Mike for flagging up an album that sneaked out last month – or at least, sneaked past us. Portobello Explosion: The Mod Pop Sound of Swinging London.
According to the cover: Portobello Explosion captures the definitive soundtrack to London's 1960s music scene. A colourful explosion of mod pop euphoria and R&B cool echoed from rare and obscure singles. This collection defines an era of attitude and energy that has remained a heady influence over its teenage contemporaries.
After digging through the rubble in a perfumed garden, drinking chocolate soup for a sugarcane flashback, it's finally time to put some fuzz in your freakbeat, hold on!
The album is released via the Particles label and according to Mike, is 'excellent', containing a lot of tracks amounts the 24 that are first-timers on a compilation.
Someone on the Amazon.co.uk page has done a tracklisting and brief description, which I'm reproducing here (if there's an issue with that, I'll happily remove it). If you want a copy, that same Amazon page has it for £9.26.
Track details:
1. Imagination- Clayton Squares [B-side of Decca F 12456 released July 1966. An R&B style band from Liverpool who had two singles for Decca. Lead singer Denny Alexander later joined The Thoughts and The Penny Peeps ("Model Village").]
2. Shoot on Sight- Ten Feet [A-side of CBS 3045 released November 3 1967. Released two singles, the first on RCA in September 1966. Both the RCA and CBS singles are now quite collectible.]
3. I Need You- Thane Russal [B-side of CBS 202403 released November 1966. First recorded under his real name Doug Gibbons releasing "I Got My Tears to Remind Me" on Decca in April 1965. Name changed to Thane Russal for two releases on CBS and also had additional releases in Italy when he relocated there, some sung in Italian. Also recorded as Zingaro releasing "Hold On" on RCA in France in 1978.]
4. Sweet Sweet Morning- Roger Young [A-side of Columbia DB 7869 released March 1966. His only output was the release of two singles on Columbia in 1966.]
5. I Mean It- Him and The Others [A-side of Parlophone R 5510 released October 7 1966. Their sole single, "I Mean It" b/w "She's Got Eyes That Tell Lies" is considered a highly prized freakbeat classic.]
6. Go Go Children- The Richard Kent Style [Debut release as the B-side of Columbia DB 7964 released July 15 1966. This Manchester group recorded three singles for Columbia in 1966 and 1967, then one for MCA in 1968 and their final for Mercury in 1969.]
7. Tic Toc- Scots of St. James [B-side of Go AJ 11404 released December 1966. Originally a Glasgow band who moved to London and recorded a single for the Go label and a second for Spot. Members Alan Gorrie, Hamish Stuart and Graham Maitland later become part of Hopscotch.]
8. You Never Came Home- The Bunch [A-side of CBS 202506 released January 6 1967. Bournemouth group who released four singles on CBS. Appeared in the film "Swinging London" in 1967. Played the Star Club in Hamburg and appeared on the German TV programme "Beat Club".]
9. Garage Man- The Gods [B-side of Polydor 56168 released June 1967. After the Polydor single, moved to Columbia where they released three singles and two albums. Members Ken Hensley and Lee Kerslake later joined Uriah Heep.]
10. Mohammed Ben Ali- Rosko [1970 French single release by American born Radio Caroline and BBC Radio 1 DJ "Emperor Rosko".]
11. Club of Lights- Oscar [A-side of Reaction 591003 released June 1966. Released four singles on the Reaction label and a final on Polydor. This is 1970s and 1980s actor Paul Nicholas who also recorded prolifically under that name as well as under the name Paul Dean.]
12. Come Back- Edwick Rumbold [B-side of CBS 202393 released October 1966. One release on CBS and a further on Parlophone in July 1967. Became Free Ferry who recorded 2 singles for CBS.]
13. You've Gotta Believe Me- The Answers [B-side of Columbia DB 7847 released February 25 1966. "It's Just a Fear" b/w "You've Gotta Believe Me" now a freakbeat classic. A second single was recorded for Columbia before lead vocalist and drummer J. Vincent Edwards began a solo career. Lead guitarist Tony Hill was later in The Misunderstood.]
14. How Could You Say One Thing- The Wards of Court [B-side of Deram DM 127 released May 12 1967. Sole single on Deram for this Essex soul/harmony band.]
15. Tremblin'- The Twinset [A-side of Decca F 12629 released June 23 1967. Nothing known of this group who had this lone single for Decca.]
16. Nobody Can- Charles Dickens [Unreleased Pye record label track from 1966. Released two single on Pye and one on Immediate. Real name was fashion photographer David Anthony.]
17. Harry- O'Hara's Playboys [B-side of Fontana TF 893 released December 1967. Seven singles and an LP on Fontana by this Sheffield act, the final as John O'Hara and The Playboys. John O'Hara went on to record as a solo artist. John O'Hara and The Playboys re-appeared in July 1977 for one single on President records.]
18. Better Than Here- Roger James Four [A-side of Columbia DB 7829 released February 4 1966. Released two singles on Columbia, the second withdrawn and re-released soon after with a new catalogue number. Roger James then released two on NEMS and three on Les Reed's Chapter One label as a solo artist.]
19. Your Love Is Burning Me- Thane Russal and Three [B-side of CBS 202049 released March 1966.]
20. It's Been So Long- The Executives [A-side of Columbia DB 7573 released May 1965. Blackpool band who had five releases on Columbia and four on CBS. Vocalist Roy Carr later became chief editor at the New Musical Express.]
21. Love Me Right Now-The Nightriders [A-side of promo only Polydor 56066 released mid 1966. Birmingham band who started life as Mike Sheridan and The Nightriders and later changed names to Mike Sheridan's Lot. When Mike Sheridan left to go solo they continued as The Nightriders for a single on Polydor before becoming The Idle Race with vocalist Jeff Lynne.]
22. Look Before You Leap- The Transatlantics [B-side of Mercury MF 968 released November 1966. Two singles for Fontana in 1965, two for King in 1966 and one on Mercury in 1967. Became prog outfit The Wake who recorded for Pye and Mervyn Conn's Carnaby label.]
23. All Good Things- Richard Kent Style [B-side of Columbia DB 8051 released November 11 1966.]
24. What Did I Do- Tony Wilson [A-side of Columbia DB 8153 released March 17 1967. Initially worked with producer Derek Lawrence (who was involved with the early Deep Purple productions) as a member of The Soul Brothers. As a solo artist Tony Wilson had one single for Decca, followed by two for Columbia and a further for Bell before becoming a member of Hot Chocolate from 1970 to 1975. He then reverted to a solo act on the Bearsville label.]
Love Modculture? If you enjoy what you read or have benefitted from it and want to
help with the ever-increasing costs of the site and newsletter
, you can always
buy me a coffee at Ko-Fi
. Every penny is helpful and appreciated.