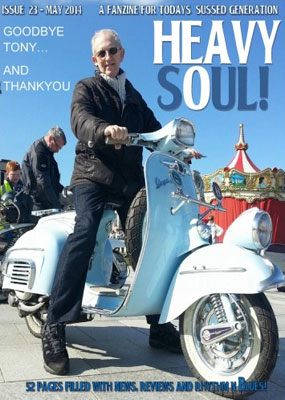 Good value as ever with the Heavy Soul modzine, which is now at issue 23.
In this month's edition, there are interviews with Allan Crockford, The Electric Mess, Drew Orr of The Scene, Button up band, The Sound Of Pop Art, Dizzy at Detour Records, Pinata Records (NY) and young Aaron Turner. There's also a tribute to Tony Class, new releases and reissues, a RSD rant, the 'Reggae Newsletter' and of course, a 20 track CD.
The tracklisting for that is below, with the modzine available from 2nd June for £5.50.
Find out more at the Rowed Out website
Tracklisting:
1. THE SINNERS – Nice Try
2. NEAL FORD & THE FANATICS – Shame On You
3. THE CREATION – Midway Down
4. PLATFORM SIX – Money Will Not Mean A Thing
5. THE ORGANISERS feat. HAROLD SMART – The Organiser
6. THE KINKS – Too Much Monkey Business
7. LITTLE RICHARD – It Ain't Whatcha Do
8. PHIL FLOWERS – One More Hurt
9. SLY & THE FAMILY STONE – You Better Help Yourself
10. THE DAVE PIKE SET – Big Schlepp
11. CAL TJADER – Samba Do Suenho
12. BOBBY VALENTIN – Batman's Bugaloo
13. HUEY PIANO SMITH – Don't You Just Know It
14. ROSCOE GORDON – Just A Little Bit
15. JAMES BROWN & THE FAMOUS FLAMES – I'll Go Crazy
16. BILLY THOMPSON – Black Eyed Girl
17. JACK MONTGOMERY – Do You Believe It
18. JUSTIN HINDS & THE WAVES – Drink Milk
19. JOYA LANDIS – Moonlight Lover
20. THE ACTION – Just Once In My Life