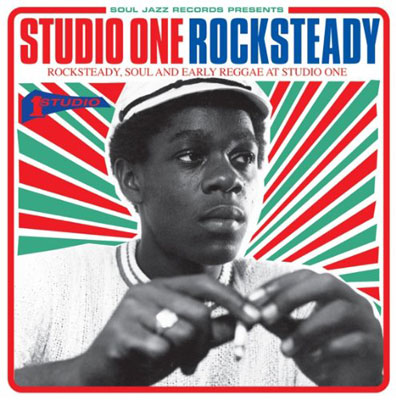 It's out on vinyl and CD, but most importantly of all, Studio One Rocksteady on Soul Jazz Records is out today.
This is the latest instalment of Studio One gems and the work of Clement 'Sir Coxsone' Dodd from Soul Jazz Records, this time focusing on the rocksteady sound, throwing in sleevenotes from Lloyd Bradley (author of the excellent Bass Culture book) and as we said, offering it up on both double heavyweight LP or CD. You also get a download code with the vinyl, which is nice to see.
Tracklisting below and as we said, available now.
Studio One Rocksteady on vinyl
Tracklisting:
The Eternals – Stars
John Holt – Fancy Make Up
Cecile Campbell – Whisper To Me
The Heptones – Party Time
The Gaylads – Joy In The Morning
Marcia Griffiths – My Ambition
The Heptones – Love Won't Come Easy
Alton Ellis – Hurting Me
Wailing Souls – Row Fisherman Row
Ken Boothe – Home, Home, Home
Jackie Mittoo – Our Thing
Ken Boothe – When I Fall In Love
Larry & Alvin – Throw Me Corn
Duke Morgan – Lick It Back
Carlton And The Shoes – Me And You
Dennis Brown – Easy Take It Easy
The Classics – Pack Up
Ken Boothe – Moving Away