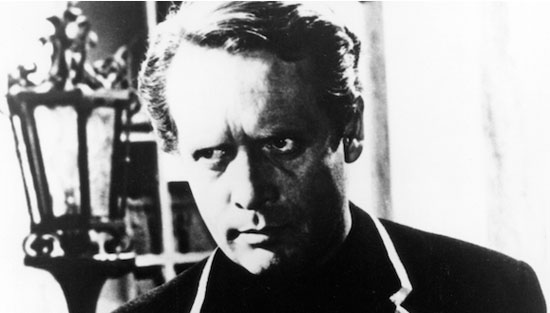 Note that I independently write and research everything in this article. But it may contain affiliate links.
Yes, the man from The Prisoner. But there's a lot more than that at the Patrick McGoohan season at the BFI.
The actor who famously turned down roles of James Bond and The Saint gets a season celebrating some of his iconic movie and TV work, with selected episodes of cult classics Danger Man and The Prisoner (the latter being rarely-seen material), plus rarely-seen movies (on the big screen at least), including the early '60s British jazz flick All Night Long (which we reviewed some time back right here).
Full schedule is below, with the season running throughout August at the BFI Southbank.
BBC Television World Theatre:
Brand
BBC 1959. Dir Michael Elliott. With Patrick Wymark, Peter Sallis. 90min
McGoohan's great stage success was (thankfully) filmed by the BBC. Ibsen's powerful play about a single-minded firebrand priest and his impact on those around him played perfectly to McGoohan's trademarks strengths: brooding intensity, vibrant physicality and almost overwhelming stage presence. Simple sets and basic filming techniques ensure the eye is taken by the tour-de-force performances.
Thu 8 Aug 18:30 NFT2
Armchair Theatre: The Man Out There
ITV 1961. Dir Charles Jarrott. With Katherine Blake. 50min
Airing a month before Yuri Gagarin did the real thing, this play starred McGoohan as a Russian cosmonaut stranded in space whose only contact – due to freak sun spot activity – is with a Canadian trapper's wife cut off in a blizzard. This tense Armchair Theatre play is a prime example of how an actor of McGoohan's capabilities adapted to the one-off studio dramas of 1950s and 1960s.
+ Rendezvous: The Executioner
ITV 1961. Dir Pat Jackson. With Michael Gough. 50min
Shades of Danger Man in this episode from the filmed anthology series. McGoohan plays a lawyer investigating the death of an old friend from the days of the French Resistance. Giving a typically powerful performance, McGoohan guest stars in a series that featured different leads for every story.
Total Running Time 100min
Tue 13 Aug 18:20 NFT3
Danger Man: The Lonely Chair
ITV 1960. Dir Charles Frend. With Hazel Court, Patrick Troughton. 25min
+ Danger Man: A Date with Doris
ITV 1964. Dir Quentin Lawrence. With Jane Merrow, Ronald Radd. 50min
Relating the exploits of a globetrotting security agent, Danger Man made McGoohan a household name and (at the time) the highest paid actor on British television. These two episodes, one from the earlier half-hour series and one from the later hour-long seasons, neatly encapsulate the changing styles and strengths of the show.
Fri 16 Aug 18:30 NFT2
Patrick McGoohan and The Prisoner: Oddities and Rarities
We present a bespoke compilation of rare and precious footage relating to The Prisoner and the wider world of McGoohan's career. The Prisoner was a defining moment in 1960s television, originating in Britain but delivering a truly global impact. Baffling, daring but always entertaining, it virtually kick-started the continuing obsession with certain cult television titles as fans round the world entered into heated discussions about the meaning behind its surreal complexity.
Total Running Time c100min
Wed 7 Aug 18:15 NFT1
The Best of Friends
C4 1991. With John Gielgud, Wendy Hiller. 100min
One of McGoohan's best late-period roles was as fellow Irishman George Bernard Shaw in this TV movie adapted from letters and journals, which portrays the unique 25-year friendship shared by Shaw, Benedictine nun Dame Laurentia McLachlan and museum curator Sir Sydney Cockerell.
Fri 30 Aug 18:10 NFT3
Hell Drivers
UK 1957 Dir Cy Enfield. With Stanley Baker, Herbert Lom, Sidney James, Peggy Cummins, William Hartnell, Sean Connery. 108min. PG
A vigorous, violent and thoroughly enjoyable ride, Hell Drivers is saved from the B-movie graveyard by taut plotting, tense direction and potent performances. Stanley Baker is impressive as troubled ex-con Joe, haunted by a driving accident, who drifts into a new job and finds himself in lethal danger. Equally powerful is McGoohan, playing Joe's murderous rival Red. They are supported by a terrific cast.
Sat 3 Aug 18:10 NFT3
Thu 8 Aug 20:40 NFT2
All Night Long
UK 1961. Dir Basil Dearden. With Marti Stevens, Betsy Blair, Paul Harris, Keith Michell. 91min. 15
Much disparaged by the Monthly Film Bulletin in 1962, All Night Long is an enjoyable curio from today's perspective: a not entirely successful but thoroughly entertaining attempt at restaging Shakespeare's Othello in the context of a fashionable London jazz party featuring real-life celebrity guests: Charles Mingus, Dave Brubeck, Johnny Dankworth and nearly a dozen other jazz musicians. Patrick McGoohan is a suitable malevolent Johnny Cousins, a character in reckless pursuit of a doomed dream.
Sat 3 Aug 20:30 NFT3
Fri 9 Aug 18:10 NFT2
The Quare Fellow
UK 1962 Dir Arthur Dreifuss. With Sylvia Sims. 90min. 15
Powerful adaptation of Brendan Behan's first play (which debuted in 1954) with McGoohan affecting a change of tone and pace from his role as John Drake in Danger Man for his portrayal of Thomas Crimmin, a thoughtful man gradually finding his pro-capital punishment views eroded by his involvement with an upcoming execution. Shorn of the darker gallows-humour of the original stageplay and avoiding most of its Irish slang and folk music, the film instead scores as a brooding social drama on the evils of the death penalty.
Sat 10 Aug 18:20 NFT3
Wed 14 Aug 20:30 NFT3
Ice Station Zebra
US 1968 Dir John Sturges. With Rock Hudson, Ernest Borgnine. 145min. U
Terrific adaptation of Alistair MacLean's slow-burn, cold-war thriller set on board a submarine. McGoohan is David Jones, a secretive British agent spirited aboard the US submarine Tigerfish III to hitch a ride to Ice Station Zebra, a British Arctic research encampment which has been sending out distress signals. The film is currently being remade by Warner Bros (with writer-director Christopher McQuarrie); this is a rare chance to catch the brilliant original on the big screen.
Wed 21 Aug 20:15 NFT3
Mon 26 Aug 15:30 NFT3
Love Modculture? If you enjoy what you read or have benefitted from it and want to
help with the ever-increasing costs of the site and newsletter
, you can always
buy me a coffee at Ko-Fi
. Every penny is helpful and appreciated.